Bitrates Writer

Karan Kapoor is a writer for various cryptocurrency publications. A double major in Computer Science and Business, he started dabbling in Bitcoins in 2014 and hasn't looked back. Having grown disillusioned with the state of affairs after working in IT, he holds lofty dreams about blockchain technology bringing wholesome changes to better the world.
READ FULL BIO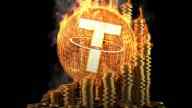 Tether Burns 500 Million Tokens, Calls It a "USDT Redemption"
The world's largest stablecoin USDT has been embroiled in controversies of late. Is that why Tether decided to destroy 500 million USDT tokens?
All the post are loaded