Bitrates Writer

Karan Kapoor is a writer for various cryptocurrency publications. A double major in Computer Science and Business, he started dabbling in Bitcoins in 2014 and hasn't looked back. Having grown disillusioned with the state of affairs after working in IT, he holds lofty dreams about blockchain technology bringing wholesome changes to better the world.
READ FULL BIO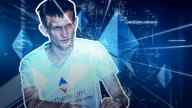 Vitalik's New ETH On Chain Scaling Solution Using ZK-SNARK To Allow Min 500 tx/sec
Buterin's new proposal for Ethereum's scalability issues could allow at least 500 tx/sec by using ZK-SNARKs to mass-validate transactions.
Ethereum
Sep 25, 2018 - 2 min, 35 sec read
All the post are loaded