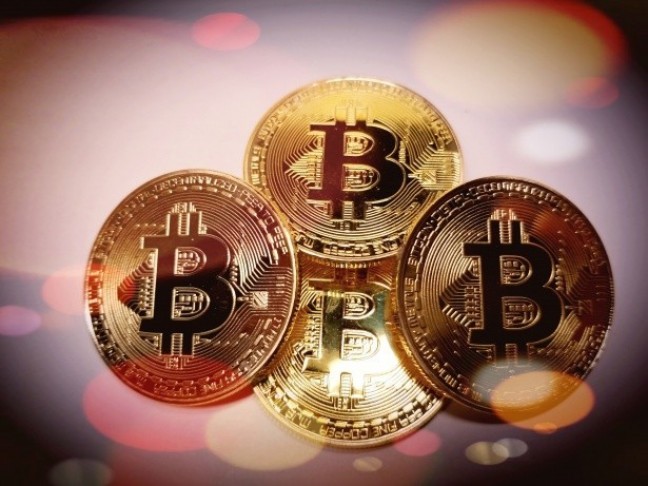 Bitcoin Hits Resistance at $22,750 on Tesla Sale, FTM, APE, SNX, Jul. 25
Jul 25, 2022, 3:01PM

by
Kevin George
BTC higher by 9% last week but dropped from resistance after Tesla sale. FTM is higher on LlamaPay news. ApeCoin holds up with NFT valuations.
BTC
Bitcoin was higher by almost 9% on the week but has found some resistance at the $22,750 level.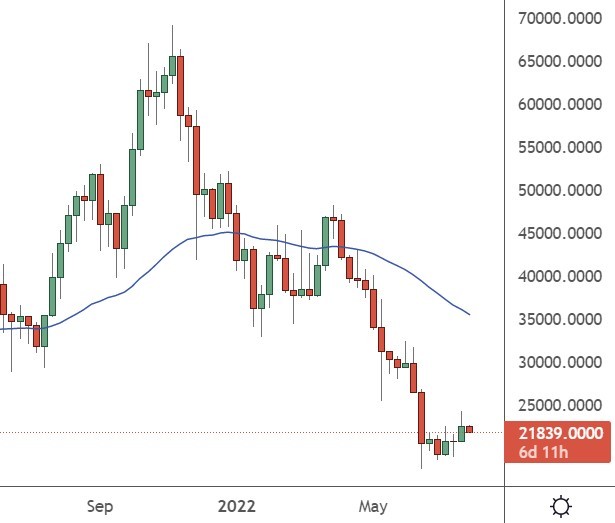 The price of Bitcoin dropped on Monday after hitting that level and needs a move above to clear some more shorts out.
The price of BTC wasn't helped last week by news that Elon Musk's Tesla had sold 75% of its coins. The news came during the filing of its second-quarter earnings and the automaker said that it used the cash to help with expenses due to the recent supply chain problems and inflation.
Tesla sold $936 million of the world's largest cryptocurrency which was worth around $2 billion at the end of 2021.
The actions of Tesla will put a dent in hopes for mass adoption in corporate holdings of Bitcoin. However, there were still signs of appetite for digital investments with investment bank Barclays adding "millions of pounds" to the fundraising by digital asset custodian Copper.
Elon Musk said that he would not rule out owning BTC in the future but that seems like an empty statement in the near-term.
The price of Bitcoin trades at $21,840 and needs to find buyers, or the $20k level will come back into play.
FTM
Fantom was higher this week with a rally of around 30% despite seeing flat TVL figures.
The project saw a record high in its Total Value Locked (TVL) at $12bn last year and has stayed flat over the last month at the $907m level.
FTM has rallied with the news of the arrival of LlamaPay on the network. The press release for the partnership said:
"Web3 has revolutionized commerce by facilitating micropayments, allowing employees to receive pay for their labor in real-time — not twice a month."
"With DeFiLlama's LlamaPay, employers can now automate their payroll processes and incorporate real-time payment streams. Already trusted by multi-chain teams Yearn and Beefy, LlamaPay has now been adopted by native Fantom ecosystem protocols such as SpookySwap, Morpheus Swap, and Solar Protocol."
Now, you can receive your payment in the same way you work: in real time. LlamaPay allows employers and protocols to automate transactions, streaming them by the second. Recipients can then withdraw these funds in real time, starting the moment the payment stream is created.
This type of development highlights a benefit of digital money that embraces the technology and provides helpful new ways of working to developers.
The price of FTM trades at $0.35, and the Fantom project has a market cap of $903 million. That shows that FTM is being entirely valued by its TVL at this moment.
APE
The price of ApeCoin has fared better than some in the last few weeks. The price of APE fell to early-June lows around $4.00 but has since stabilized to $6.50. A potential level for further gains could come at the open price of the project at $8.15.
Earlier this month, NFT sales were reported to have fallen to yearly lows. Sales of NFTs totaled just over $1bn (£830m) in June, which was the worst performance since the same month last year when sales were $648m. That is sharply lower from the peak of $12.6bn in January.
ApeCoin has been able to shrug off some of the gloom in NFTs due to the underlying support for Apes in the market.
The price of the cheapest NFT in the Bored Ape Yacht Club has declined by only 1%, to $90,000 in the last month, according to DappRadar.
Blue chip collections are performing vastly better than the vast majority of NFTs.
One headwind for the NFT market will be the news that the US is looking at a sales tax on the tokens. At the beginning of July, Washington state issued an Interim Guidance Statement (IGS) subjecting non-fungible tokens (NFTs) to a 6.5% sales tax and a 0.471% business & occupancy (B&O) tax. Washington is the first state to define an NFT-specific sales guidance and it is already in effect.
NFT retailers are now required to collect sales taxes from buyers and they are also required to pay the B&O taxes if the sale is attributed to Washington.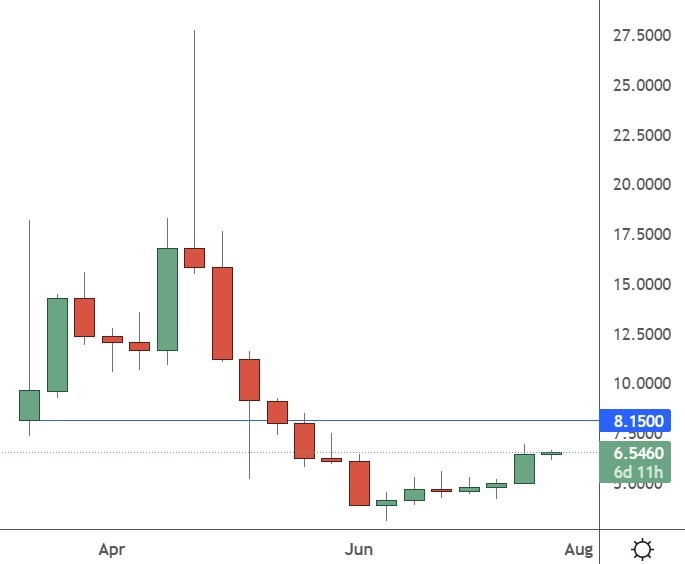 The price of APE could look for a jump above the $8.00 level, and that would be boosted by further highs in BTC.
SNX
The price of Synthetix was one of the better performers this week, with gains of around 30%.
The project allows users to mint synthetic assets for derivative exposure to real-world assets on the blockchain.
Synthetix says that it has $123 million SNX tokens currently locked up on the chain. Synthetic assets, or Synths, are voted into existence by the community and can come in the form of fiat currencies, cryptocurrencies, stocks, commodities, or almost anything else with a price.
Developments in 2022 include the introduction of Atomic Swaps in June. The project's blog said:
"Atomic Swaps are a new exchange function allowing users to atomically exchange assets with a reasonable fee by pricing synth exchanges via a combination of Chainlink and DEX oracles. This helps to enable seamless trading between synthetic assets like sETH, sUSD, sBTC, etc. A unique property of this is that for large trade sizes, it greatly reduces the overall cost for traders due to slippage."
"Cross Asset Swaps (launched mid-June) have been a big driver of volume lately, and there are still a number of optimizations and integrations that can direct a larger share of on-chain spot volume through Synthetix. The Synthetix community believes that the completion of these milestones will set the protocol on a path to further growth as a building block of DeFi derivatives."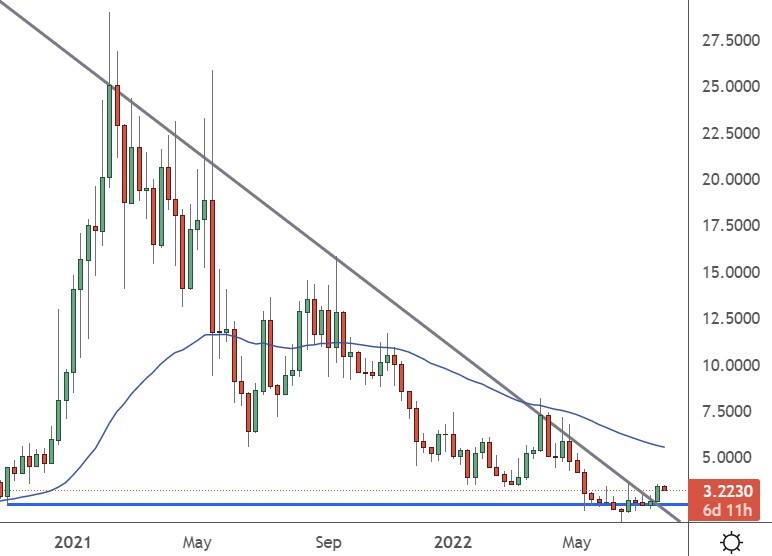 The price of the SNX token trades at $3.22 after the recent slump from its highs at $28.00. A break of the downward trendline gives investors hope for a potential move higher, with the moving average coming in around $5.00.
Disclaimer: information contained herein is provided without considering your personal circumstances, therefore should not be construed as financial advice, investment recommendation or an offer of, or solicitation for, any transactions in cryptocurrencies.