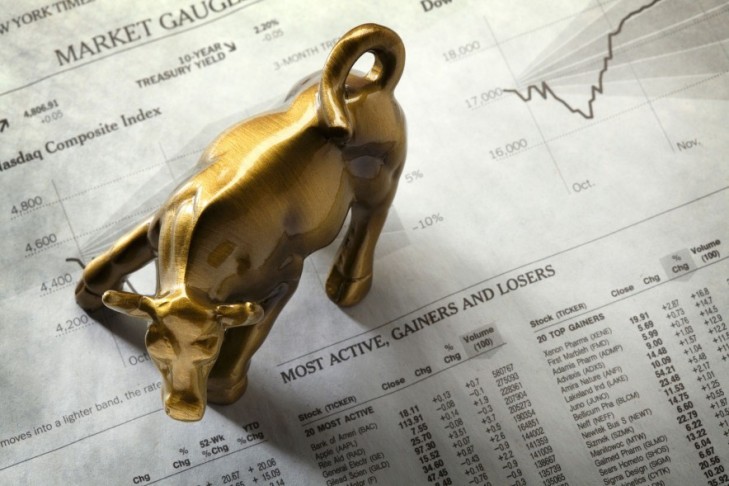 Bitcoin Nears $50k as Corporate Interest Builds, IOTA, DASH, ETC Feb. 15
Feb 15, 2021, 8:37PM

by
Kevin George
Twitter and Mastercard are the latest to express interest in BTC. DASH signs up for merchant payments. ETC and IOTA see big price ETCgains.
BTC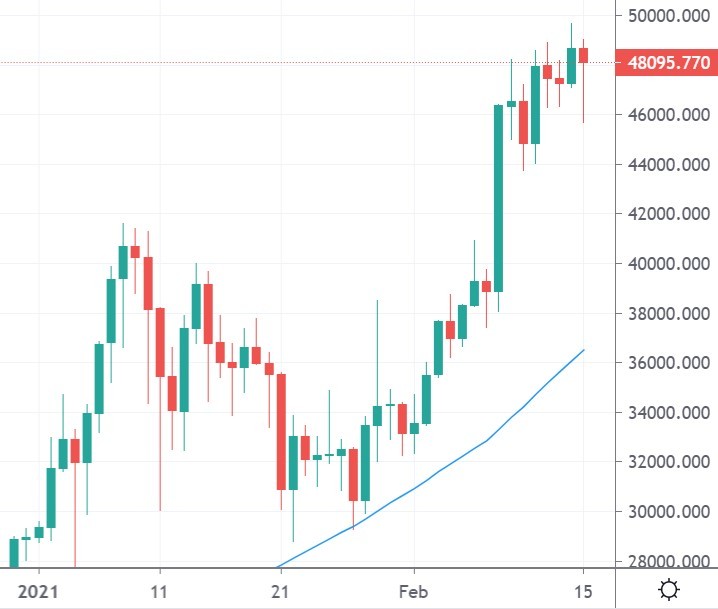 Bitcoin has rallied again this week to hit highs just below the $50,000 level. A high of around $49,700 was set on Sunday, but the price has since seen limited selling and hinted at reaching $50,000 on Monday.
The move higher in Bitcoin comes as further corporate interest was seen in using BTC. Twitter CFO Ned Kelly told CNBC that the social media company was looking at use cases:
We have done a lot of the upfront thinking to consider how we might pay employees should they ask to be paid in bitcoin, how we might pay a vendor if they asked to be paid in bitcoin and, whether we need to have bitcoin on our balance sheet.
Another option for Twitter could be in a tipping service within the platform. Meanwhile, Mastercard was also noted to be considering a move into cryptocurrency, with sources saying that the payments giant would offer the potential for merchants to accept cryptocurrencies very soon.
This adds weight to the fourth quarter statement from new CEO Michael Miebach, who said the company would offer digital currency payments "directly on our network".
The new CEO will realize that the game is changing in the payments sector and if they don't move towards this technology then they could be left behind. The story of Kodak is a prime example of companies that don't move with the times. The company failed to move early with the digital photography movement and filed for bankruptcy in 2012.
BTC has been on a strong price surge recently and with the Tesla news blasting the coin above $40k, the market should be on guard for a technical correction.
IOTA
IOTA was higher by 86% last week and the coin now trades at number 26 in the list of coins by market cap with a current valuation of $3.2 billion.
The project was launched a few years ago to focus on the "internet of things" within blockchain. In those early years, the project linked up with some of the major automakers to explore technology for onboard data, such as service updates and rewards for drivers.
Speaking to Ben Armstrong, founder of BitBoy Crypto, the Hoskinson criticized Ethereum 2.0 and described why his project will be superior. The Cardano founder also said he had fundamental doubts about the sustainability of Ethereum's planned upgrade.
IOTA has recently seen a new upgrade named "Chrysalis" and the development allows users to send IOTA tokens in ten seconds. This is a huge improvement on the previous 80 seconds needed for transactions.
IOTA's price boost came as the Renault Vice President of blockchain, Odile Panciatici, stated that the project was on a shortlist of four to work with the automaker. As cars move more towards smart technology and connectivity, it may not be long until a bit car partnership influences the IOTA price further.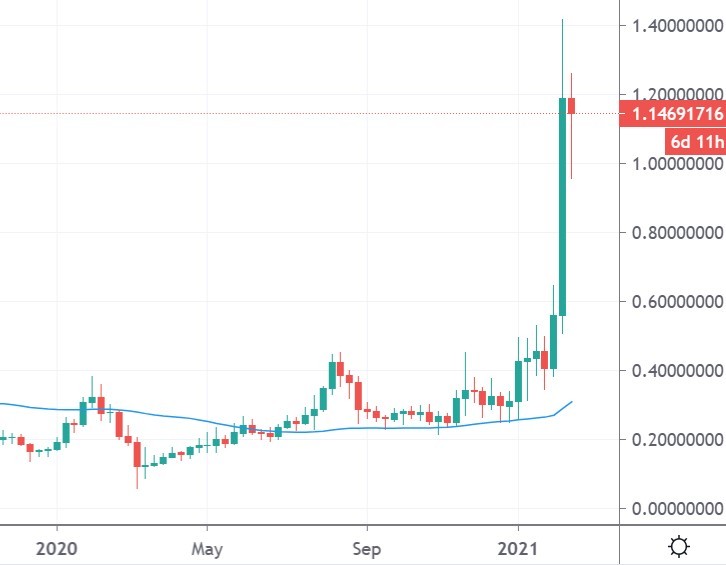 The coin saw highs above $1.50 last week, but it is still below the 2018 highs above $2.00. The all-time high in the coin is around $6.50, which occurred during BTC's 2017 surge.
DASH
DASH was one of the strongest coins this week with a gain of 120%. The coin is now valued at $264 with a market cap of $2.64 billion.
DASH has seen a resurgence in value as it sought to join the decentralized finance (DeFI) world with StakedDASH in a partnership with StakeHound.
Felix Mago, the Co-Founder of DASH NEXT highlighted the benefits at the time, saying:
With DeFi, different Blockchains are finally coming together. I am very excited about this partnership as it provides DASH users the benefits of DeFi applications such as lending or borrowing, and Ethereum users with an easy way to use DASH's established global payment ecosystem.
The dash project is starting to come of age after beginning life as a purely digital currency play. The project is now expanding its reach with decentralized applications and a user-friendly platform that the development team refers to as a "decentralized cloud".
Last week saw another new partnership that will allow DASH to be spent at over 155k merchant locations across the US. An investment in loyalty platform CrayPay will allow the currency access to new merchant partners, including Domino's, Best Buy, Lowe's, and Staples. CrayPay is the first mobile platform to merge instant savings on purchases with its geolocation technology.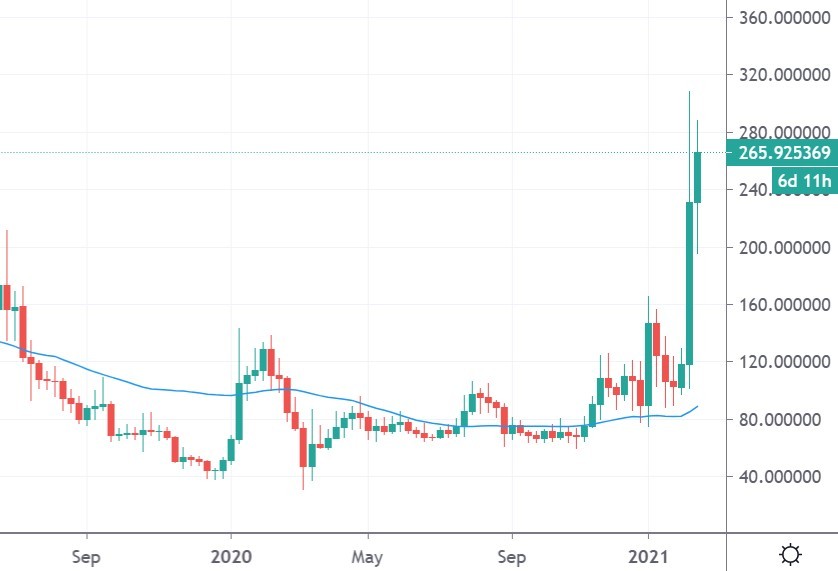 The price of DASH has hit the $300 level in the last week but still trades below the 2018 highs above $500. The coin saw an all-time high of $1600 in the 2017 rally.
ETC
The cryptocurrency rally had missed Ethereum Classic, which was a hard fork of ETH. That was until last week when the coin rallied 100% to hit $18.00.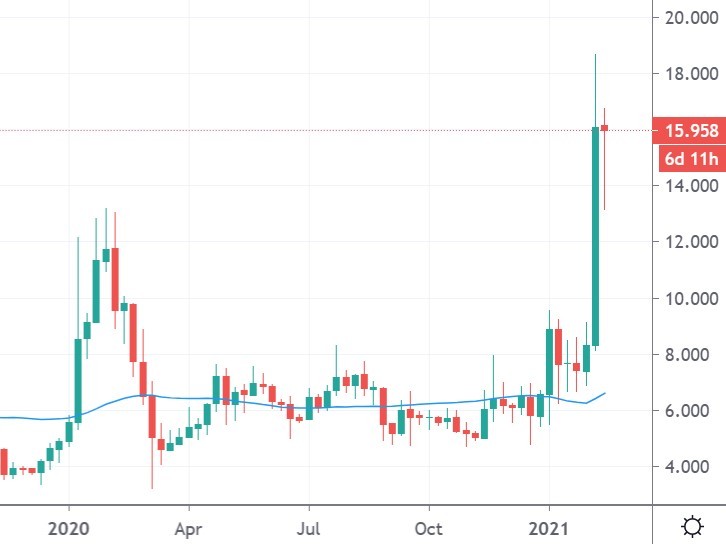 The coin has now settled at $16.00 for an 82% gain on the week and ETC now has a market cap of $1.8bn at number 44 in the list of coins. Ethereum Classic spent a long time near the top 20 in 2019-20, but the coin slipped away as new challengers emerged.
Ethereum Classic's value was hit when it experienced a 51% attack in January of 2019, followed by further attacks in the third quarter of 2020. This led to multi-million dollar losses from double spending and service downtime. The project has since focused its attention on security and the network is looking to become one of the most secure for smart contracts.
The IOHK company, which was founded by Cardano's Charles Hoskinson is still closely connected to ETC and has updated on Mantis, which is the latest upgrade to security features.
Next resistance levels for ETC are $20 and $25, with the coin previously hitting an all-time high of $45 in the late-2017 rally.
Disclaimer: information contained herein is provided without considering your personal circumstances, therefore should not be construed as financial advice, investment recommendation or an offer of, or solicitation for, any transactions in cryptocurrencies.