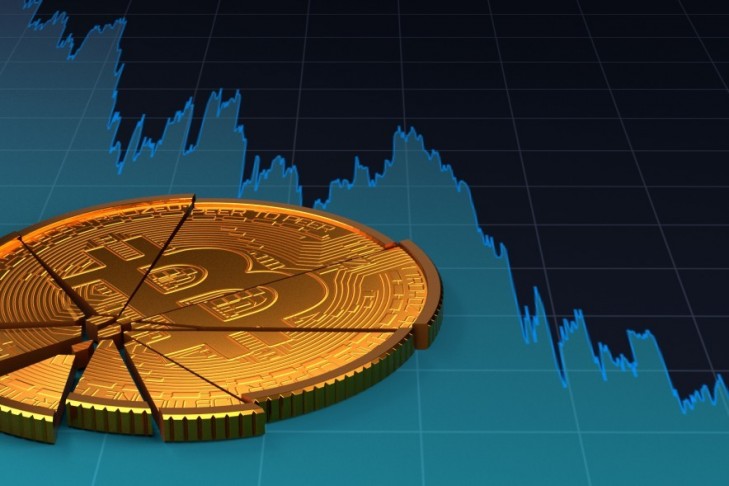 Bitcoin Price Drops to $60,000 as ETF Hype Fades, ADA, IOTX, WAX, Nov. 15
Nov 16, 2021, 10:58PM

by
Kevin George
BTC sellers emerge after a struggle to hold the all-time highs. ADA awaits Hydra upgrade. IOTX and WAXP hit new heights.
BTC
Bitcoin was trading under the $60,000 level on Tuesday after selling broke out in the world's largest cryptocurrency.
One of the problems for Bitcoin recently has been a fade in the ETF hype after a third product hit the retail market amidst waning demand. The VanEck Bitcoin Strategy ETF launched on Tuesday, just one month after the ProShares Bitcoin Strategy fund became the first futures-backed investment for BTC.
As Bloomberg stated:
While the ProShares fund absorbed $1.1 billion in just two days -- the quickest an ETF has ever done so -- that pace of growth has cooled considerably. Assets have lingered between $1.3 billion and $1.4 billion for the past several weeks, according to data compiled by Bloomberg. Meanwhile, the second such fund, Valkyrie's Bitcoin Strategy ETF (BTF), has accumulated just $60 million despite launching three days after ProShares.
When the initial talk of the ETF started, many crypto enthusiasts pointed to the ETF investment space being valued at $6.3 trillion and thought the flood gates would open for crypto ETFs.
Another headwind has been the recent talk of taxation from the US government, but the Deputy Governor of the Bank of England has said today that BTC is "getting closer to posing a financial stability risk".
Bank of England's deputy governor Jon Cunliffe has warned:
On the question of bitcoin and other crypto assets and their value, my judgement is they are not at the moment a financial stability risk. But they are growing very fast, and they are becoming integrated more into what I might call the traditional financial system. So the point at which they pose a risk is getting closer, and I think regulators and legislators need to think very hard about that.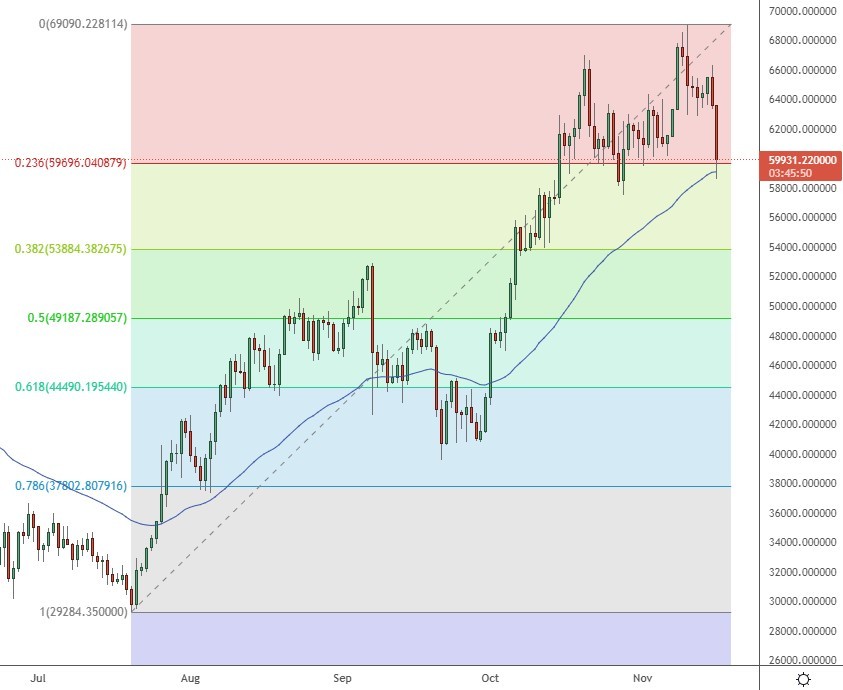 Bitcoin is trading below the $60,000 level after a high of around $66,339 on Monday.
ADA
The price action in the general market has pulled Cardano's ADA coin lower but the project is close to completing a Hydra upgrade that is expected to ramp up scalability.
After the Alonzo upgrade allowed the use of smart contracts and decentralized apps (dApps) on Cardano, Hydra will support large user growth.
Hydra is a layer 2 scalability solution that seeks to address all these concerns and aims to maximize throughput, minimize latency, incurring low to no costs, and greatly reducing storage requirements.
IOHK and Cardano founder Charles Hoskinson said it was a "necessity" for the project which he expects to gain large DeFi development numbers.
Cardano is going to get hammered by an enormous amount of traffic. Hydra is a necessity for that.
His comments come less than two weeks after the project passed the two million wallet milestone.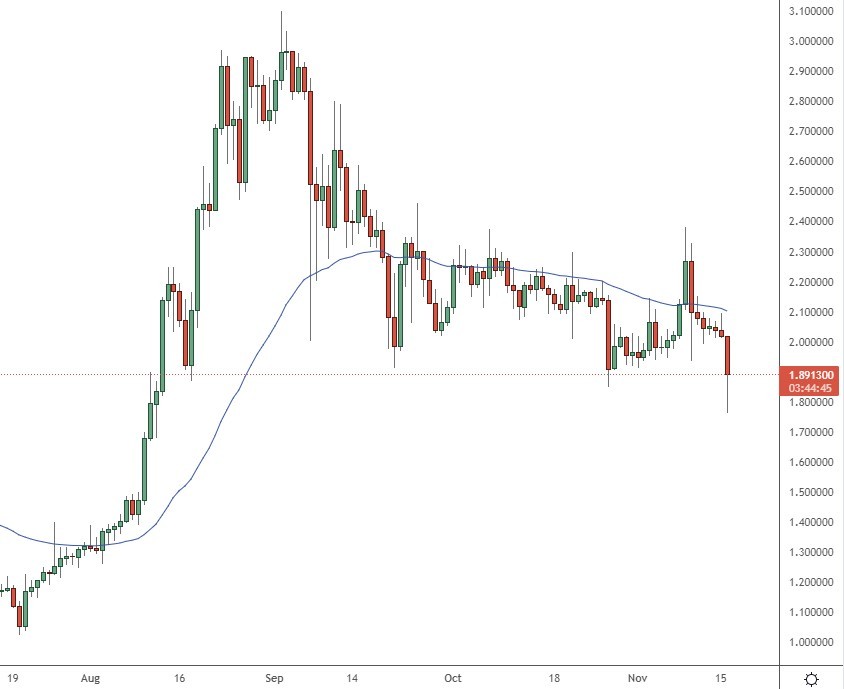 The price of ADA has dropped below $1.80 with the BTC weakness and trades at discount from its highs above $3.00 back in September.
IOTX
IOTX was the best-performing project of last week with a 100% gain.
IOTX is seen as a competitor to Ethereum as the native asset for the open-source blockchain IoTeX, which is a smart contract platform for decentralized apps and Internet of Things (IoT) devices.
The platform is Ethereum Virtual Machine (EVM) compatible, giving developers an easy way to switch their apps across to that network.
Last week, oracle provider Chainlink announced it had awarded a grant to Protofire to integrate Chainlink oracles into IoTeX, saying:
As Protofire has extensive experience securely integrating Chainlink into multiple blockchains, we expect that the IoTeX integration will also be seamless and timely.
IOTX now has a market cap of $1.94 billion and ranks at number 72 in the list of coins by market value. The project is looking to enter the lucrative play-to-earn sector of the crypto economy and recently announced a strategic partnership with the NFT game PlaceWar.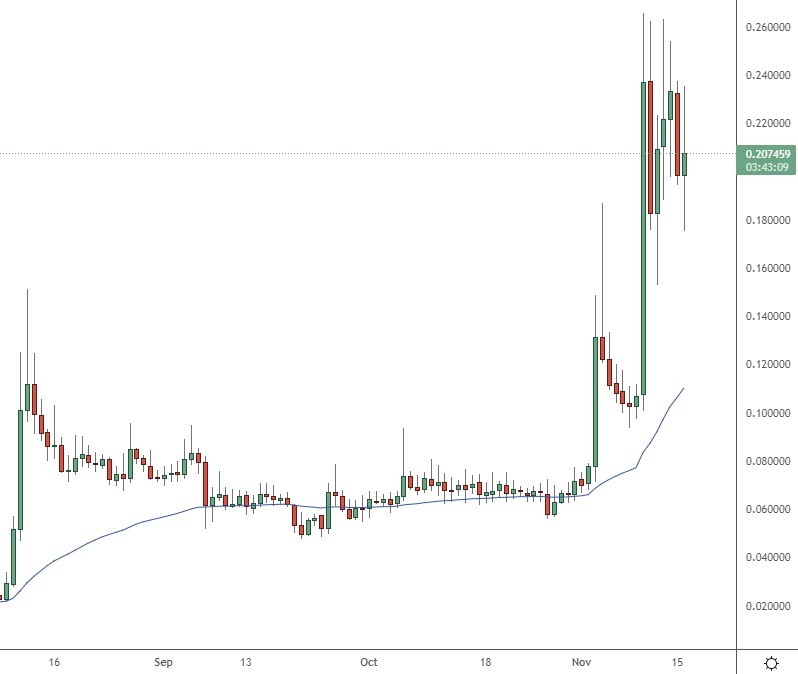 The current price is now $0.20 but there could be a correction after the recent strong gains with support near $0.15.
WAX
Another strong performer this week was the WAXP token which backs the WAX NFT marketplace.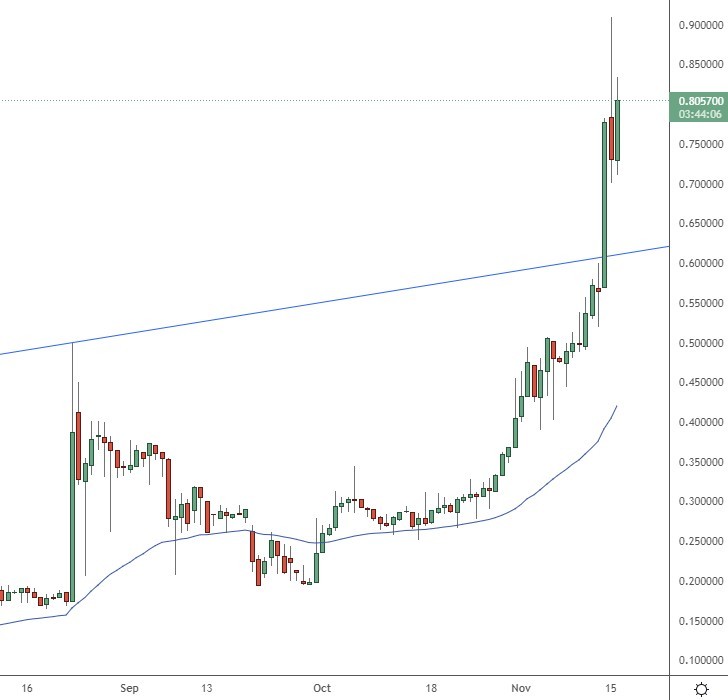 The WAX project has seen its market cap grow from only $50m at the beginning of 2020, to $1.40 billion at the time of writing. The project is ranked at number 85 in the list of coins.
Since the beginning of 2021, there has been huge growth in NFTs, with the largest NFT marketplace, OpenSea, seeing a hundredfold sales increase in six months. The total volume of NFT sales approached $2.5 billion in the first half of 2021, almost eight times the total amount of 2020.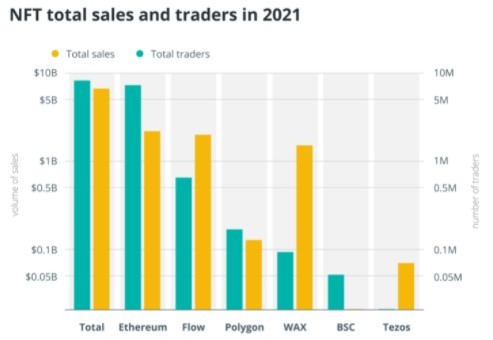 Ethereum still dominates the market with almost 90% of NFT sales but WAX is one of the upcoming competitors, alongside Flow and Polygon.
The WAXP token is trading at all-time highs of $0.80 and should see continued support from sales.
Disclaimer: information contained herein is provided without considering your personal circumstances, therefore should not be construed as financial advice, investment recommendation or an offer of, or solicitation for, any transactions in cryptocurrencies.