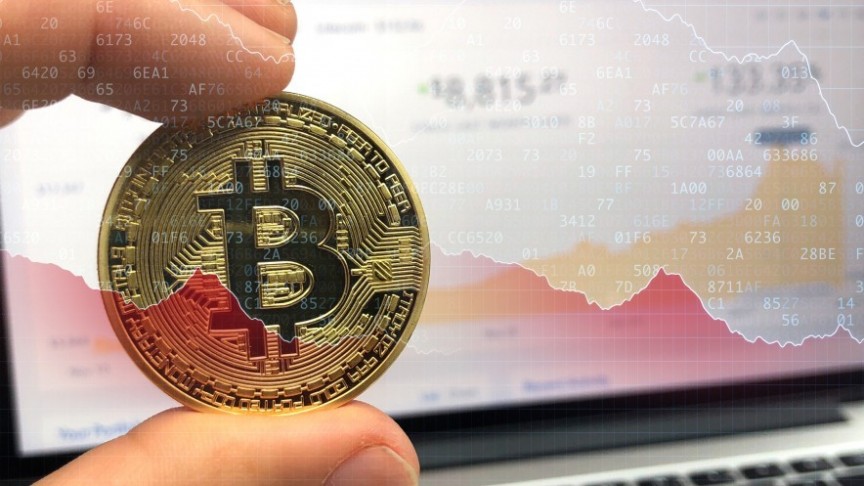 Bitcoin Shows Warning Signs of Further Weakness as Turkey Risks Financial Crisis
Aug 11, 2018, 8:43PM

by
Kevin George
Bitcoin's latest sell-off is testing key support and is threatening further losses for the week ahead. Volume soars 100% on Turkish Exchanges.
BTC
Today's Bitcoin dip erased the positive close of Thursday and sent the price back down to close to $6,000. On a weekly level, this threatens another bearish outlook for next week which would bring the uptrend line from 2017 into play. The current weakness in Bitcoin is affecting the overall cryptocurrency market and we are back to the negative sentiment and lack of positive news catalyst, which has prevailed for much of the year.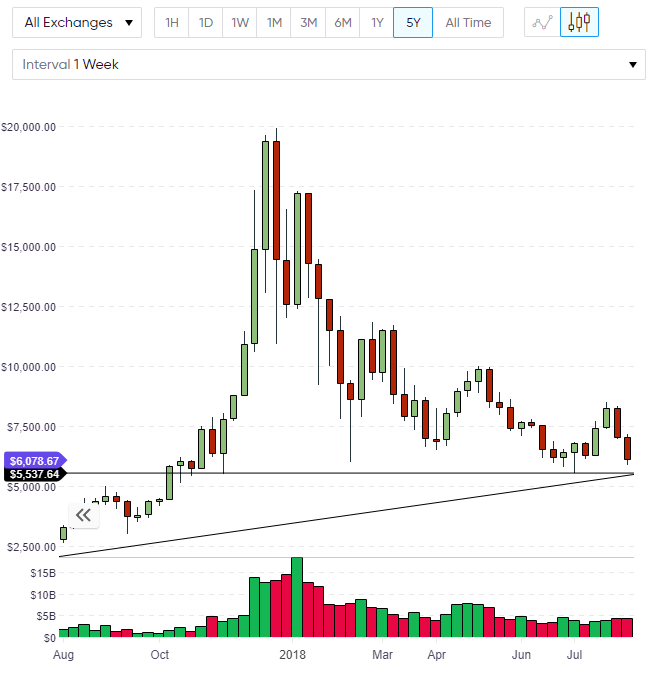 Below $6,000 we have a key support level at $5,800 and a close below this on the week could see the market test the 2017 trendline, which would take us into the low $5,000s. With the ETF decision in Bitcoin pushed back to September, we are likely to have to wait until then and these next few weeks will be an attempt to find a bottom for the cryptocurrency market.
Crisis in Turkey and Its Possible Effect on Cryptos
In the broader financial market, a financial crisis in Turkey has been brewing this year with a fall in the Turkish Lira's value to a record low versus the US Dollar. The currency crisis threatens the stability of Turkey's banking system and there are fears that the fallout may spread to European financial institutions. President Trump piled further heat on his Turkish counterpart by doubling the tariffs on Turkish steel and aluminum, of which the US makes up 12% of Turkey's exports.
I mention the risk of Turkey's crisis because similar financial strain in Cyprus and China may have led to major rises in the cryptocurrency market in previous years. In 2013, many Cypriot investors seeking to escape the failing banking system in Cyprus turned to Bitcoin. At the same time, the EU began to force banks to raid the accounts of savers in order to keep the banks whole (so-called "bail-ins") and so there was a risk of frozen, or depreciated assets. As a result, Bitcoin became a better vehicle than fiat to move money quickly.
Similarly, in the cryptocurrency bull run of late 2017, capital controls were enforced in China to promote domestic spending by stopping money leaving the country. Again, Bitcoin became a convenient escape route as investors bought cryptocurrencies and shifted their returns offshore.
With these examples in mind, it is important to watch the Turkish crisis closely. The volume of trading on Turkish cryptocurrency exchanges has surged by 100% over the last 24 hours as the crisis deepens. Turkey's economy is among the top 20 in the world with a GDP close to $1 trillion. Additionally, a bigger crisis would unfold if there was a spread to European banks or trading partners. It is continued instability in the current financial system that could see cryptocurrency emerge as a safe haven from banking instability or bail-ins.
ETH
I've highlighted the weakness of Ethereum in recent weeks as it failed to mirror Bitcoin's strength during the July rally. The second-largest cryptocurrency is again being crushed this week with a loss of 22% so far.
In my August 4th article, when Ethereum was trading at $412, I stated,
The picture on the weekly level looks less positive with a bearish weekly bar threatening to close under previous support levels... Key support from April lies at $370… so the next days will be important to dictate the next direction.
We saw the price of Ethereum move lower through the $400 mark and test at the $370 levels. Further weakness has now brought us to a price around $315 and a market capitalization of $32.2 billion. If we see Bitcoin trade lower next week, then Ethereum will follow suit. The first target is near $290 where there is an uptrend line from 2017.
LTC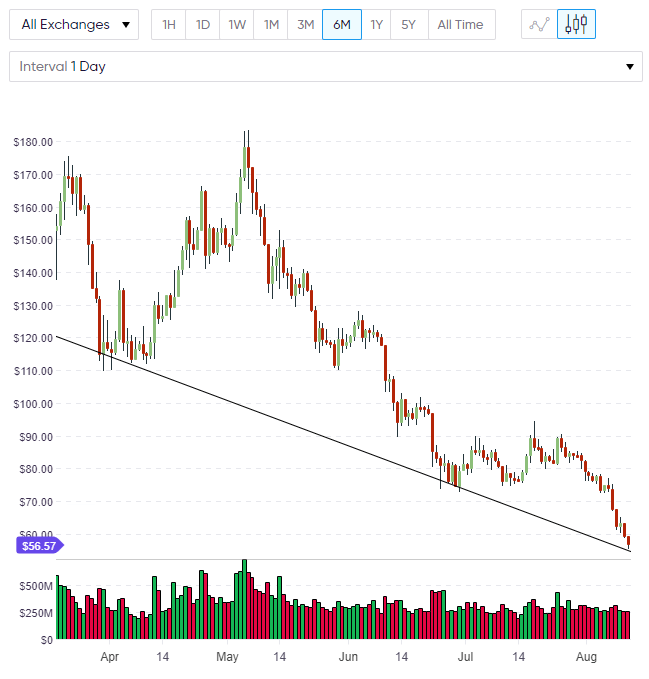 Litecoin is lower on the week and is showing a downtrend channel line for its next direction. I noted that $50 was a support level for LTC when we traded around $75 and we are now only $6 shy of that mark. As with the general market, we will see how LTC behaves around this level in the next week or two. Litecoin's market capitalization is now only $3.2 billion and sits seventh in the list of the largest coins.
The entire cryptocurrency market cap has now slipped to $209 billion after testing highs just shy of $300 billion only a few weeks ago. Until we get clarity about the SEC decision on Exchange Traded Funds, it's possible we may see a panic sell and see a real low. The dip for Ethereum this week has already displayed that type of move through the April lows so next week it will be interesting to see if we see a pause in some of these coins. In Bitcoin and Ethereum, we are very close to key uptrend lines from 2017 and it is likely that these will be tested first before any relief rally unfolds.
Disclaimer: information contained herein is provided without considering your personal circumstances, therefore should not be construed as financial advice, investment recommendation or an offer of, or solicitation for, any transactions in cryptocurrencies.