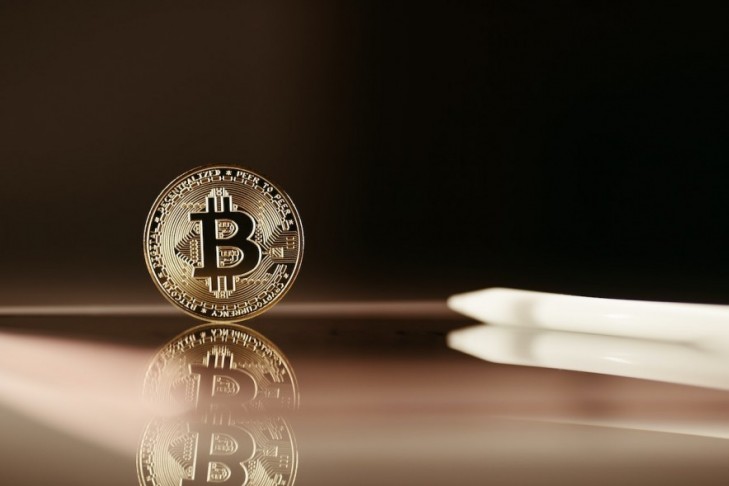 Bitcoin Volatility is Flat After Fed Minutes, SOL, FLOW, FIL, Jul 7
Jul 8, 2023, 4:47PM

by
Kevin George
BTC trading was muted after FOMC minutes remained hawkish. SOL could be setting up for gains on development. FLOW and FIL pressured.
BTC
The price of Bitcoin was unable to mount a rally this week and was less than 1% higher.
Price action was slower in BTC after the release of the U.S. central bank's FOMC minutes, which showed a hawkish tone to the outlook for U.S. interest rates.
"In discussing the policy outlook, all participants continued to anticipate that, with inflation still well above the Committee's 2 percent goal and the labor market remaining very tight, maintaining a restrictive stance for monetary policy would be appropriate to achieve the Committee's objectives," the report said.
Markets are now pricing in a July rate hike as a done deal and are expecting two hikes this year. That would bring rates to 5.5% and burst a bubble of hope that they would reverse this year. Another strong jobs report was expected on Friday and that has been another reason for a hawkish Fed. Rising interest rates took the steam out of crypto as decentralized finance APY returns became less attractive, while the fallout from regulation has also curbed speculation.
Hopes for a Bitcoin ETF approval for asset management giant BlackRock have also slowed as it will have to await the Grayscale V SEC court case later in the year. Another weight on BTC has been the rush into AI stocks. That has removed speculative capital from many cryptos. Data from VandaTrack this week also said there were signs that investors were rotating to electric vehicle stocks after strong Chinese sales.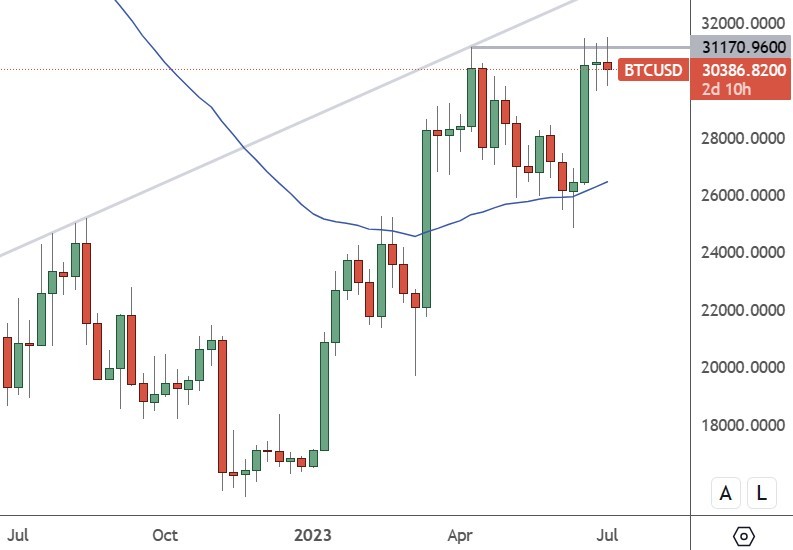 The Bitcoin price has clear resistance in play at the $31,170 level and that will be the obstacle to further gains. A failure to get above here means a correction to $26,000.
SOL
SOL produced a 15% return for the week and got back above the $20 level.
Solana is slowly repairing the damage to its reputation after a number of high-profile outages marked 2022. Solana's network has also now seen nine months of uptime while development continues to buzz. The emergence of new apps on Solana, such as Underdog Protocol, Monstrè Pay, Solarplex.xyz, and Boom Army are helping to garner attention.
Pentoshi, a high-profile trader with $700k Twitter followers is also bullish on SOL at these levels, saying:
"All of a sudden showing some pretty promising signs of life on BTC and ETH pairs as well as a potential deviation and trendline break on USD".
This is one I plan to buy heavily this year and is one of my strongest conviction bets for the bull run, whenever it comes.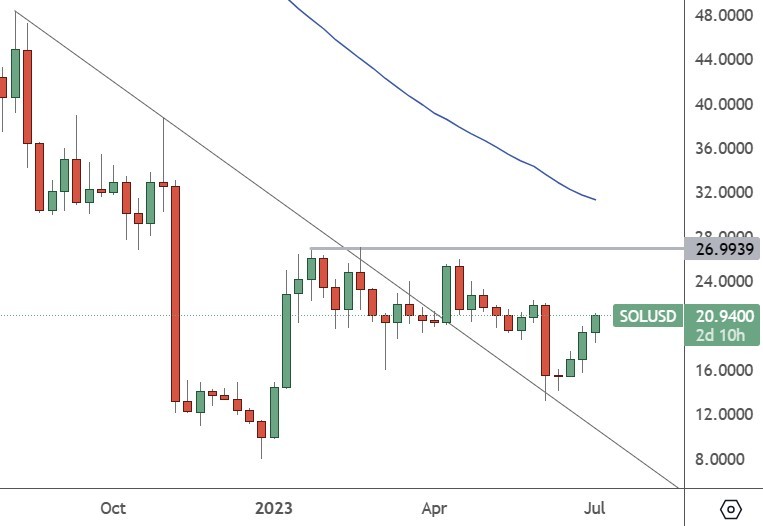 SOL price has a stronger resistance at $27 which could see a move toward $37 with a higher resistance at $48.
FIL
The decentralized storage platform Filecoin has seen its price remain under pressure in 2023. An early surge to $9.00 has dropped back to $4.43 but the support at $2.67 gives hope for a bottom in place.
Traders were hoping from a further rally after the release of the Filecoin Virtual Machine (FVM) three months ago. Despite the bearish activity in the coin, the project's developers have shared positive updates on the outlook for FVM, with 2,500 smart contracts deployed and 91,000 wallets created on the FVM to date.
FIL is still an interesting coin as it trades in the niche of decentralized storage. Cloud-based storage has been a big business for large tech players such as Amazon, Google, and Microsoft. That could make Filecoin a target for partnerships if these big tech names plan to head into the blockchain. FIL soared to a market cap of $11.8 billion in 2021, but has since slumped to $2 billion.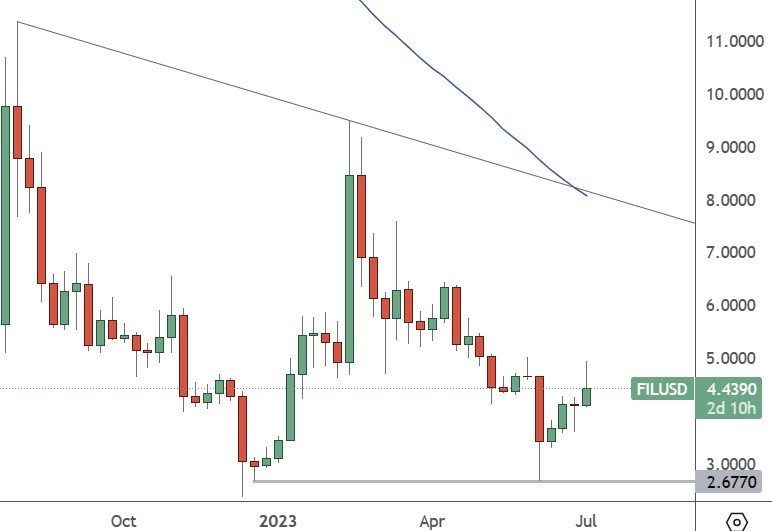 The price of TWT has risen on the week to $0.9380 and investors could see a move above $1.00 this week with the potential for larger gains as the regulatory picture develops.
FLOW
The price of FLOW has been under pressure this week after a two-week bounce and the $0.70 level is key support.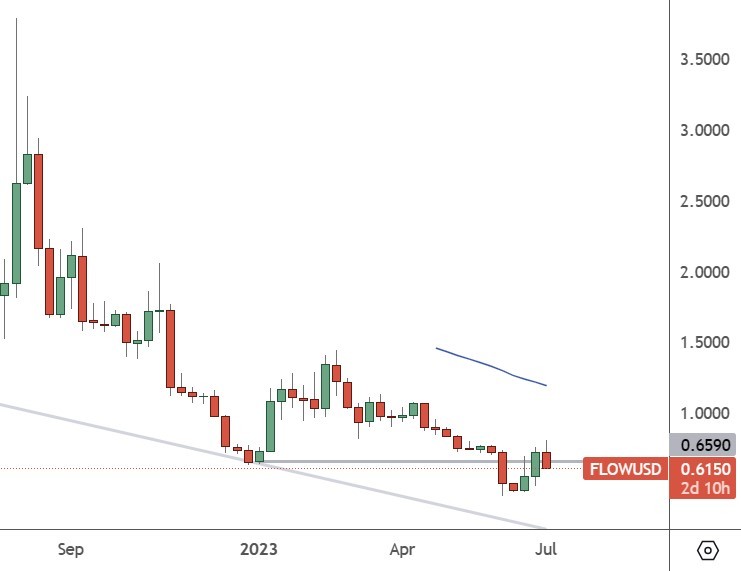 Flow is a developer-friendly platform aimed at building and scaling Web3 applications. The platform wants to be a go-to for developers seeking to build Web3 games, DeFi platforms, and NFTs.
Flow has been used by world-class brands including NFL, Ticketmaster, and Mattel.
The Flow blockchain was launched by Dapper Labs and is responsible for the hit NFT platform NBA Top Shot. In May of 2022, Dapper Labs unveiled a $725 million fund to boost "gaming, infrastructure, decentralized finance, content, and creators" in the ecosystem.
FLOW needs to find buyers at this level or risk a further drop. The coin was popular in late-2022 after partnerships were announced for NFT support to Meta Platforms and others. NFT usage on the likes of Instagram has failed to take hold.
Disclaimer: information contained herein is provided without considering your personal circumstances, therefore should not be construed as financial advice, investment recommendation or an offer of, or solicitation for, any transactions in cryptocurrencies.