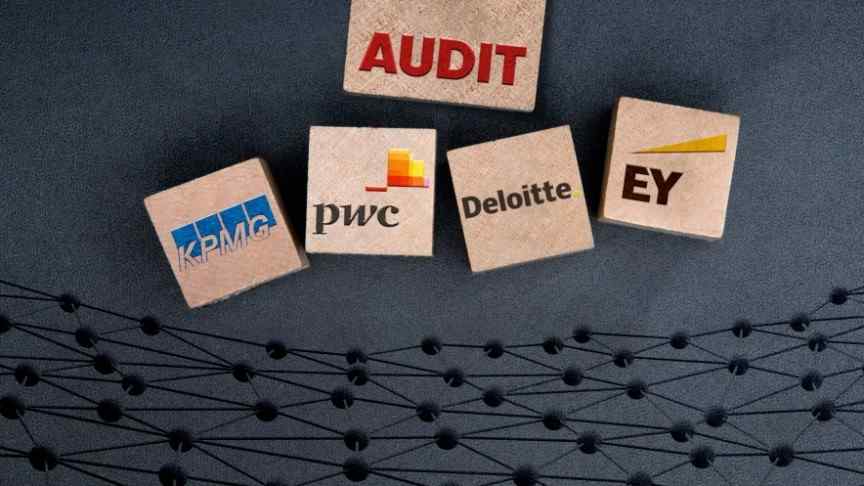 Blockchain in Auditing and Accounting: What are the Big Four Doing?
Sep 24, 2018, 9:14AM
How are the Big Four accounting firms approaching decentralized ledgers? We take a look at where their interests lie and the efforts made so far.
As blockchain technology hatches out of its eggshell and approaches maturity, it begins to draw attention from monopolies in every relevant industry. Hints of a technology that can potentially revolutionize every aspect of the business world, from lowering costs to improving productivity, have already reached numerous industries within and without the fintech world.
Among the many industries that are set to benefit from decentralized ledgers is the accounting and auditing industry, for which the immutable source of data can greatly streamline tedious processes.
Of the companies that account for the bulk of the auditing and accounting industry, a few have already begun making inroads with blockchain technology. KPMG, PwC, Ernst & Young, and Deloitte are some of the biggest names in the professional services industry with the distinction of generating revenue of over $100 billion and an unrivaled global outreach. Countless businesses depend on them to deliver honest financial reports, in a process that is time-consuming and expensive, and which allows little room for error. With trust and reliability built into the blockchain, we will soon see this industry undergo a revolutionary upgrade.
Unsurprisingly, it's not just the Big Four that are mulling over blockchain integration. The Request Network project, who have partnered with PwC France, is developing several decentralized applications that deliver many of the functions that these accounting firms offer in their services, including accounting, auditing and invoicing.
The reason why companies both large and small are eyeing this technology is that the automated, intermediary-absent and immutable data recording of distributed ledgers are particularly applicable for the bookkeeping and accounting industries, which work with a great deal of data that is extremely sensitive and must be stored carefully for future use. Here's a sneak peek into what each such company is doing.
How Are the Big Four Employing Blockchain?
The four giants mentioned above have started on a path towards blockchain adoption, including a joint pilot program that sees them working with 20 Taiwanese banks, but it is the individual efforts to embrace blockchain that truly reveals their excitement.
Deloitte
Deloitte's attempts to pilot the technology has resulted in the Blockchain Lab and Blockchain Center of Expertise. These entities have created a Deloitte blockchain which, among other applications, could be used in auditing and supply chain services. For Deloitte, the successful implementation of blockchain is in the creation of a "Minimum Viable Ecosystem", where a fundamental set of key players can interact for the operation of a blockchain. They have also approached several industries, including finance, healthcare, and media, concluding that blockchain is applicable to all. The Minimum Viable Ecosystem is being built to facilitate a new method of information exchange between these kinds of industries.
Deloitte has already delivered on blockchain: DNV GL, an international registrar and accreditor, has worked with Deloitte to release 90,000 certificates on a private blockchain. As far as auditing is concerned, the firm sees blockchain establishing a central source of auditing data that accountants can access for assessment.
Martin Bryn, Partner at Deloitte, says,
This is one of the first blockchain applications outside the finance industry, and it shows the limitless possibilities this technology provides. In not too long there will be concepts, prototypes and investments emerging in every major industry. / Martin Bryn
Ernst and Young (EY)
EY has also started several blockchain initiatives and is notably the only one of the four conglomerates to accept Bitcoin (available in the Swiss office). Like Deloitte, they see several applications for blockchain. One of their early and notable forays involves a partnership with Microsoft to support content rights and royalty management for the media industry. Having already launched, this effort started with a focus on the gaming industry, which has gained plenty of attention from the blockchain market. Utilizing smart contracts, the solution showcases real-time sales transactions for media creators and helps reconcile royalty disputes without having to go through an intermediary.
Most significantly, however, EY has launched the EY Blockchain Analyzer, which gathers an organization's cryptocurrency transaction data from multiple blockchains, allowing auditors to assess this data and identify transaction outliers. In a time where companies are beginning to use cryptocurrencies both as a payment option and salary option, this is a smart move on EY's part to keep up with evolving operations.
Jeanne Boillet, EY Global Assurance Innovation Leader, says,
As digital technology continues to advance, we are focused on developing innovative approaches to the audit process and providing confidence and trust to the capital markets. As companies are also focusing on how they embed technologies like blockchain into their financial processes, we are innovating the audit to meet their evolving needs and those of investors. / Jeanne Boillet
KPMG
KPMG, which recently announced a new U.S. Blockchain Leader, sees the benefits of blockchain as being increased efficiency, reduced fraud, greater capital, and smoother customer experience. They are currently testing and refining blockchain services, with their most notable achievement being a blockchain services suite aimed at helping banks build their own blockchain services, called Digital Ledger Services. This is in collaboration with Microsoft, which in turn runs its own Blockchain-as-a-Service platform on the Azure cloud. The firm is also a part of the blockchain advocacy group called Wall Street Blockchain Alliance.
PwC
PwC (PriceWaterhouseCooper), wants to assure businesses with its range of blockchain services, including risk reporting, continuous assurance and continuous tracking of transactions. The regional unit of PwC is partnering with Request Network (discussed later), to help form relationships between fintech and existing companies. The company has proudly announced its blockchain intentions and already offers services that focus on implementing blockchain solutions from the ground up and integrating third-party solutions.
It has also released an auditing service that lets companies take external assistance in the reviewing of their finances. According to CCN, a major stock exchange and a digital wallet provider are already customers.
Request Network, an Emerging Startup Competitor
The Big Four, despite their prominence, are not the only ones to acknowledge that blockchain could streamline auditing. There is one market project that is taking its own decentralized approach in this field, moderately well known, called Request Network, which has been in ideation since as far back as 2014.
By attempting to create a series of decentralized applications that would reduce auditing costs, automate payroll and offer metadata on the company, Request Network hopes that their platform will help small and medium businesses grow more quickly. Resources that ordinarily be spent on auditing could be used for other areas of company management.
With invoicing, automated accounting and payroll services in the works, they are working towards providing the very services that the likes of Deloitte are known for, albeit for smaller firms and on a scale, one could argue, that covers a greater variety of financial services.
Major auditing firms are not just adopting new technology to improve efficiency - with the likes of Request Network improving their product, they are adopting it just to stay relevant. This necessary step involving major companies and adoption is important in the evolution of blockchain. It establishes the authenticity of the technology in the eyes of a wary wider market. Indeed, no major company with a reputation to protect would consider a fledgling technology if it did not possess some merit. And from cloud computing services to supply chains, the thought of employing it has probably gone through the mind of every major firm.
Big Four Enterprise Adoption Will Be a Step Forward for the Market
For all of the claims that blockchain and the cryptocurrency market will upend the way the economy works (in favor of the consumer), proponents of the technology fail to give enterprise adoption its rightful due in helping establish a more permanent presence in the market. There is no doubt that Bitcoin and Ethereum can eliminate middlemen and reduce fees, but the baseline of market users will only steadily increase when established players find ways to integrate blockchain into their essential services.
Large-scale implementation by the Big Four will only arrive when blockchain is refined and the protocol layers are improved. Despite the pomp with which these firms have discussed blockchain, they know that it is a long game, as evidenced by the slow release of piloted programs. It will not completely replace the auditor, but greatly reduce their workload and provide them with efficient tools.
Disclaimer: information contained herein is provided without considering your personal circumstances, therefore should not be construed as financial advice, investment recommendation or an offer of, or solicitation for, any transactions in cryptocurrencies.