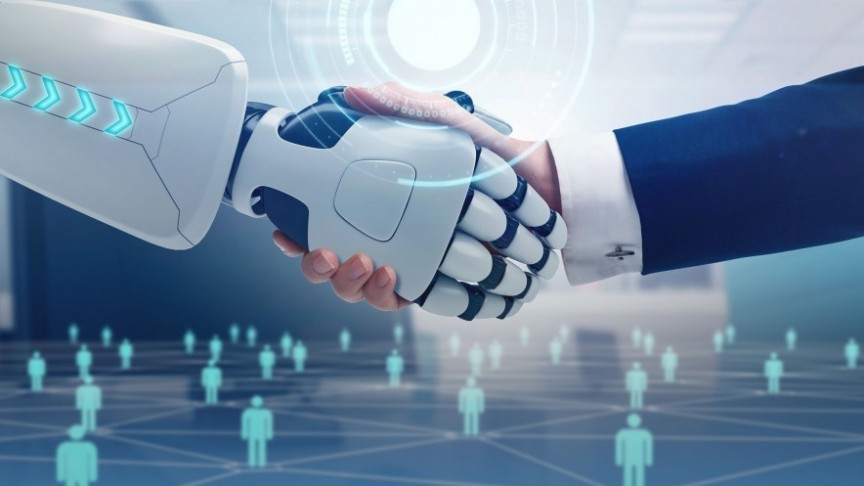 Blockchain Meets AI: Five Industry Leaders Using Both Technologies Together
Feb 6, 2020, 8:36PM

by
Mike Dalton
Blockchain and artificial intelligence are a powerful combination. Which industry leaders are using both technologies?
Artificial intelligence is a vast area. Generally speaking, AI is used to handle data in particular ways. It can be used to process language, recognize images, interpret large data sets, and perform various other tasks. These basic applications can in turn be applied in virtually every industry, meaning that AI offers endless possibilities.

Now, some companies are attempting to enhance their AI efforts with the aid of blockchain technology. Blockchains are useful for a different reason: they can store and share data in a way that is trusted, immutable, and verifiable. In this article, we'll look at five key players in the tech industry that are making the most of both innovations.
Microsoft
Microsoft is helping its users place their trust in AI by offering blockchain tools. Thanks to Azure Blockchain Data Manager, the company will ensure that AI data and algorithms maintain their integrity from start to finish. The service is designed to trace data from its origin point—even if that data undergoes several transformations.

Azure Blockchain Manager is already available, and it is compatible with many different blockchains, meaning that it could quickly gain traction with Microsoft's existing Azure userbase. Microsoft has also brought on an early adopter: Icertis, which tested and developed use cases for the product prior to its November 2019 launch.
IBM
Last October, IBM launched the Sterling Supply Chain Suite, which is integrated with blockchain and AI. Thanks to IBM Watson, the product offers real-time shipping insights and alerts powered by AI. At the same time, integration with IBM's Hyperledger blockchain allows participants to share data across different systems.

Because IBM acquired the Sterling brand from AT&T in 2010, it brought 7000 clients on board as soon as it launched the suite. Several household names are already using Sterling SOM, including Adidas, Home Depot, and Whirlpool. The drug wholesaler AmerisourceBergen and the manufacturing company Misumi are clients as well.
Nvidia
Nvidia currently offers Clara Federated Learning, or Clara FL, a machine learning framework that is targeted at hospitals and healthcare organizations. In its basic state, Clara FL allows medical workers, researchers, and developers to use its AI capabilities in areas such as medical imaging and genomic analysis.

In December, Nvidia announced plans to introduce blockchain features to Clara FL. This addition will allow data to be shared in a confidential way. Nvidia is developing the new feature in partnership with King's College London and the medical software company Owkin, and four U.K. hospitals will take part in the project initially.
Bitmain
Bitmain, the largest crypto mining company in the world, is transitioning toward AI. Until now, the company has mainly manufactured ASIC chips that can be used in Bitcoin mining, a process that allows users to profit from their computational power. However, the power provided by Bitmain chips can be harnessed in the field of AI as well.

Bitmain first capitalized on this fact by launching its line of Sophon AI chips in 2017. Now, the company is doubling down on that strategy. According to the Asian news outlet Caixin, Bitmain appointed its first head of AI this January. The new strategy is part of a broader executive shuffling that has taken place over the past several months.
Cisco Systems
Cisco, a multinational tech conglomerate, is currently carrying out AI research in collaboration with the blockchain company SingularityNET. Though it is not clear what the end product will look like, Cisco and SingularityNET have recently focused on areas such as semantic image retrieval and intelligent road traffic analytics.
Since SingularityNET is dedicated to blockchain and AI, it has other similar partnerships underway. However, this is one of SingularityNET's most significant collaborations, as Cisco ranks at #64 on the Fortune 500 list. Cisco, though, has said very little about the partnership, so it may not be so significant for the conglomerate itself.
Other Efforts
In addition to the major industry players mentioned above, there are countless other crypto startups working in the AI industry. Top-ranking projects by market cap include Fetch.ai, SingularityNET, Effect.AI, and Matrix AI Network. Plus, there are dozens of other blockchain AI startups that are highly active but have virtually no market presence.
This means that AI has limitless applications in areas such as market forecasting, supply chain management, customer engagement, content ranking, security, IoT device networking, and other data-related tasks. The next big breakthrough may not come from a major company—but rather a small company that makes it big.
Disclaimer: information contained herein is provided without considering your personal circumstances, therefore should not be construed as financial advice, investment recommendation or an offer of, or solicitation for, any transactions in cryptocurrencies.