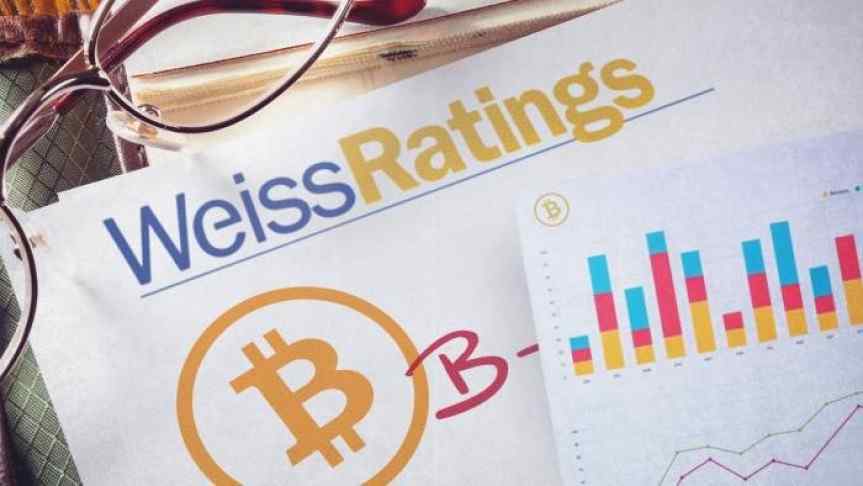 BTC, ETH Score High with Only B- in New Weiss Ratings for Best and Worst Cryptos
May 31, 2018, 3:47PM

by
Tom Nyarunda
The latest analysis by Weiss Ratings singles out 7 out of 93 blockchain related companies as market leaders with a "good" rating of above B-.
The leading financial rating agency Weiss has released the eagerly anticipated Weiss Cryptocurrency Ratings for 93 coins on a scale of A to F for the best and the worst. Among the Weiss-rated cryptocurrencies with a market capitalization above $5 billion, only seven; Bitcoin (BTC), Cardano (ADA), EOS (EOS), Ethereum (ETH), Ripple (XRP), Stellar (XLM), and TRON (TRX) received a Weiss Rating of B- and above. While Cardano and EOS scored B grades, Bitcoin and Ethereum scored B minuses.
Achieving a B- or above gives a cryptocurrency a coveted green rating in the Weiss system.
Weiss Ratings, an independent financial rating agency, is the only organization that offers cryptocurrency quality ratings. In the latest report, Weiss revealed a two-category grading system. The first grades a crypto's technology and adoption while the second measures its risk-to-reward ratio.
Explaining the categories, Weiss Ratings' own Martin Weiss said:
"Developers want a grade based exclusively on what their cryptocurrency project has achieved in terms of technology and adoption, regardless of market fluctuations. In contrast, investors seem to be more interested in how much money they can make or lose. Our overall Weiss Rating is a blend of both. But now, we are also breaking out the components so users can better understand what's under the hood."
Dr. Weiss described the thinking behind their rating system to CNBC earlier this year:
"We have built a computer model that looks at cryptocurrencies from many different angles and proves a rational, rigorous and reasoned research that investors need so desperately in this space."
Cryptocurrencies that receive the Weiss Ratings' seal of approval often see a surge in price while those with negative ratings risk being shunned by investors. Founded in 1971, Weiss Ratings rates over 55,000 financial institutions. The accuracy of their cryptocurrency report may be subject to debate but it gives credibility to cryptocurrencies in the eyes of potential investors.
Disclaimer: information contained herein is provided without considering your personal circumstances, therefore should not be construed as financial advice, investment recommendation or an offer of, or solicitation for, any transactions in cryptocurrencies.