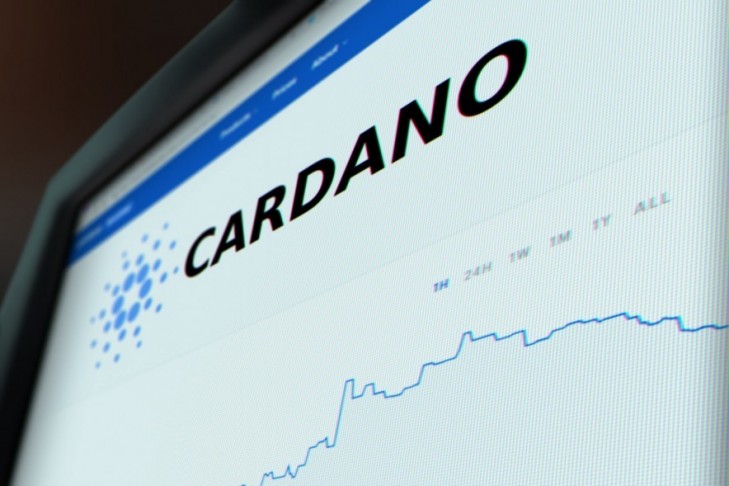 Cardano Price Dragged Lower but Large Investors Buy, IMX, BTC, ETH, Mar. 7
Mar 7, 2022, 7:45PM

by
Kevin George
ADA loses 12% but large investors and NFTs are positive trends. Gold and oil soar but demand wanes for crypto. IMX rises after fund raise.
ADA
Cardano lost 12% of its value as the cryptocurrency market turned lower once again. The market saw a high on March 2nd but has since dropped back to test support.
Commodity prices have been soaring with oil at $120 and gold touching $2,000 as tensions between Russia and Ukraine show no sign of slowing down.
It was not all bad news for Cardano with large investors in the coin hitting a record high. The balance held by addresses with 1 million to 10 million coins rose to a record of 12 billion ADA last week, a 41% gain since January, according to data IntoTheBlock.
The project is also seeing increased acceptance on the Decentralized Finance (DeFi) path with total value locked in the Cardano network increasing by $50 million in a week, hitting a lifetime high of $160.79 million, according to DefiLlama. More than 70% of the funds are locked in decentralized exchange (DEX) SundaeSwap.
Cardano's development team have been upgrading the platform to include smart contracts and DeFi capabilities. The Cardano-based DEX AdaSwap announced a $2.6 million fund raise led by venture capital firm iAngels and several other investors, including actor and producer Gal Gadot and her husband Jaron Varsano.
Cardano also saw a milestone in NFTs with 800,000 coins having been minted using NFT MAKER which runs on the cardano blockchain.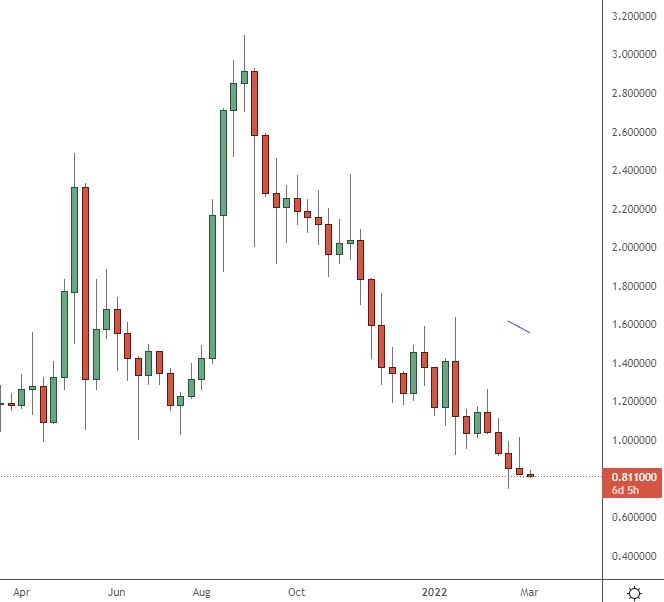 ADA traded at highs of $3.00 in September last year, but has now slipped to $0.80.
IMX
Immmutable, creator of the NFT-focused layer-2 protocol Immutable X, secured $200 million in Series C funding, catapulting the Australian startup to a $2.5 billion valuation.
Led by Temasek, investors in the financing round include Animoca Brands, Tencent, ParaFi Capital, Princeville Capital, Arrington Capital, Mirae Asset and Liberty Global.
We'll be growing from 170 to 350 people over the next year — investing in a global partnerships and gaming advisory team and tripling our product and engineering teams.
Immutable hit the headlines in October after creating Immutable X, which powered TikTok's NFT (non-fungible token) collection. It was said to be the first layer-2 protocol on Ethereum that allowed instant trading and zero gas fees, which was often a hurdle for minting NFTs.
Earlier this month, Immutable announced a $100 million joint fund with GameStop for blockchain gaming startups.
In 2017, we saw NFTs come out with CryptoPunks and [my brother and I] said, 'This is it,' This is going to be massive because there is more uniquely ownable stuff in the world than there are currencies. The ability to have digital property rights is going to be the most important thing.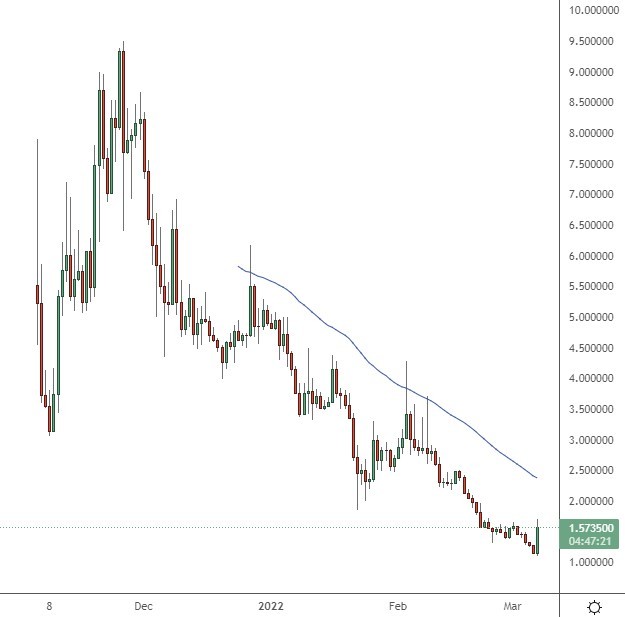 The IMX coin was 30% higher after the latest funding news with the token trading at $1.57.
BTC
The Bitcoin price led the market lower with a slip below $38,000 after failing to hold the $45k level.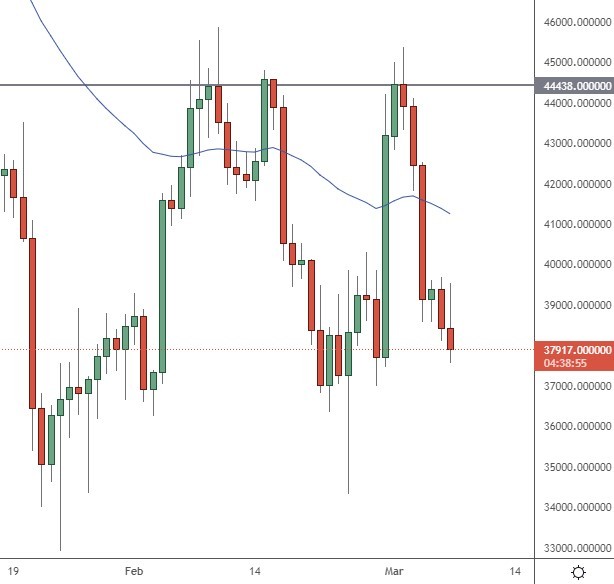 BTC is falling behind commodities as oil, gold and other commodities soar. Nickel prices surged 76% to $51,000 a tonne and wheat was also trading at a 14-year high.
BTC has failed to keep pace with physical commodities and former Goldman Sachs CEO, Lloyd Blankfein reminded the market that this should be a good time for the coin due to the inflating US dollar and government actions.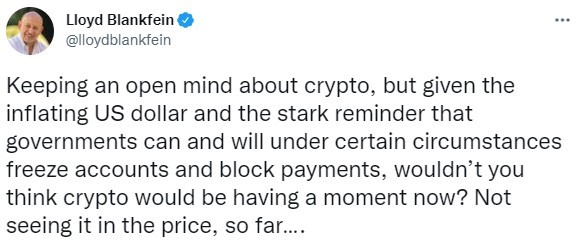 Large investors are preferring to hoard physical commodities in light of the Russian sanctions and growth expectations for world economies will likely have to be revised lower. With Ukrainian ports closed and operators reluctant to trade Russian wheat, buyers are looking for alternative suppliers.
BTC will look for support ahead of the recent lows at $34,000 seen in January.
ETH
Ethereum touched the $2,500 level on but this is another coin seeing growth in whale investors.
Wallets holding 1m to 10m ETH have previously held 21.6% of the coin but that has grown by 2.2% in the last month as bargain hunters pick up the coin in the current bear move.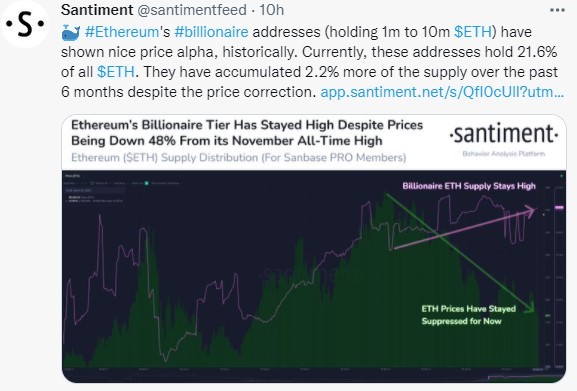 The Ethereum price has slipped by 48% in that six month period and is at risk of extending the downtrend towards the $2,000 level.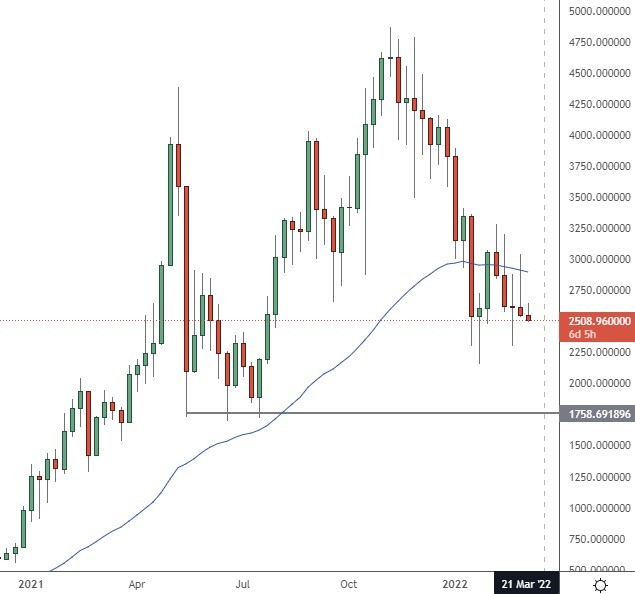 The bitcoin Fear & Greed Index, which measures the mood among crypto traders, has moved into "extreme fear" territory — indicating an increase in bearish sentiment.
The outlook became more gloomy following news that Andre Cronje, one of decentralized finance's (DeFi) most prolific developers, was leaving the industry. Cryptocurrencies associated with Cronje's projects such as Fantom (FTM) and Yearn Finance tumbled by up to 20% over the last 24 hours as the market reacted to his exit.
The market cap of Ethereum is now near $300 billion as the bearish sentiment continues to hit crypto markets.
Disclaimer: information contained herein is provided without considering your personal circumstances, therefore should not be construed as financial advice, investment recommendation or an offer of, or solicitation for, any transactions in cryptocurrencies.