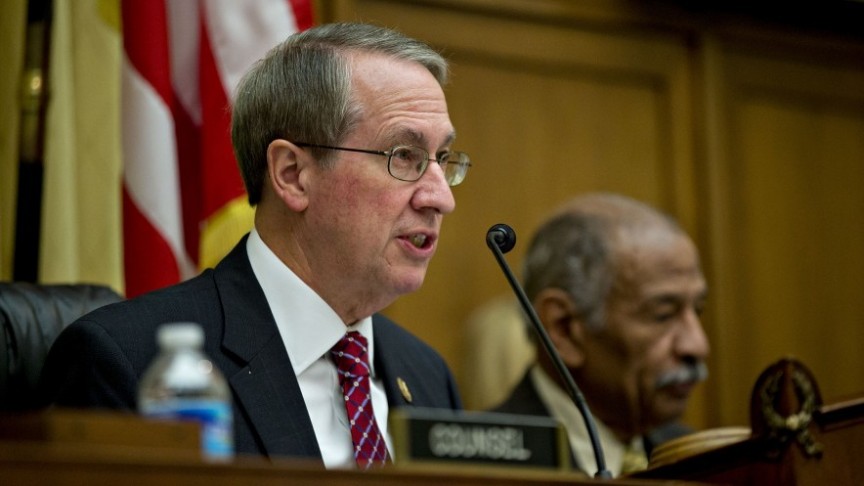 Congressman Bob Goodlatte First to Disclose Crypto Investments, More Will Follow
Aug 8, 2018, 2:36AM
For the first time, a member of Congress has disclosed their cryptocurrency investments. Will others follow suit? Are ulterior motives at play?
Rep. Bob Goodlatte, the chairperson of the House Judiciary Committee, is the first U.S. congressman to reveal his cryptocurrency investments. Goodlatte's disclosure is in keeping with a memorandum passed by the House Committee on Ethics in mid-June mandating the financial disclosure (FD) of cryptocurrencies under the category "other forms of securities" to ensure consistency with the reporting of other financial assets. According to his May 10 annual FD statement, Goodlatte holds between $17,000 and $80,000 worth of cryptocurrency -- predominantly Bitcoin, and smaller amounts of Bitcoin Cash and Ethereum.
The June memo also explicitly states that congressmen cannot file Periodic Transfer Reports (PTRs) more than 45 days after cryptocurrency transactions. PTRs, along with the impending financial disclosure statements, will force many other congressmen as well to disclose their cryptocurrency holdings. According to Sludge, those likely to reveal crypto holdings include several Republicans and Democrats who have actively fought to aid in the growth and further the adoption of blockchain technology in the public sector. Rep. Jared Polis (D-Colo), Rep. Greg Gianforte (R-Mont.), David Schweikert (R-Ariz.), Sen. Mark Warner (D-Va.) are just some of the names that are expected to reveal crypto investments next. They have all been very vocal with their support of cryptocurrencies and have made bullish predictions about its future.
Ulterior Motives?
There are numerous interesting contextual notes here to the phenomenon of congressmen holding crypto assets. For one, Goodlatte's son, Bob Goodlatte Jr. is an angel investor in Coinbase, the U.S-based cryptocurrency exchange founded in 2012. Coinbase also recently became the first crypto organization to form a Political Action Committee (PAC) to donate towards political causes. Many on social media have been quick to allege that Goodlatte Sr. and his colleagues may have benefited from investment discussions with Goodlatte Jr. and may have accumulated a high amount of cryptocurrency during the market's early years. If so the $80k claimed by Goodlatte would be pocket change in comparison.
The last 12 months have provided ample opportunity for high-level corruption within the political class relating specifically to cryptocurrencies. Earlier this year, South Korean government officials were caught trading insider information regarding crypto regulations. They got off scot-free. In the U.S., the House Ethics Committee had to effectively force members of Congress into disclosing details regarding cryptocurrency holdings since not one of them offered information willingly.
Cryptos and the Disruption of the Establishment
The context of the larger cryptocurrency culture might help explain why Congress members may have reservations about disclosing cryptocurrency investments. For a member of the government to hold investments in a sector that directly challenges government-issued currency could obviously invite blowback. With large percentages of their financing coming from Wall Street, senators and congressmen are often at the mercy of large financial firms. Cryptocurrency is a hugely disruptive technology for the financial services industry and is by far the biggest challenge that Wall Street has faced in recent history. Many in the Bitcoin community believe that cryptocurrency could, and should, overthrow the Federal Reserve's control over the monetary supply. A member of Congress investing in and endorsing the adoption of cryptocurrency has the potential to have unpredictable consequences. Now that the floodgates are open, time will tell how this will change the relationship between government, the banks, and the crypto community.
Disclaimer: information contained herein is provided without considering your personal circumstances, therefore should not be construed as financial advice, investment recommendation or an offer of, or solicitation for, any transactions in cryptocurrencies.