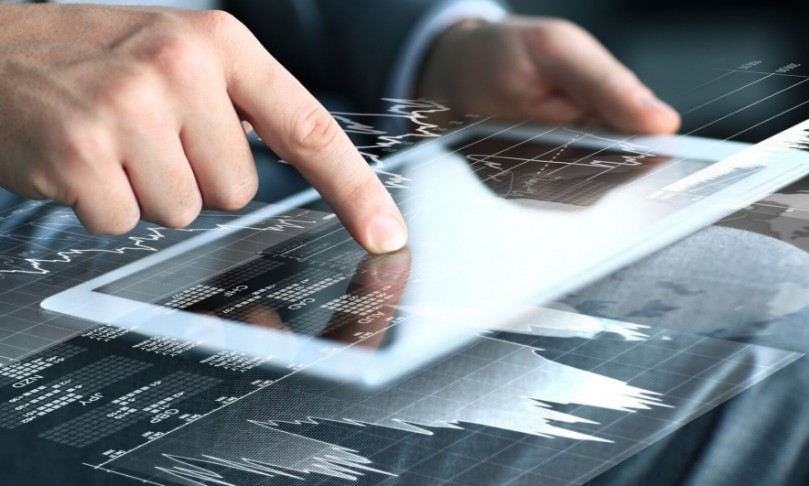 Crypto Majors Sell-Off Again but Big Gains Still Seen in Altcoins, Nov. 25
Nov 25, 2019, 6:58PM

by
Kevin George
Bitcoin tested support levels once more as China fears dragged the market lower. Storeum blasted 8,000% on the week and MMO was up 400%.
BTC
As I noted in last week's article,
Support in BTC is in the $7,000 to $8,000 level and this is vital to continue the uptrend which started in 2019.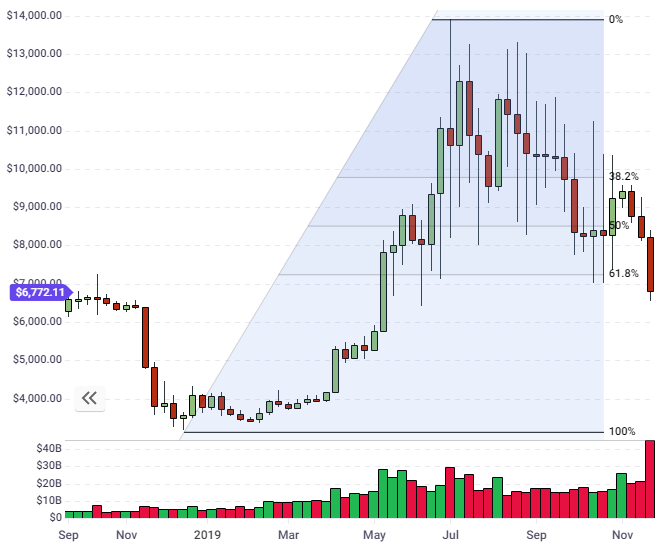 The market did sell off through both levels mentioned and BTC has seen a bearish weekly close that also comes under the 61.8% Fibonacci level from the late-2018 rally. This is not ideal for bulls and the market will continue to look for other technical support levels.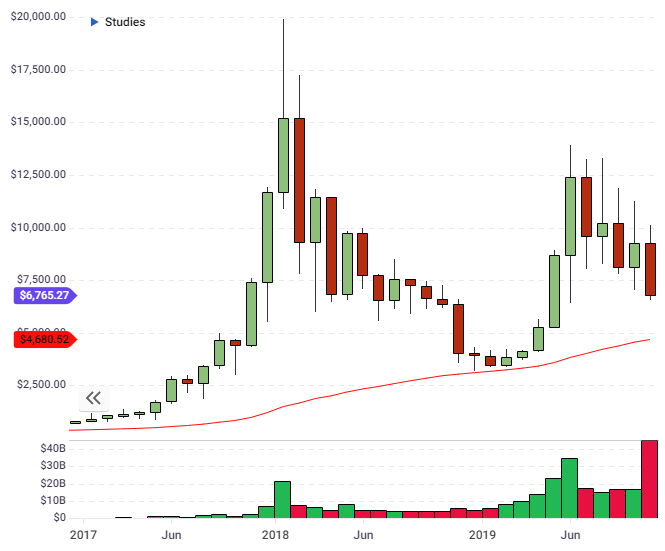 On the monthly chart, BTC has seen heavy selling this month and this is likely a sign of increased institutional participation. The 50 moving average in BTC comes in around the $4,700 level, which may be a target but last years' price action involved a late-year sell-off and a rally starting in January so that cannot be discounted for 2020. Continued weakness in gold has been a drag on BTC and U.S. stock markets have also been buoyant, meaning there is no appetite for a safe haven play at the moment.
Part of the gloom surrounding the cryptocurrency market this week has been a further crackdown on crypto trading in China. Officials in China had identified 39 cryptocurrency exchanges that were defying their trading ban. One of those exchanges, BISS, was closed and staff arrested.
These actions would apparently negate the previously positive blockchain comments from President Xi but I have said before that China wants to keep their control over the money supply and they will fight any attempt to undermine their upcoming digital currency as the key payment system in the country. Governments were always going to push hard against payment solutions that reduce their power and it is likely better to focus on coins that provide different solutions to payments such as the internet of things (IoT).
STO
The story for Bitcoin and the well-known cryptocurrencies in the top 20 is well-defined but big gains can still be seen outside of these coins and one huge mover on the week was Storeum, with an 8,000% gain that saw the coin rocket in the number 60 position in the list of coins by market cap.
The coin saw a rollercoaster week after starting at $0.006 before a sharp rise to $0.26 on the 22nd of November and then sold off to $0.003 before the rally to around $0.50. The peak in volume was only $60,000 to achieve this.
The Storeum project is seeking to create the world's first decentralized peer-to-peer marketplace--like an Ebay but with zero fees. The coin currently has a circulation of 130 million out of a potential maximum supply of 279 million. Storeum will be hoping to attract a chunk of Ebay's 183 million buyers. The platform is currently in a beta version and is in the process of releasing its own wallet before a marketing push and possible listing on larger exchanges.
MMO
Another strong riser this week was MMOCoin, with a gain of 400%. The project is seeking to be a marketplace for Multiplayer Online Games (MMO/G/RPG) safe transactions. MMO has risen to number 58 in the list of coins with a market value of $70 million. Circulating supply of MMO is only 60 million coins. The MMOPro community reportedly has over 270 million registered users.
The coin's unique feature is a "tiered proof of stake" model, which sets stake rewards based on the number of coins held in the wallet.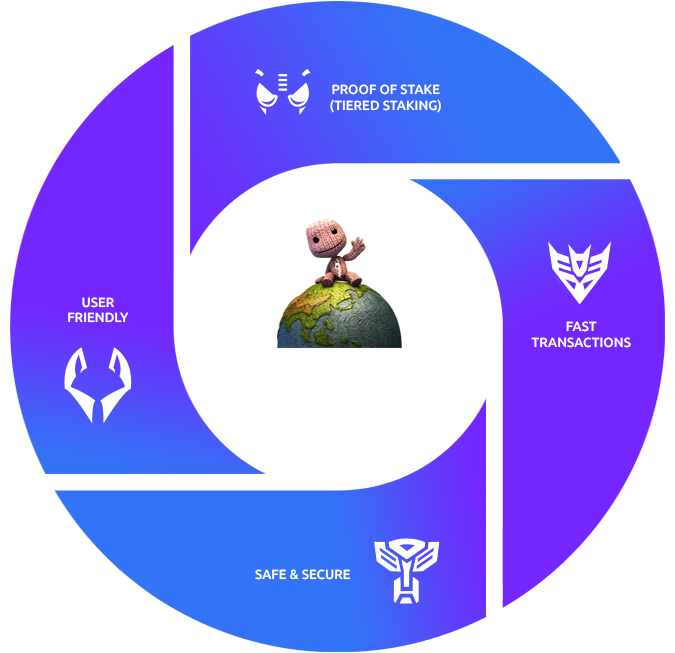 ETH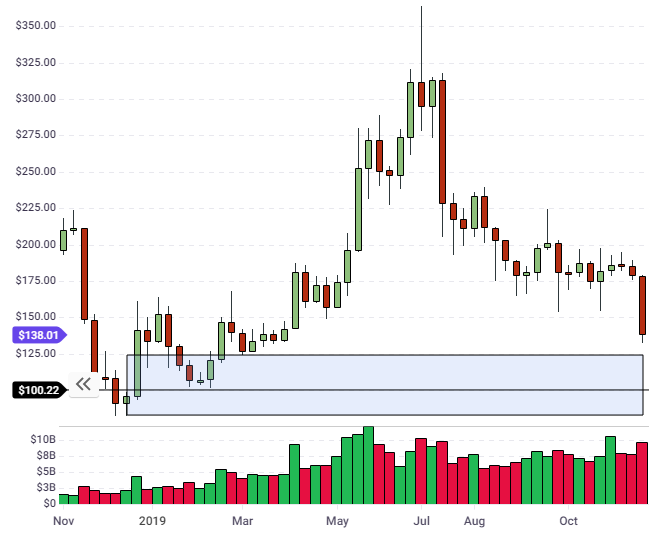 Ethereum followed the lead of BTC this week and crashed through the $175 level, which had supported the price from mid-year. The sell-off took ETH to a weekly close of $138 and the coin will look to make a base near the $100-125 level.
The ETH community is preparing for the Istanbul hard fork, which is set to be released on December 7th. Istanbul will commence at block 9069000. Following the Constantinople upgrade in February of this year, Istanbul will be the next step towards the final upgrade in 2020 and the transition to Ethereum 2.0.
One of the key features of version 2.0 is rumored to be a proof-of-work system that will reduce the power of ASCI miners.
In other blockchain news, U.S. banking giant JP Morgan is again using its Quorum blockchain and has moved beyond financial transactions to physical objects, with news that is testing the use of the chain to record automobile inventory.
The plan for the project is to prevent car dealers from double-booking the same vehicles for different loans by tracking the vehicle identification number (VIN). JPM has filed a patent for the ledger-based version of its floorplan lending model, which allows car dealers to borrow money against their inventory.
The price action for cryptocurrency this week is signaling that further losses could be seen in December. Time will tell if another January rally comes from new year buying once more.
Disclaimer: information contained herein is provided without considering your personal circumstances, therefore should not be construed as financial advice, investment recommendation or an offer of, or solicitation for, any transactions in cryptocurrencies.