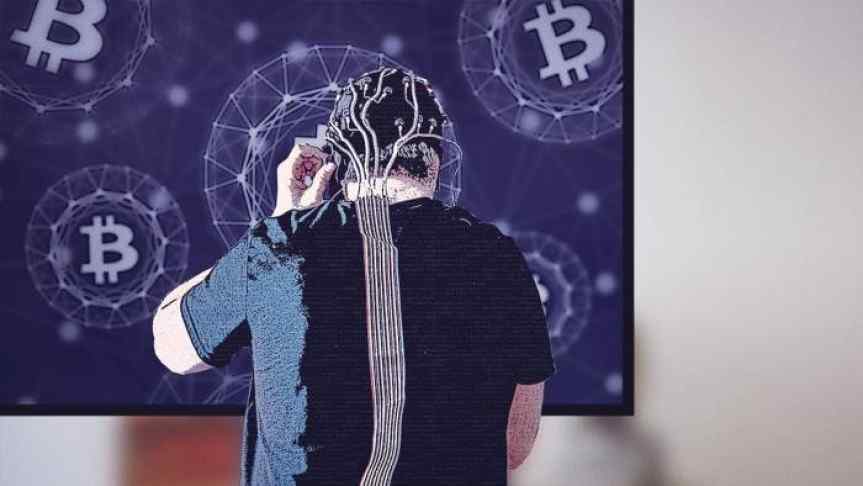 CryptoArt: From Yellow Lambos To Blockchain Addresses Stamped In Blood
Jun 7, 2018, 3:53PM

by
Chris Madill
Kevin Abocsh, a well-known photographer and conceptual artist, has been making headlines for his pursuit of a new artistic medium: blockchain.
Kevin Abosch, a well-known Irish photographer and conceptual artist, has been making headlines for his pursuit of a new artistic medium: blockchain. While most members of the crypto-community are chasing innovation, financial gain, and wider adoption, Abosch is busy exploring and critiquing the culture surrounding crypto. His latest experiment with blockchain, which landed him in the New York Times, is the creation of IAMACoin, a project for which he has created a digital token to accompany his artworks as a comment on the commodification of himself as an artist and of culture in general. This is not Abosch's first foray into crypto art.
Abosch is best known for a perfectly-lit photograph of a dirty potato. The photo, "Potato #345", fetched a hefty sum of $1 million Euros in 2015, lending credit to Abosch's skills as a photographer and as a conceptual artist, and making the headlines of art publications around the world. According to Abosch, the attention, and the payout, was a double-edged sword:
...On the other hand, the focus shifts from the artistic value to monetary value of the work, and for most artists the art is an extension of the artist, so you yourself start to feel commodified … In order to sort of control that, I began to think of myself as a coin.
Abosch must have found inspiration in this sentiment, as he soon realized that the intriguing world of blockchain could be the perfect forum for his next expression.
Blockchain seems like it has some sort of potential to offer a different economic logic that structures society, and so a lot of artists are interested in the social implications of blockchain and crypto.
In his fusion of art and crypto culture, Abosch has produced some notable and extremely valuable crypto-inspired pieces, putting him at the epicenter of an intriguing new movement in the world of virtual art.
Forever Rose and Yellow Lambo
"Forever Rose" was a project produced by Abosch and Andy Tian which essentially "tokenized" a photo of a rose taken by Abocsh into 10 ERC20 tokens. The ROSE tokens were then sold to 10 collectors for a total of $1,000,000 USD on Valentines day, and the proceeds were donated to charity.
"Yellow Lambo" was a solo-project by Abosch that sold for $400,000 to Michael Jackson, the former COO of Skype, the project consisted of a yellow neon sign spelling out the 42 characters of the blockchain contract address for "YLAMBO", an ERC20 token created by Abosch:
When I first became aware of the use of #lambo on social media, it struck me as vulgar ...But the more I thought about it, I realized that it's actually just a declaration acknowledging the insanity around the crypto zeitgeist.
IAMACoin
Abosch's most recent and most ambitious project is "IAMAcoin". The project consists of 100 physical artworks, and 10 million virtual artworks (IAMAcoin tokens). The tokens, Abosch says, are meant to represent the commodification of not only himself but everyone on Earth.
The IAMAcoin project is my response as an artist to the commodification of humanity ...I like to think we come into this world like newly minted coins, sort of perfect and priceless. The moment we come into the world there are those that try to ascribe value to us ...that's rather perverse."
The 100 physical artworks consist of pieces of paper, stamped with another blockchain contract address, this time in Abosch's own blood. The physical artworks will be made available to holders of IAMAcoin, who can redeem their tokens in exchange for the artworks. When asked why his art project should be considered valuable as art, Abocsh replied:
I think if you look at art, and you distill it to its core essence, it is about the idea. I think in this case, where the art itself is the token (IAMAcoin), you have a situation where the person who possesses it is partaking in the experience, this is an artistic movement - it is not about ownership of something physical, it is not about having to see something, it is about partaking in the experience, and the blockchain's public ledger can verify you are one of the people who is partaking in it.
Is it Art? Is it Crypto?
For those who find Abosch's concept hard to justify, it is helpful to remind oneself that all digital tokens are assigned a value based on demand. If every member of the market agrees a particular digital asset is worth $10,000 per token, then $10,000 becomes the asking price. The value is determined by our desire for the token, and nothing else. Abosch plays with this concept by reminding us that just because we cannot see something, or cannot hang it on our wall, does not mean it does not have value and that it does not exist. This afterall is the lesson of digital assets in the first place. So, as with all things crypto, it is best to not dig too deeply into the why, and to remember Abocsh's own words,
"Beauty is in the mind of the beholder."
Disclaimer: information contained herein is provided without considering your personal circumstances, therefore should not be construed as financial advice, investment recommendation or an offer of, or solicitation for, any transactions in cryptocurrencies.