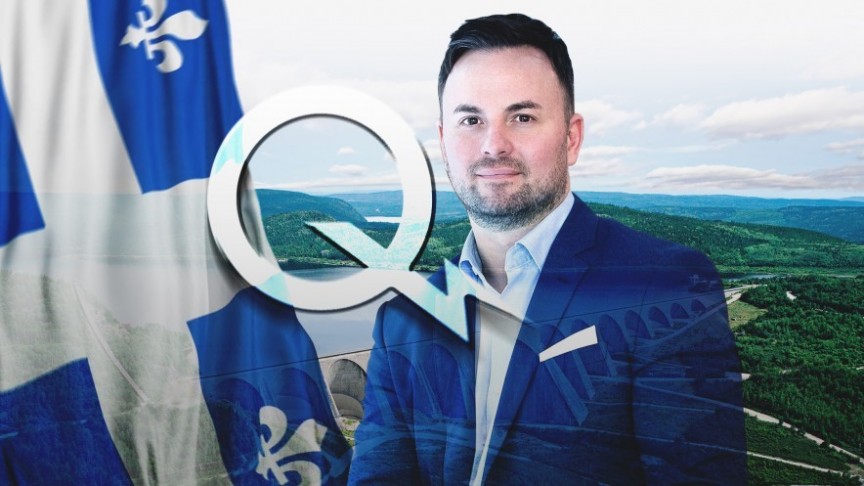 Cryptomining in Quebec: An Exclusive Interview With Hydro Quebec's David Vincent
May 17, 2019, 12:45PM

by
Chris Madill
Join David Vincent as he explains how Quebec will move forward with plans to grow the cryptomining industry through the sale of surplus energy.
"Cryptomining" is a hot topic in the Canadian province of Quebec. For almost a year, Quebec has been under a moratorium enacted by the province's energy regulator, the "Régie de l'énergie," preventing cryptocurrency mining outfits from taking advantage of Quebec's surplus hydro-electricity and stagnating the local blockchain industry. This moratorium was enacted in order to give the province the time needed to digest the thousands of applications it had received from eager cryptomining enterprises looking to move into Quebec.
Earlier this month, the Régie de l'énergie rendered a decision on how the province will regulate the sale of hydro-electricity to cryptocurrency mining projects in Quebec, effectively ending the moratorium. Now, the Province's state-owned energy provider, Hydro-Quebec (HQ), is ready to begin accepting applications from cryptominers, and the potential upside for both HQ and the citizens of Quebec is huge.
It will basically make this new industry one of the biggest industries in Quebec in terms of energy consumption, more than data centers, mines or petroleum sectors. This is no small feat for an industry that was almost non-existent here about two years ago.

/ David Vincent, Director of Business Development at Hydro-Québec
To find out more about what the future of the blockchain industry holds for the province of Quebec, we've reached out to David Vincent, Hydro-Quebec's Director of Business Development in a revealing interview that outlines how HQ will navigate the new guidelines set forth by the Régie de l'énergie.
Could you tell our readers what the new guidelines from the Régie de l'énergie mean for Hydro-Quebec (HQ) as a company?
First of all, it means that the moratorium on these projects is over and we will be able to go forward with a selection process to allocate a new block of 300 MW for this industry, which will be added to 368 MW of projects that were already approved, bringing the industry to a total of 668 MW. It also means that we will now have some important tools that we didn't have before to welcome this industry in Quebec, without having it put pressure on the rates paid by our other customers. The first tool we now have is the creation of a block that makes sure we can connect these projects within our available surplus capacity. The second being the fact that we will be able to curtail energy use during winter peak periods, up to 300h per winter. Lastly, the new selection process ensures that the selected projects are those who can bring the most value to Quebec in terms of job creation and investment.
How does the sale of electricity to cryptomining farms fit into HQ's growth strategy?
It's a good way to valorize our energy surplus within a new industry. The cryptomining farms tend to have a high load factor in term of consumption and the possibility to curtail their consumption during peak period makes them even better clients.
How many blockchain projects are awaiting approval from HQ at present?
Last year, we received requests for a total of over 300 projects, totaling over 18 000 MW. We will be calling all of these to see who wants to participate in the selection process for the new block which will be allocated.
Why has the Régie de l'énergie waited this long to approve an additional 300 MW?
This is a question that would probably be answered best by the Régie themselves, but it is to be expected that a process which needs to take into consideration the voices of dozens and dozens of parties who participated in public hearings takes time. The Régie had to consider all these pleas, thousands of pages of documents and make sure that its decision was in line with the law and previous decisions, which is no small task.
Will the newly allocated block of 300 MW enough to satisfy the demands coming from interested crypto mining projects?
Considering the massive amount of demand that we have received, probably not. We've been clear about this since the beginning: there is no way that we can accommodate everyone who is interested in our energy from all over the world. This is precisely why new guidelines were needed. However, it is a block that allows us to have a balanced approach and to let this industry grow in Quebec while still leaving room for the development of other industries, like data centres, greenhouses, mines, etc. We feel that this block is a good start for this nascent industry and it will allow us to get a better mutual understanding. Even if it's not enough to satisfy everyone, we need to put that 668 MW into perspective. It will basically make this new industry one of the biggest industries in Quebec in terms of energy consumption, more than data centers, mines or petroleum sectors. This is no small feat for an industry that was almost non-existent here about two years ago.
How will HQ determine if a potential blockchain project meets the Economic development criteria / Environmental criteria set forth by the Régie de l'énergie?
In line with the Régie de l'énergie decision, the projects that will be selected within the selection process will be those that maximize the number of direct jobs in Québec per MW (30% of score), total payroll of direct jobs in Québec per MW (30% of score), total investment in Québec per MW (30% of score) and will include heat recovery within their project (10% of the score).
Will potential projects be given an outline for how to structure their proposals when trying to show that they can meet these criteria?
Yes, we will release publicly in the coming weeks all the information and documentation necessary to structure and submit a proposal.
How will HQ ensure projects follow through with their promises to provide X amount of jobs, supply economic benefit to Quebec or meet the environmental criteria once the projects are active?
The projects will be selected and the energy capacity will be awarded on the base of their proposal. Audits will be performed to confirm that those projects comply with their proposal. Projects that won't comply will face penalties.
Finally, is HQ excited about working alongside blockchain projects in Quebec?
Yes! We are definitely excited to be able to go forward with this selection process. The blockchain industry will likely find its place in a very dynamic digital ecosystem in Quebec.
***
Bitrates would like to thank David Vincent for taking the time to inform our readers about the new guidelines governing the sale of electricity to cryptominers in Quebec. David's responses give a clear picture of what the province aims to achieve by fostering a nascent cryptomining industry - Economic gain through the measured sale of surplus hydro-electricity to the benefit of HQ, the provincial government, and the citizens of Quebec.
Disclaimer: information contained herein is provided without considering your personal circumstances, therefore should not be construed as financial advice, investment recommendation or an offer of, or solicitation for, any transactions in cryptocurrencies.