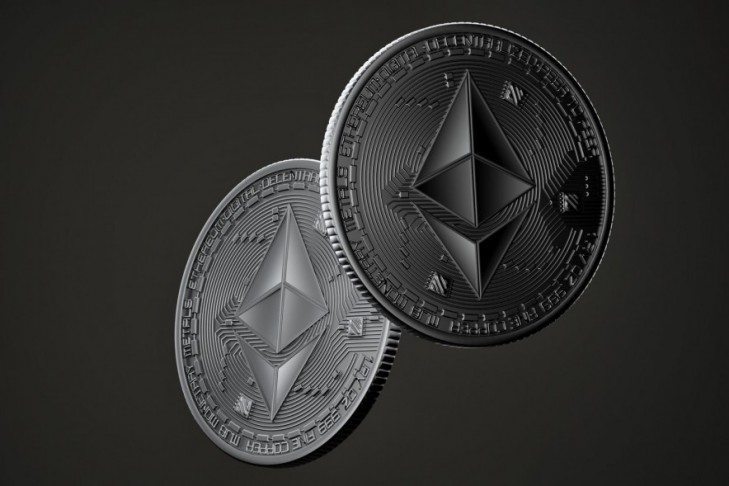 Ethereum Flashing a Sell Signal for the Crypto Market, BTC, XRP, ZIL Apr. 23
Apr 24, 2023, 9:35PM

by
Kevin George
Ethereum has slumped with a warning sign for the crypto market. BTC and XRP are under pressure from new developments. ZIL reversed weekly gains.
ETH
Ethereum has flashed a weekly sell signal, alongside Bitcoin, in a warning for the cryptocurrency market.
The Shapella upgrade was important because it would release tokens that had been staked as part of the Merge upgrade. It was always a risk that the return of the tokens could lead to selling, which appears to be the case this week.
The "staked ether" tokens currently account for around 15% of all ether tokens, according to data firm Dune Analytics, and the value was around $31 billion.
"The Shanghai/Shapella Upgrade is complete. Deposits & withdrawals for ETH, OP, ARB, and ERC-20 tokens via the Ethereum, Optimism, and Arbitrum networks are now back online," Binance said.
"The release of this previously unrealized investment may lead to significant downward price pressure if it is immediately liquidated," Deutsche Bank analysts said.
Bitcoin's Merge upgrade in September reduced its energy usage by over 99% in a move that many thought could see it usurp Bitcoin. However, ether had been underperforming the price of BTC, gaining around 60% this year versus a nearly 80% rise in Bitcoin.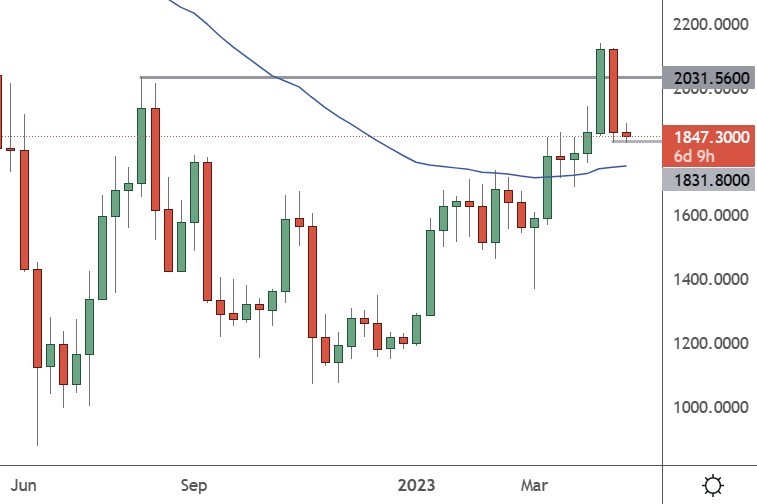 The price of Ethereum slumped 11% over the last week and is setting up a sell signal with resistance at the $2,030 level. That could see the coin move as low as $1,200 ahead of the year-end.
BTC
Bitcoin has pulled the crypto market lower this week with an 8% loss that sets the stage for further downside.
There was big news this week with the European Parliament passing the Markets in Crypto Act (MiCA) regulations.
These are the first sweeping laws by a developed economy to regulate crypto and will likely be a template for the United States as it explores its own rules.
The new rules were passed by a vote of 529 to 29 and the EU lawmakers said that they hoped they would be a "global standard setter".
These are the "first EU rules to trace crypto-asset transfers, prevent money laundering, as well as common rules on supervision and customer protection," the press release said. One area of concern for the crypto market is the ability to track all transactions above 1,000 euros from self-hosted wallets to centralized wallets, such as those hosted on crypto exchanges. The rules will not apply to peer-to-peer transfers but it means that European lawmakers have set the stage for governments to trace small sums and remove the decentralized benefits of cryptocurrencies.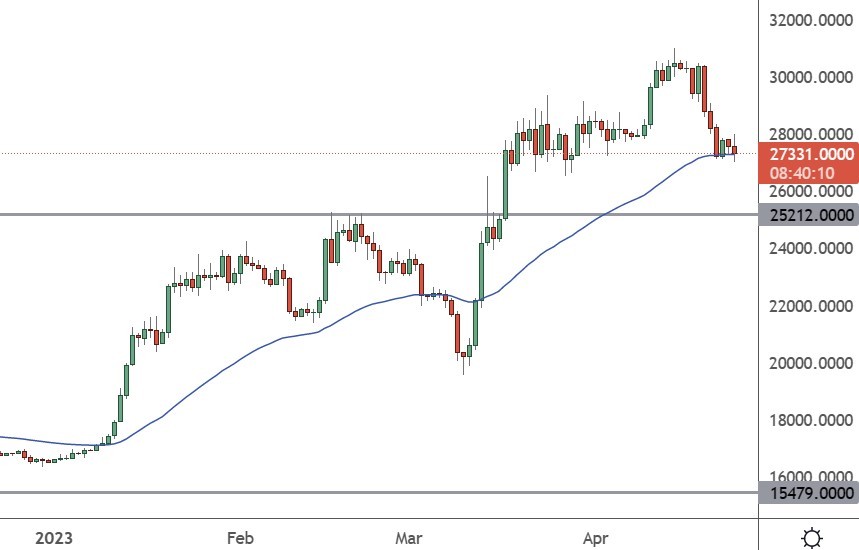 The Bitcoin price has found resistance at the $30,000 level and will now start a correction with the first target at $25,000.
XRP
Like Bitcoin, Ripple XRP has also had some negative sentiment during the week with the arrival of the IMF's Unicoin.
At the International Monetary Fund Spring Meeting 2023, the Digital Currency Monetary Authority (DCMA) announced the launch of a new central bank digital currency (CBDC) known as the Universal Monetary Unit (UMU), or Unicoin.
According to a press release, UMU is a legal money commodity that can transact in any legal tender currency and functions like a CBDC to enforce banking regulations and "protect the financial integrity of the international banking system."
The Unicoin will target cross-border transactions and that is another headwind for XRP as it adds competition to the coin's original use case. Ripple has also been bogged down in a lawsuit with the Securities and Exchange Commission (SEC) over accusations of XRP being an unregistered security.
Banks will now be able to utilize the new Unicoin currency by attaching SWIFT Codes and bank accounts to a UMU digital currency wallet.
"Cross-border payments can be slow, expensive, and risky," said Tobias Adrian, Financial Counsellor at the International Monetary Fund. "In today's world of payments, counterparties in different jurisdictions rely on costly trusted relationships to offset the lack of a common settlement asset together with common rules and governance. But imagine if a multilateral platform existed that could improve cross-border payments—at the same time transforming foreign exchange transactions, risk sharing, and more generally, financial contracting."
Through the adoption of a global localization public monetary system architecture, UMU can be configured to operate according to the central banking regulations of each participating jurisdiction, the release said.
"UMU is not attempting to disrupt the international monetary system," said Darrell Hubbard, the Executive Director of the DCMA. "If fact, it strengthens it by helping the IMF achieve its stated mandate to provide economic and financial stability to its member states. UMU is a game-changer in how cross-border payments are transacted and mitigates against seasonal and systemic local currency depreciation."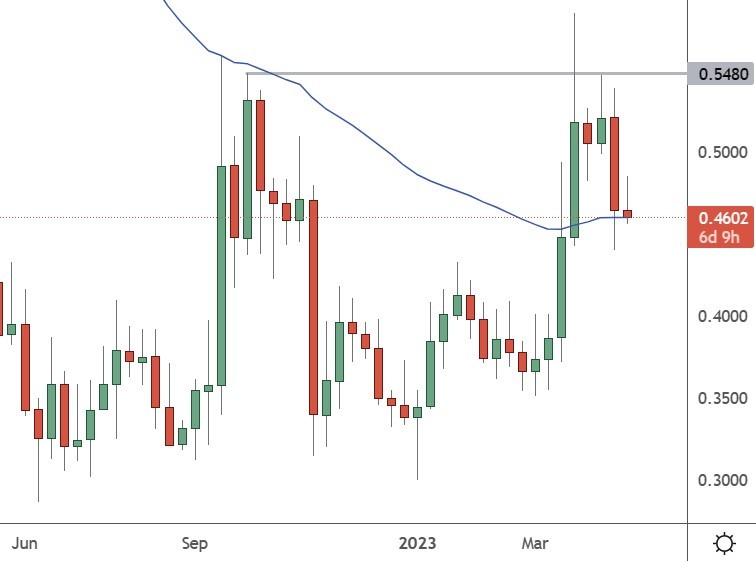 The price of XRP has hit resistance at the $0.54 level and is starting to move lower. The bottom of the recent range is at $0.30.
ZIL
The week in crypto can be summarized by the fact that Zilliqa was the market leader on Sunday with only a 3.5% gain. However, the coin has now reversed those gains on Monday and is showing a loss.
This price move follows a network performance statistics update shared by a Twitter community member @inna_everstake. According to stats, Zilliqa reached a new milestone in network addresses and daily transactions.
The recent network performance statistics suggest the Zilliqa network is rapidly growing and has gained more traction. According to the update, Zilliqa recorded 4,582,116 addresses with 47,937,935 transactions and over 5.5 billion staked ZIL tokens.
Zilliqa's improved performance could be due to the increasing number of new developers coming to build on the network. The Zilliqa ecosystem has been active in running innovative programs that attract new Web3 developers, which is why the network addresses and transactions skyrocketed.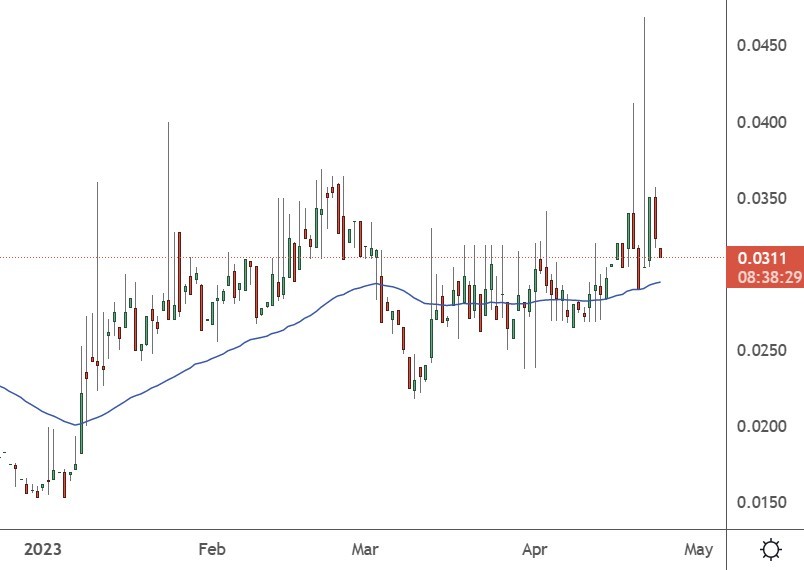 The price of ZIL spiked above $0.0400 on the week but has now reversed its earlier gains to post a loss.
Disclaimer: information contained herein is provided without considering your personal circumstances, therefore should not be construed as financial advice, investment recommendation or an offer of, or solicitation for, any transactions in cryptocurrencies.