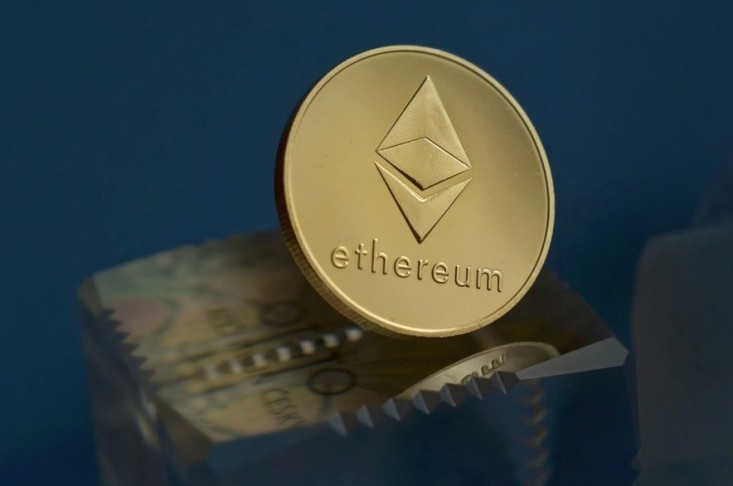 Ethereum Price Stalls at Key Fibonacci Level, AAVE, SOL, Apr. 4
Apr 4, 2022, 7:25PM

by
Kevin George
ETH up 3% for the week as crypto rally pauses. AAVE prospers but regulation threatens DeFi. Solana gains but LUNA is close behind.
ETH
The Ethereum price has stalled at the 50% Fibonacci retracement level, which was create by the November high and the March low. This may mark a pause before a push higher, or it may be resistance, but the week ahead will show the next path.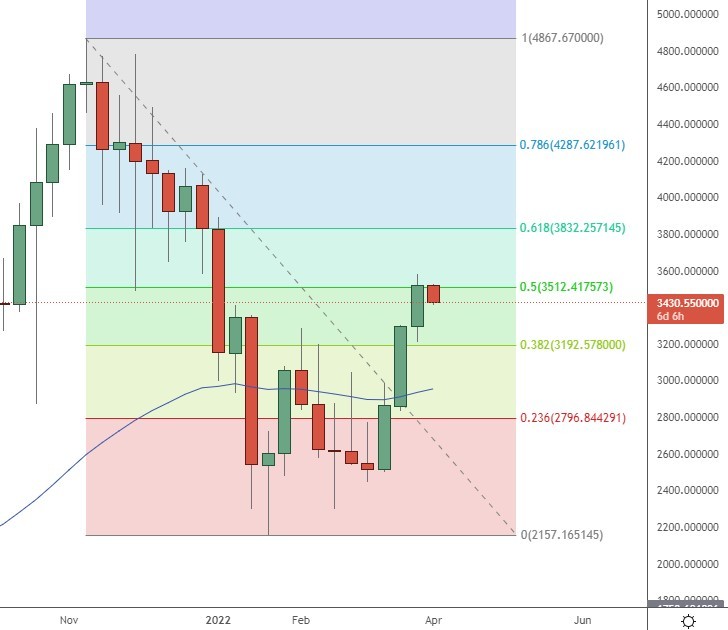 Ethereum co-founder Vitalik Buterin recently shared his concerns about the blockchain's future in a recent interview.
In an interview with Time magazine, the crypto enthusiast said the network was populated by players who are only after profit and deviate from the original vision of an egalitarian platform and said:
If we don't exercise our voice, the only things that get built are the things that are immediately profitable.
In the interview titled, "The Man Behind Ethereum is Worried About Crypto's Future,"
Time summarized the benefits of cryptocurrency well when it said:
Ethereum has brought thousands of unbanked people around the world into financial systems, allowed capital to flow unencumbered across borders, and provided the infrastructure for entrepreneurs to build all sorts of new products, from payment systems to prediction markets, digital swap meets to medical-research hubs.
Buterin said that he worried about overeager investors, soaring transaction fees, and shameless displays of wealth that have dominated crypto. Buterin stated:
"The peril is you have these $3 million monkeys and it becomes a different kind of gambling".
His comment was a reference to the Bored Ape Yacht Club and the larger NFT market.
TIME Magazine chose Buterin for the front page of its first-ever issue published as an NFT. TIME President Keith A. Grossman said:
As TIME continues to push the boundaries as to what is possible within the web3 ecosystem, producing the first-ever full magazine on the blockchain seemed like a natural extension for our brand and we knew this issue, in particular, would be cherished by our community.
Ethereum is still heading for its consensus layer upgrade and for the moment, the price will depend on the action at this Fibonacci level.
Ethereum was trading at $3,420 as the market finds resistance at the Fibonacci price level.
AAVE
Aave was 31% higher this week and one of the better performers as the decentralized finance (DeFi) platforms found further support.
The overall crypto market was weak this week but, on-chain analysts Glassnode reported that,
Bitcoin exchange outflow volume recently hit a rate of 96.2k $BTC per month. Aggregate exchange outflows of this magnitude have only been seen on a handful of occasions through history, with most being after the March 2020 liquidity crisis.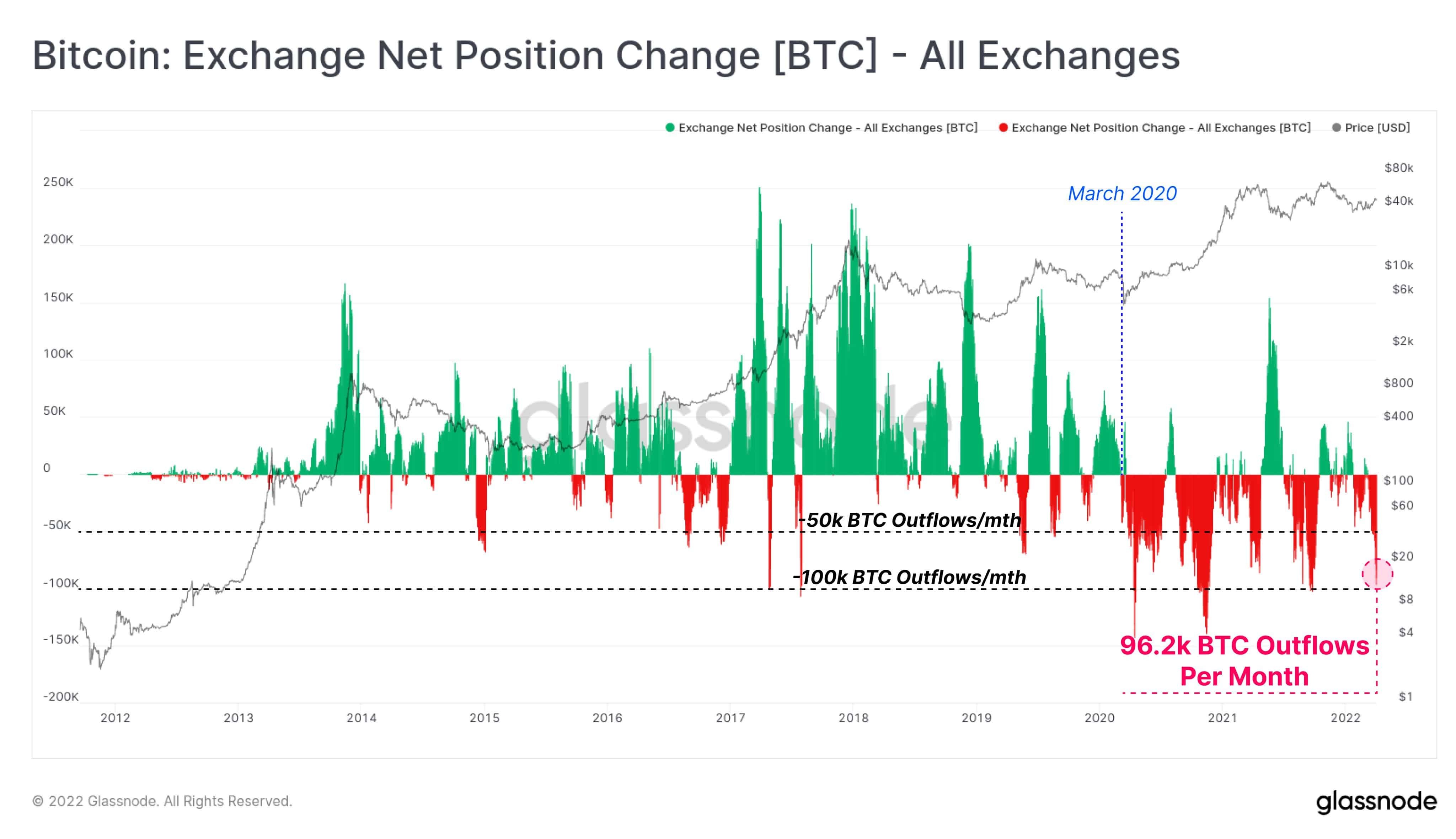 The market is also readying for the Bitcoin conference 2022 which is scheduled for this week between April 6-8. The Bitcoin conference is one of the largest events in the crypto calendar and showcases how the industry is gearing up for the future.
There is a problem looming for the DeFi industry, however, as reported by City AM. Headlines in the crypto space this week were dominated by regulation with a new proposal from the US Securities and Exchange Commission (SEC) looking to redefine what it means to be a securities dealer.
That proposal could cripple the nascent DeFi industry by expanding the "dealer" to "include individuals and businesses that use automated and algorithmic trading technology to execute trades and provide liquidity in the market."
The proposal is aimed at electronic traders but a footnote within the 200-page document says the rule would also apply to digital assets deemed to be securities. On social media, crypto lawyers suggest the proposal includes an "all-out shadow attack on decentralized finance".
The proposal would mean that automated market makers (AMMs) and liquidity providers with over $50 million in total assets be subject to the SEC's regulatory umbrella and its registration requirements, which is impossible for decentralized exchange.
In Europe, lawmakers have also voted in favor of a widely-criticized measure that would outlaw anonymous crypto transactions of all sizes. Industry participants including Coinbase have objected to the bill and warned that it could stifle privacy and innovation.
More than 90 lawmakers have voted in favor of the proposed measure, which would also see anti-money laundering (AML) requirements extended to transactions in excess of €1000. The presented changes would also require that the payers and recipients of small cryptocurrency transactions to be identified – even if it was via a self-hosted wallet.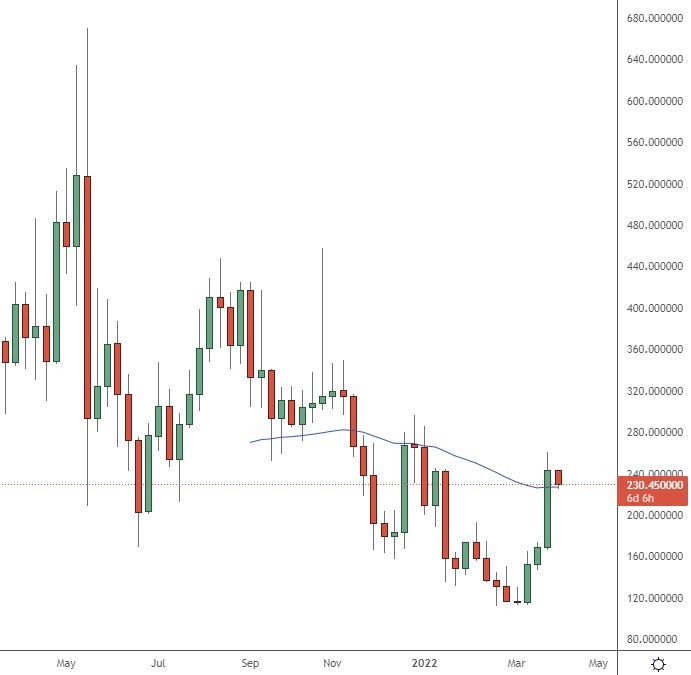 The price of AAVE is currently near $230 as the coin seeks to recover from the recent Bitcoin-led slump.
SOL
Solana was the top performer in the top ten cryptocurrencies with a 13% gain on the week.
One possible cause might be OpenSea's announcement that it would begin listing Solana-based NFTs from this month.
Solana's co-founders have made clear their high ambitions for the network's developer community, however, a quick look at the metrics confirms that Solana's development activity is still on a long-term downtrend.
However, Solana is under pressure from fellow DeFi project LUNA, with the latter now only $2 billion in market cap separating the pair.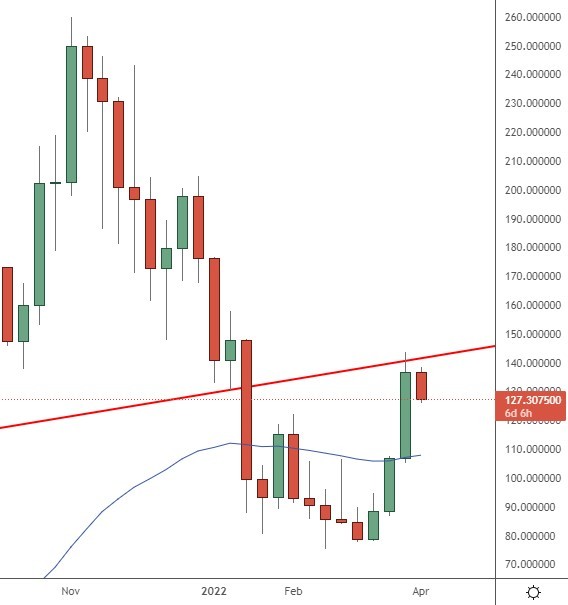 The price of SOL is trading at $128 and is seeing its own resistance from the lows of September and January.
Regulation
There was further talk of regulation in Brazil and Japan with positive and negative effects.
The Brazilian city of Rio de Janeiro is looking to implement new pro-crypto tax laws in 2023 that would see the city accept Bitcoin for tax payments related to urban real estate, according to the Secretary of Economic Development, Innovation, and Simplification, Chicao Bulhoes.
The cause is being led by Brazilian Mayor Eduardo Paes and is also supported by Binance CEO Changpeng Zhao who recently announced that Binance was looking to open an office in the Latin American country.
Meanwhile, Japanese authorities are looking to tighten their cryptocurrency exchange regulations as the country wants crypto exchanges to avoid processing transactions involving crypto-assets subject to asset-freeze sanctions against Russia.
The new proposal would see crypto exchanges act like regular banks when it comes to verifying and flagging suspicious activities, including transactions related to sanctioned countries.
Disclaimer: information contained herein is provided without considering your personal circumstances, therefore should not be construed as financial advice, investment recommendation or an offer of, or solicitation for, any transactions in cryptocurrencies.