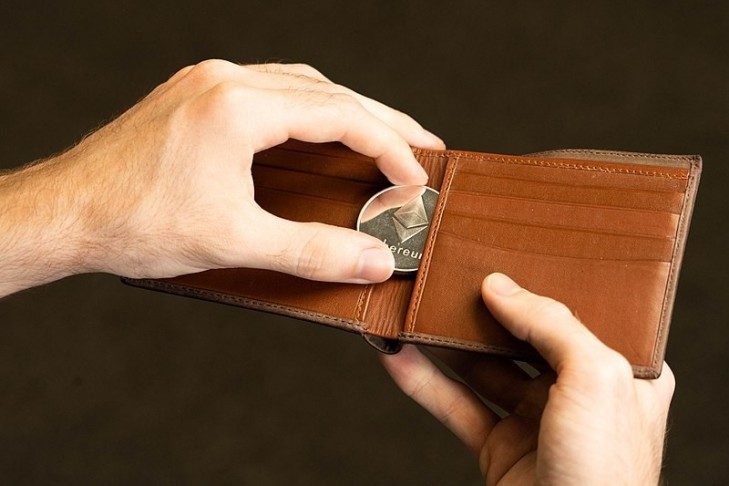 Ethereum Rallies After Futures Short Squeeze, ETC, MATIC, CEL, Jul. 18
Jul 19, 2022, 4:24PM

by
Kevin George
Ethereum blows out shorts on Merge update. ETC doubles the performance of ETH on miner migration. Matic rallies on Disney deal.
ETH
Ethereum rallied by 22% this week with data from Glassnode showing that a big clearout of shorts in the futures market was the cause.
Glassnode tweeted:
Over $98M in short futures positions were liquidated in one hour, pushing $ETH prices up by 12.5%.
The reason for the price squeeze is that the platform is moving closer to the long-awaited Ethereum Merge, which will see the blockchain become faster, cheaper, and less energy intensive.
The latest date being talked about for the merge is September 19th which was mentioned in a recent conference call by developers. The price of Ethereum suffered with the delays to the upgrade and then with the fallout from the collapse of the 3AC hedge fund. That led to a lot of forced liquidation to push the price of ETH lower and it is now recovering to catch up to other coins.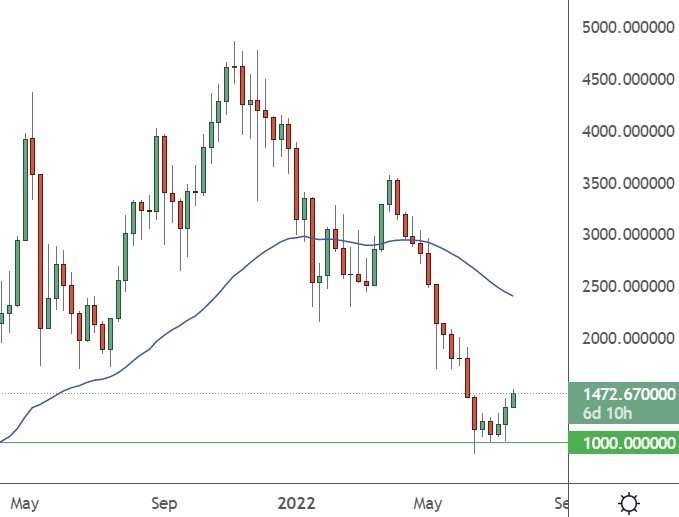 Ethereum rallied to $1,400 after the coin found support at the $1,000 level and shrugged off recent liquidation pressure. The first target is the $2,000 level but the $2,500 level will be more stubborn.
ETC
Ethereum Classic was even stronger than Ethereum this week with a rally of 40%.
Ethereum Classic is being boosted as traders expect a migration of developers to the ETC platform. A Chinese miner and Ethereum supporter Jiang Zhuoer said on Weibo:
...although Ethereum developers are expected to merge in September, it will generally be postponed, and DAPP needs to be adapted, there is a high probability of a merge between November and December finally.
The price of Ethereum has suffered from constant delays, but the project has worked on Merge for seven years and it could not only revolutionize Ethereum but the whole market.
However, miners are hedgeing their bets and migrating to other PoW coins. Decentralized storage coin Arweave jumped 37% with a spike in hash rate over the past week. Ethereum Classic, which started life as a hard fork from the Ethereum chain, has a slightly different mining algorithm but is suitable for ETH miners.
As Ethereum's Merge comes closer there could be further migration to Ethereum Classic in order to accommodate legacy PoW mining rigs.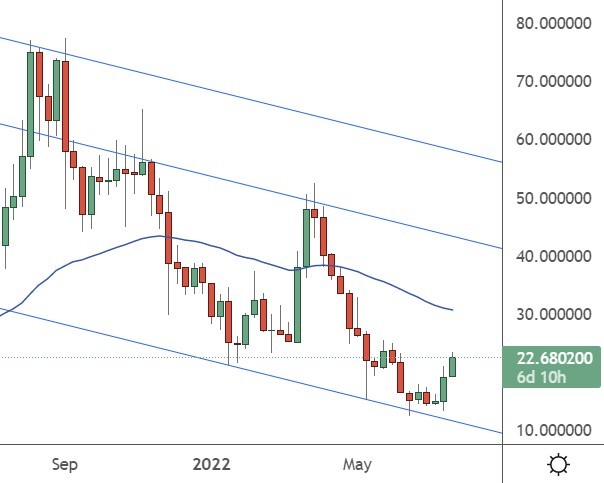 The price of ETC is now trading at $22 after finding support at a descending trendline. The targets above for ETC would be the $40 and $55 levels into the Merge.
MATIC
Polygon's MATIC rallied 50% this week after news that it had been selected for a Disney accelerator program.
The project is one of six selected for the 2022 Disney Accelerator class, which will focus, in part, on non-fungible token (NFT) development.
This year's Disney Accelerator class is focused on building the future of immersive experiences and specializes in technologies such as augmented reality (AR), non-fungible tokens (NFTs), and artificial intelligence (AI) characters.
The accelerator offers chosen companies "access to the range of creative expertise and resources of The Walt Disney Company to help them develop new entertainment experiences and products," according to the program's website.
The accelerator selection is not the only positive news for MATIC recently. Polygon Studios CEO Ryan Wyatt also said recently that dozens of projects built on the collapsed Terra (LUNA) blockchain would be migrating to Polygon.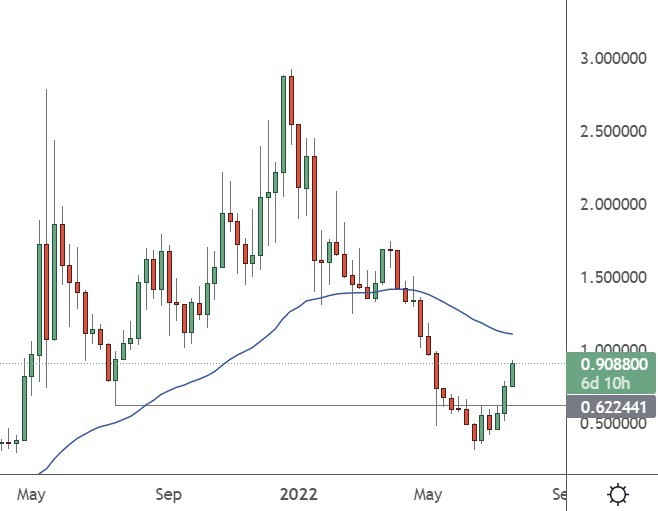 MATIC now trades at $0.87 with a jump in the project's market cap to $7 billion.
CEL
Celsius Network, the liquidity-strained crypto lender that suspended withdrawals has reported a $1.2 billion hole in its balance sheet, according to a new court filing.
The document, which was filed to the U.S. Bankruptcy Court of the Southern District of New York, showed that Celsius has $4.3 billion of assets and $5.5 billion of liabilities. In the list of assets, Celsius claimed it has about $600 million in its CEL token. However, the company noted in the filing the total market cap for CEL as of July 12 was roughly $170.3 million.
Celsius was one of the firms hit by the recent DeFi drawdown and liquidity crisis in the crypto sector. The company halted deposit withdrawals on June 12, and hired restructuring experts which led to a bankruptcy filing on Wednesday.
As the firm looked for solutions to its financial difficulties, crypto exchange FTX walked away from an acquisition deal due to "$2 billion hole" on the Celsius balance sheet.
However, the project has started to pay back some of its debts to other decentralized finance (DeFi) protocols. Celsius paid back $223 million to Maker, $235 million to Aave, and $258 million to Compound.
However, those initial payments were made to reclaim around $1.4 billion in tokens, mostly held in the form of wrapped bitcoin (wBTC) and a type of staked ether derivative (stETH). The project still has to fix the current hole in its finances.
Ryan Preston Dahl of law firm Ropes & Gray LLP said that Celsius is going into "uncharted territory" with its Chapter 11 bankruptcy protection because no other crypto brokerage has had to "navigate through a reorganization as opposed to a liquidation."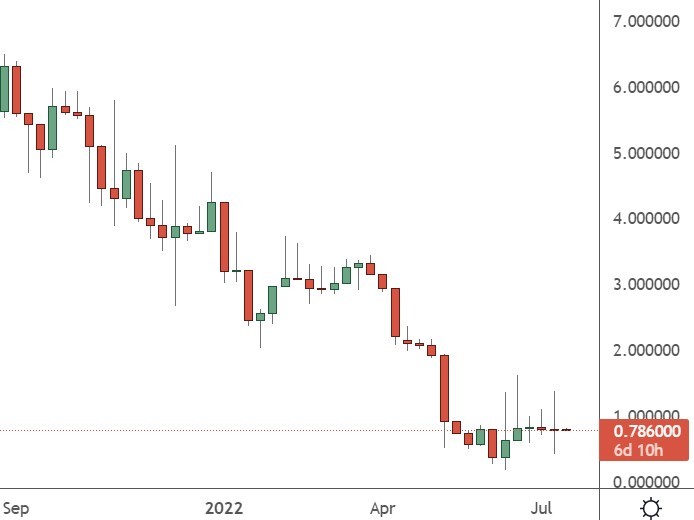 The price of CEL currently trades at $0.7860 after a slump from the highs of late November.
Disclaimer: information contained herein is provided without considering your personal circumstances, therefore should not be construed as financial advice, investment recommendation or an offer of, or solicitation for, any transactions in cryptocurrencies.