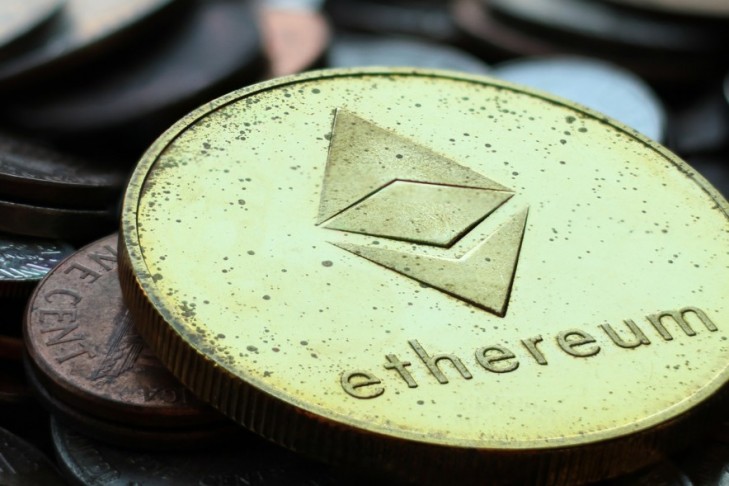 Ethereum Rises with Exchange Balance at Five-Year Low, XRP, RNDR, INJ, May 23
May 23, 2023, 10:23PM

by
Kevin George
Ethereum balances on exchanges have reached a five-year low, XRP rose 10% this week on SEC case news. RNDR and INJ show strong gains.
ETH
The price of Ethereum rose around 2% this week as cryptocurrency prices remained subdued.
However, data from Glassnode showed that Ethereum held on exchanges was at a five-year low. The amount of ETH held on exchanges has decreased since 2020 but accelerated after the Proof-of-Stake (PoS) transition in September 2022. The current level stands at 17.8 million, the lowest since April 2018. That is also in line with Bitcoin, as the number of BTC held across exchanges also dropped sharply between October and December 2022.
CryptoSlate also reported that withdrawals have outpaced deposits for most of the year with 1.59 billion ETH being taken off exchanges. However, Bitcoin has seen an increase in its exchange balances as the price rose this year.
Crypto usually moves to exchanges if investors want to cash out their holdings into fiat money. The rise in BTC hints that it is used more by traders, while ETH holders see a longer-term upside.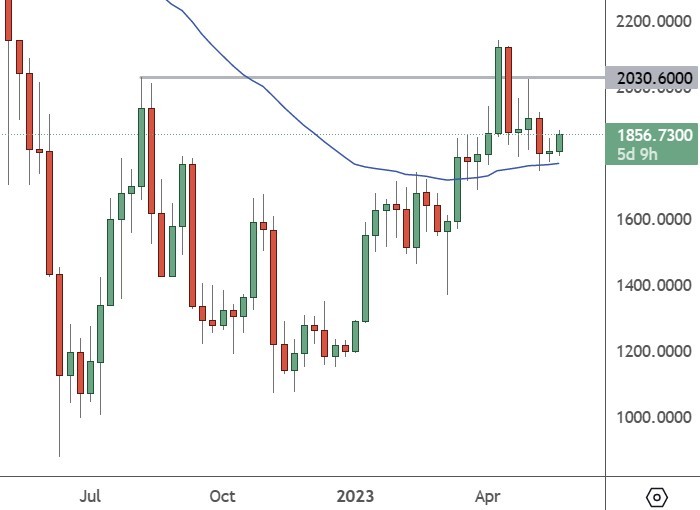 The price of ETH has risen to $1,856 after a recent downturn with the resistance at $2,000 being the first target.
XRP
The price of XRP was trading at $0.46 after this week's rise with the big resistance ahead at $0.548.
XRP holders are still awaiting an end to the long-running case with the Securities and Exchange Commission (SEC) but are hopeful of a successful resolution. One lawyer says the ongoing court battle with Ripple executives could be over for the regulator if the case goes to a jury.
John Deaton, a pro-XRP lawyer, has been following the case since its filing in 2020, and says new email details suggest staff at the SEC seem to have indicated there are "reasonable grounds" to believe XRP is not a security.
"Exhibit 220 is part SEC emails: XRP is mentioned and that there are reasonable grounds XRP doesn't satisfy ALL Howey factors. HUGE," Deaton tweeted.
"Since noticing this, I've been racking my brain about two things: 1) why wouldn't Ripple lawyers make a much bigger deal about this (and not just include it in a footnote); and 2) how did I miss it before today (although to be fair I've read thousands of pages and do have a job)?" he added.
Deaton said it's likely the fact that the information was not a direct quote from an SEC official. Despite the confusion, Ripple's XRP coin saw a price boost as hopes continued to build over a favorable settlement.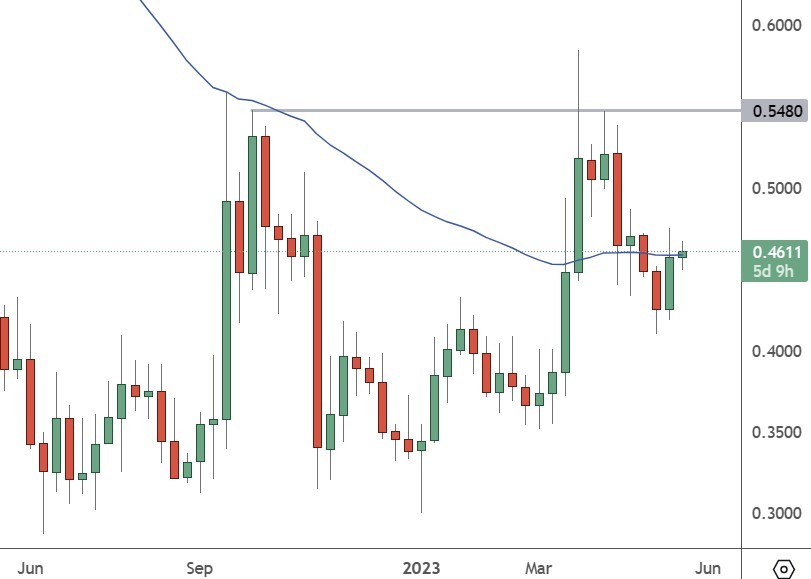 RNDR
The Render token was up almost 50% this week as artificial intelligence investments remain popular.
The move higher in AI coins was driven by news that OpenAI had now launched the official version of its AI-driven chatbot, ChatGPT, on Apple's App Store. There was also a rumor of an Android version to follow. The announcement on May 18 showed the ChatGPT app introducing syncing of user chat history between the web version and the app, and featuring voice input facilitated by OpenAI's Whisper.
The Render Network is built on the Ethereum blockchain and is the leading provider of decentralized GPU-based rendering. Google's recent developer conference leaned heavily on its ChatGPT rival Bard chatbot. But the company also announced the integration of AI with Google Maps via its immersive solutions.
The immersive view solution allows AI to bring Street View and aerial images together for 3D world models. Users can then use AI to get updated information about routes such as bike lanes or weather forecasts.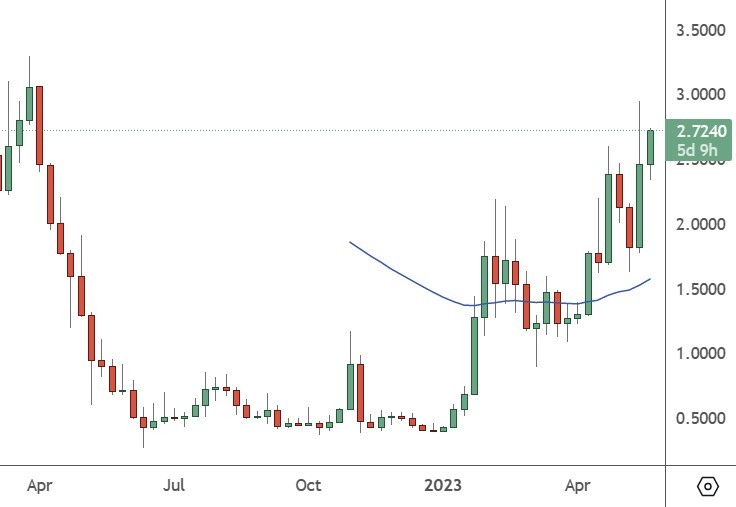 The price of RNDR was trading at $2.72 after a recent push-through resistance and could head for the $3.25 level.
INJ
Injective was another project showing gains this week with an 11% price advance.
Injective recently launched liquid staking for its native INJ token. stINJ (the official liquid-staked form of INJ) was delivered by Stride, which is an app chain specializing in liquid staking. Users can unlock more liquidity and yield generation opportunities in the project and it also introduces more use cases and utility for INJ. Users were also set to receive an airdrop of Stride (STRD) with the launch.
Staking normally requires users to lock up their tokens to secure a Proof-of-Stake (PoS) network. However, once tokens are locked, they can't be used for DeFi efforts such as trading and lending. Liquid staking seeks to solve this problem by allowing users to stake their INJ tokens and maintain their liquidity.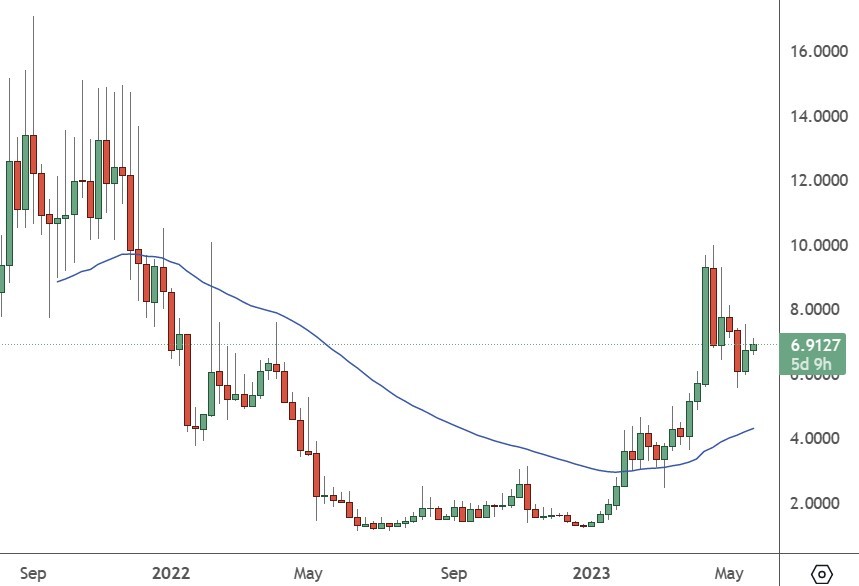 The price of INJ is trading at $6.91 after recently seeing highs near the $10.00 level. The project has a market cap of $688 million and is ranked at number 75 in the list of cryptocurrencies.
Disclaimer: information contained herein is provided without considering your personal circumstances, therefore should not be construed as financial advice, investment recommendation or an offer of, or solicitation for, any transactions in cryptocurrencies.