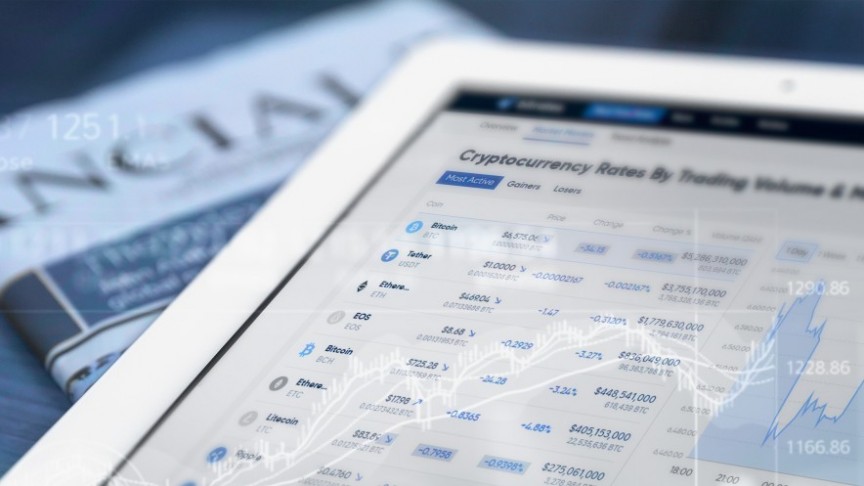 Is a Short Squeeze Coming in Bitcoin? BTC, BCH, ETH, ETC Market Analysis: Aug. 20
Aug 22, 2018, 10:51AM

by
Kevin George
Bitcoin short positions are approaching record highs as another ETF decision creeps up and warns of a possible short squeeze surprise
BTC
The number of short positions in Bitcoin was nearing the all-time highs of April, where we then saw a five-week rally from $6,750 to close just shy of the $10,000 level. On the Bitfinex exchange, Bitcoin shorts are now at 36,000 as we approach the SEC's decision on an ETF from ProShares tomorrow. After the disappointment of the last few weeks' price action, this decision is sneaking up on a negative market and it's possible that we see a surprise approval or positive ruling which implies future action.
A short squeeze occurs when a heavily shorted market sees a sharp move higher, which then forces short positions to liquidate and this adds further buying pressure to the rally. With shorts currently at a record, if we saw a positive decision from the SEC, a new wave of buyers would appear as a record number of short positions tried to escape and the move higher would be sharp.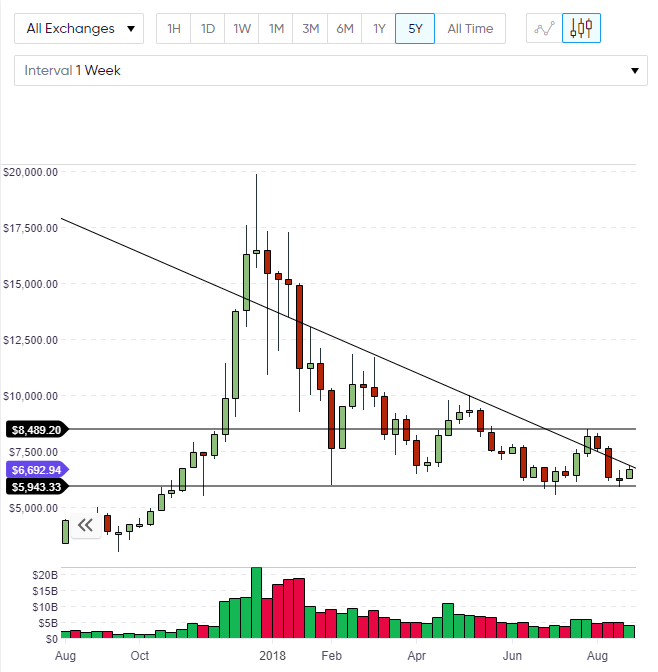 Bitcoin is creeping higher on the week with a move to the $6,685 level, although we saw a spike higher overnight to touch the $6,900 level. This was the monthly support level and above here we would rally easily through $7,000 with the $8,500 level being the next key resistance level.
BCH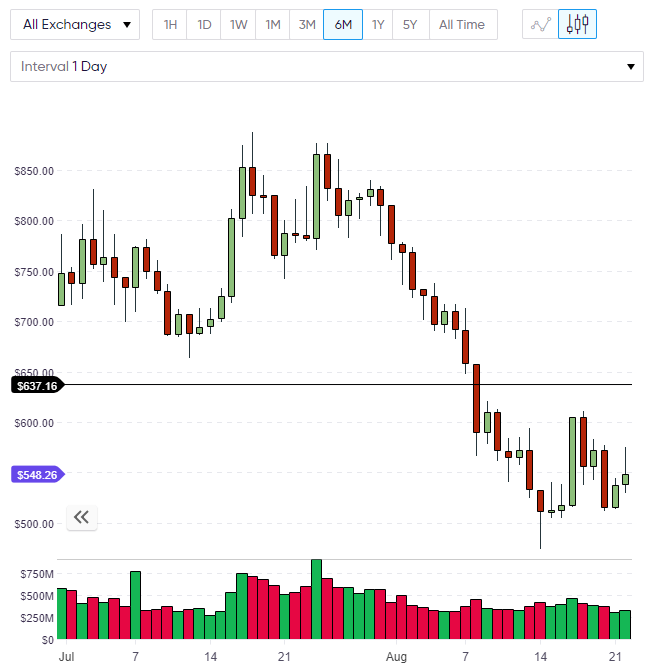 Bitcoin Cash is lower this week but is holding above the close of last week. We are currently trading at $547 and if we saw a strong move higher in Bitcoin then BCH should follow. The $637 level on BCH holds the key to a further rally if we can close above there this week. Further weakness could see BCH move through the $500 level to find a bottom.
ETH
The price of Ethereum is weak and has failed to mount a stronger bounce from the last weeks' lows with the price of ETH trading at $285.15 after trading as high as $320 in the latter part of last week.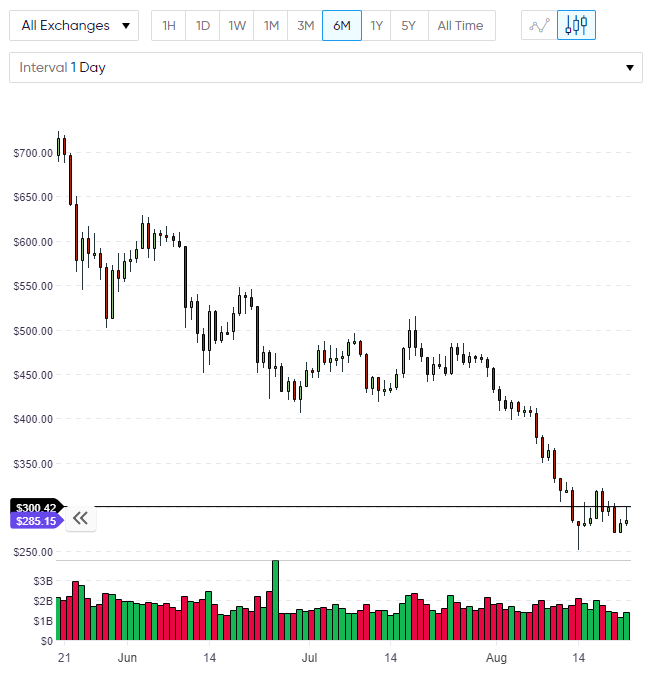 It's important to note here that Ethereum also saw a period of record short positions in the middle of July and that led to a strong sell-off, which highlights that a short squeeze is not always the outcome of a heavy short position. The path forward from here is not clear, however. If Bitcoin was to see a positive reaction to the SEC decision then it's possible that we would still see a rally in other coins. The heavy selling across the altcoin landscape was maybe an opportunity to shake out weak players and set us up for a surprise move higher.
As we saw in July, if Bitcoin fails to mount a rally then the overall market will be weak. The key level for ETH this week is the $300 level, which is psychological resistance and the trendline from 2017. If we got back above here for a strong close on the week then ETH could start to repair the bearish move of recent weeks.
ETC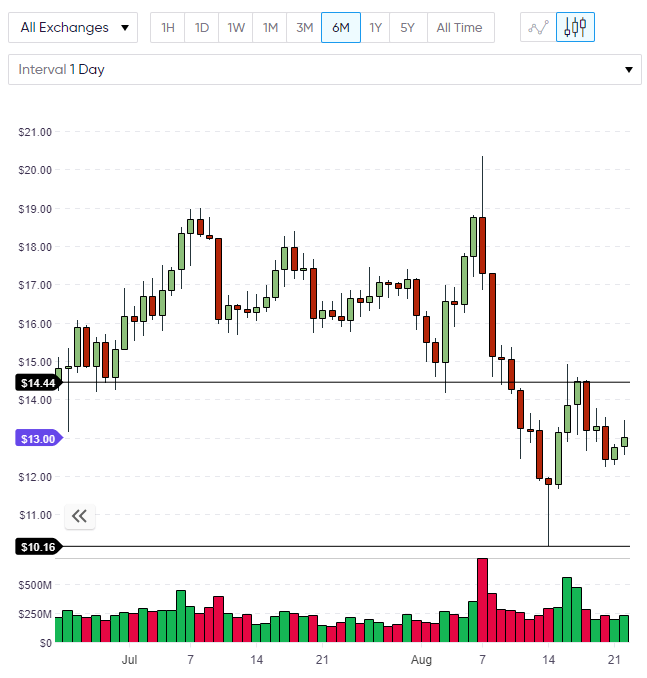 Ethereum Classic is in a similar place to Bitcoin Cash in that it is slightly lower on the week but is holding above the lows of last week at a key support level around $12.00. We bounced off a low of $10.16 last week and need to see some buyers emerge to avoid a retest of that level.
Ethereum Classic is now listed on Coinbase and this should boost its price in the future if another retail wave comes to the market. Many investors who are looking to dip their toe in the market will not dig deep into altcoins or have multiple accounts so they will gravitate to Coinbase and buy the cheaper coins as we saw in the rally of Litecoin. Both ETC and LTC would be in a good position at that stage so we may not see these prices for long if a rally is coming in the fourth quarter.
Bitrates recently reported on concerns regarding NYSE's recent launch of Bakkt, namely that the growing institutional involvement in cryptocurrencies could introduce unwanted elements of fractional reserve banking. The price action in Bitcoin and other currencies has certainly attracted some unwanted players and this should be watched going forward with the likes of Goldman Sachs talking of starting a trading desk. Wall Street banks have a history of releasing analyst reports and taking the opposite side of their view. Investors should be wary of any analysis that comes out of the traditional finance sphere or media.
Disclaimer: information contained herein is provided without considering your personal circumstances, therefore should not be construed as financial advice, investment recommendation or an offer of, or solicitation for, any transactions in cryptocurrencies.