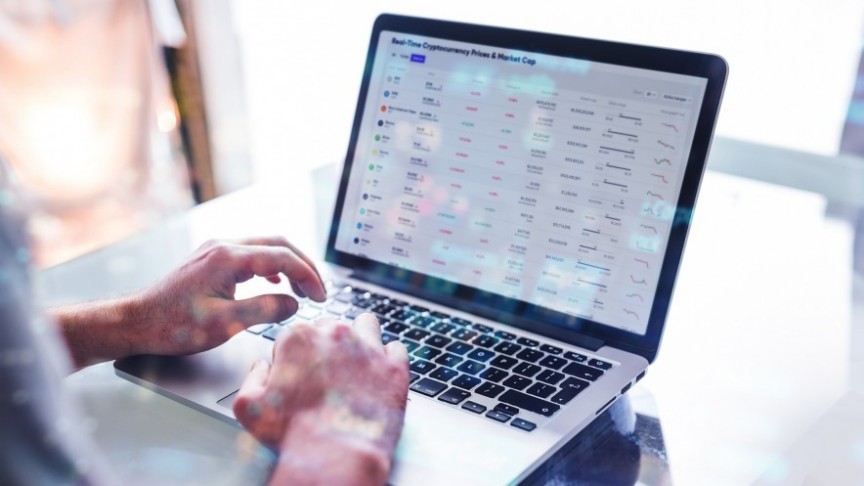 Market Analysis for Ethereum, Dash, Monero, Bitcoin Cash, and Stellar July 21st
Jul 21, 2018, 7:50PM

by
Kevin George
It was an exciting week in the crypocurrency space as we finally saw volume appear in the market, driving gains in a large majority of coins.
It was an exciting week in the cryptocurrency space as we finally saw volume appear in the market, driving gains in a large majority of coins. The leader of this drive was obviously Bitcoin, which saw cryptocurrency exchange Bitmex post its highest Bitcoin trading volume ever for an 8-hour trading window.
As of Saturday morning, Bitcoin was trading at $7,300 for a gain of around 15%. Price came within a whisker of the resistance level I mentioned yesterday near $7,700 and was unable to hold onto the move. It's possible that the market may try to retest this level by Monday and a weekly close around these levels is a positive sign for further gains in the week ahead.
DASH
Despite the strength of Bitcoin and the overall market, many alternative coins were unable to hold onto their gains for the week. Dash was one of those coins, where we saw the price rally above the key weekly trend line and price has since retreated back below that level. That would be a bearish indicator for prices in the week ahead unless we see a stronger weekly close.
Dash recently announced a partnership with CoinFlip ATM which will see Dash in ATMs across the United States. There are also plans to launch elsewhere, which will increase the exposure of Dash.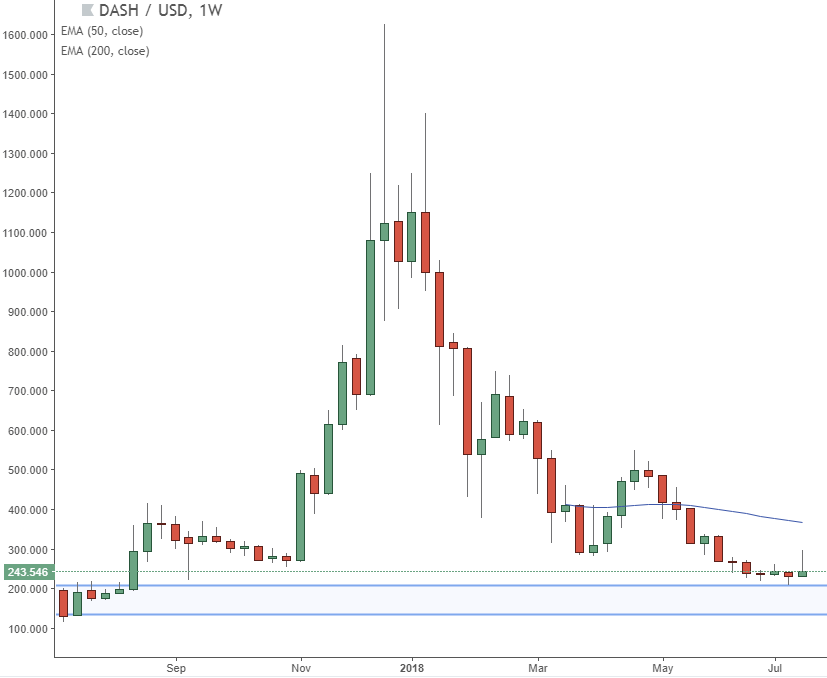 If we see further lows in Dash, then $200 would be the next serious test and it's likely that that level would be more stubborn.
Ethereum
Ethereum was a poor performer this week in comparison to Bitcoin, with the second-largest coin posting a return of only 2%. This is similar to Dash, where the price is setting up a bearish look for the next week ahead unless we can see a more positive close for this week. I'd be neutral on the path of Ethereum unless we can hold gains near $485-500 on a sustained basis.
With positive news the norm this week for Bitcoin, it's possible that institutions are more confident on Bitcoin than Ethereum when it comes to further adoption or a positive event such as an ETF.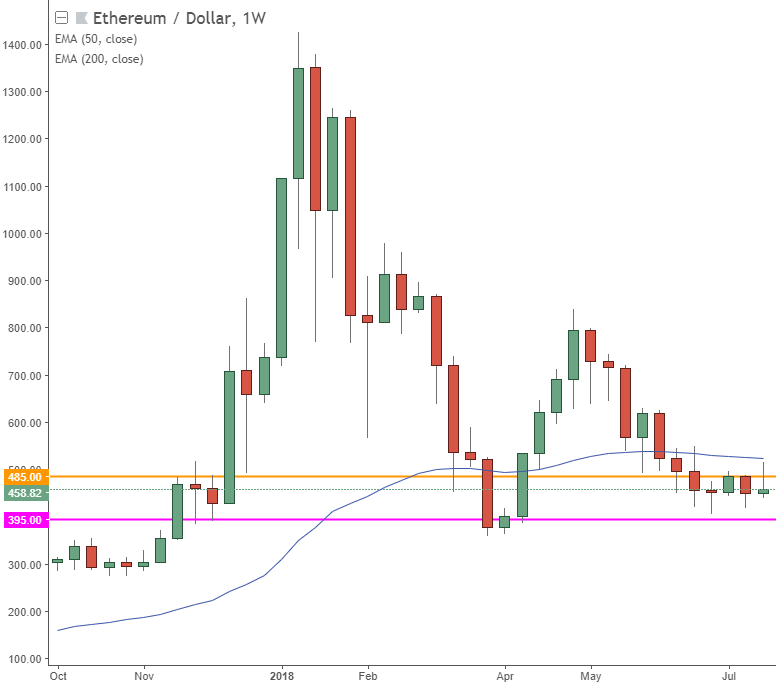 Price is currently below the 50 moving average and Ethereum is close to a key monthly support level at $395-400. It's possible that this will get tested before further gains. Again this is dependent on the weekly close.
Monero
The price of Monero was also slightly weaker than earlier in the week, however the coin is still up on the week. We are currently trading at $128.80 and I'd like to see a close nearer $140-150 to signal another bullish move in the weeks ahead. Price fell just short of the $150 figure this week. If we can get above $150 then $175 would be the next level of resistance.
If Monero moves lower, than $100 would be the logical test and monthly support lies near $90.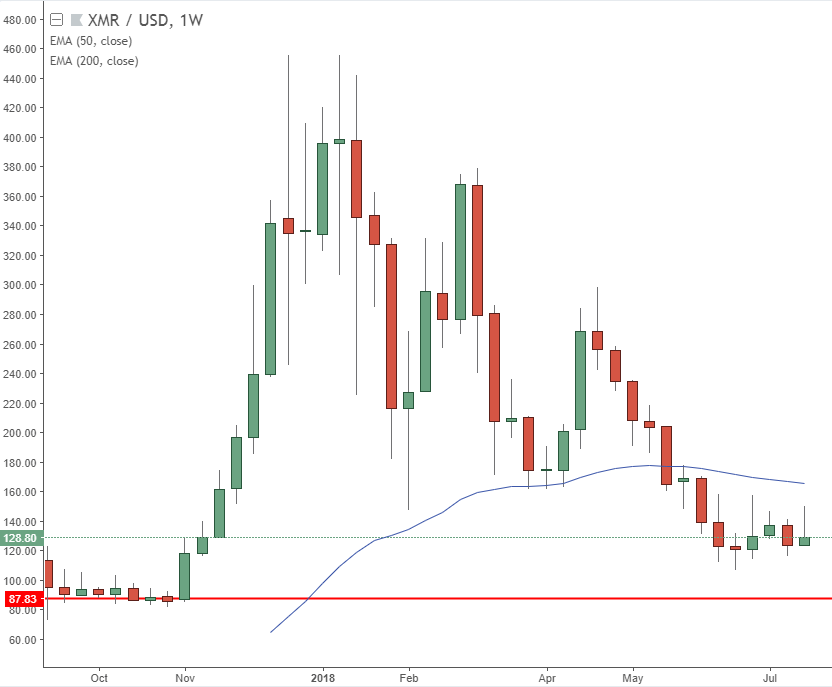 BITCOIN CASH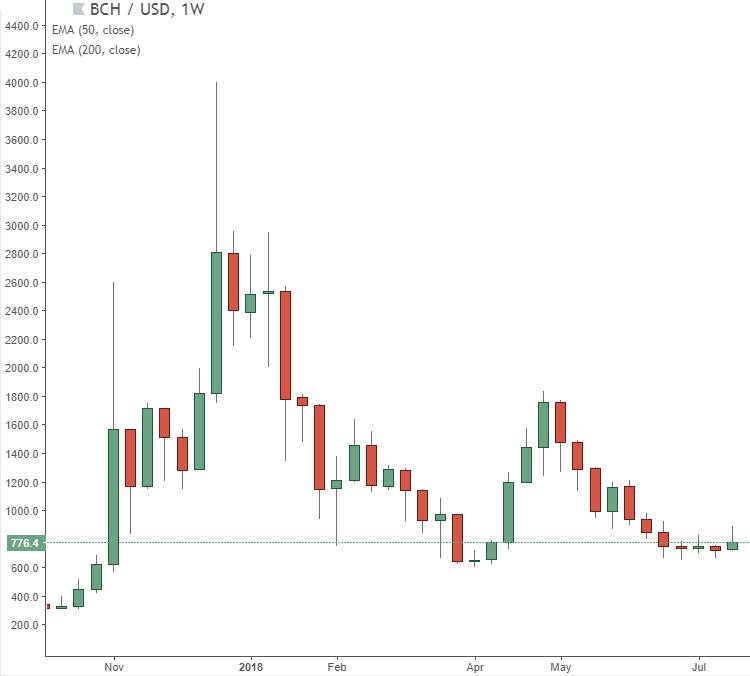 Bitcoin Cash is holding up better than some coins, however, it is still lagging behind the strength of Bitcoin. We are trading lower than the 50 moving average in BCH and it's possible that we could test this if there are sustained gains in Bitcoin. A close at these levels or preferably higher could see BCH test the $1,000 level, however, it's clear that the real volume and buying is being seen in BTC.
Stellar Lumens

I have been tracking the price of Stellar Lumens after a strong move higher earlier in the week. The daily chart highlights the bullish nature of recent sessions in XLM and this was driven by further interest by IBM in utilizing the Stellar network; this time for a new stablecoin project.
Friday's price action in Lumens was disappointing as we saw a brisk pullback to give up some the week's gains, however, the price is moving higher again today and a strong close within these support and resistance lines would be a positive for the coming weeks in XLM.
Above the $0.30 level in particular, there is no real resistance in the way and further developments with IBM or institutional interest on the back of this news could see Stellar Lumens make a strong move. I will update once we see where the week closes out.
For the cryptocurrency market, in general, we can see that Bitcoin has been the strongest player of the developed coins and this is likely due to institutional hopes around regulation or an upcoming ETF. In this event, Bitcoin would be ahead of its rivals. The lower supply is also a factor as, although the general market moved higher, we were unable to hold onto those gains at the end of the week. If Bitcoin can close the week higher over the weekend, it may just pull some of these coins into a more bullish setup for the week ahead.
Disclaimer: information contained herein is provided without considering your personal circumstances, therefore should not be construed as financial advice, investment recommendation or an offer of, or solicitation for, any transactions in cryptocurrencies.