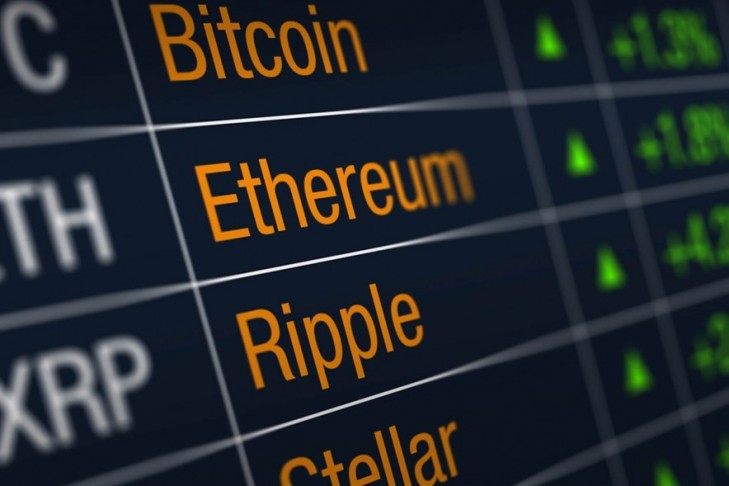 Ripple Price (XRP) Gains 75% as Bitcoin Nears Highs, LTC, ADA, BTG, Nov. 23
Nov 23, 2020, 6:43PM

by
Kevin George
XRP soars into the weekend as investors move into altcoins again. Asset management giant Blackrock see a future for BTC.
XRP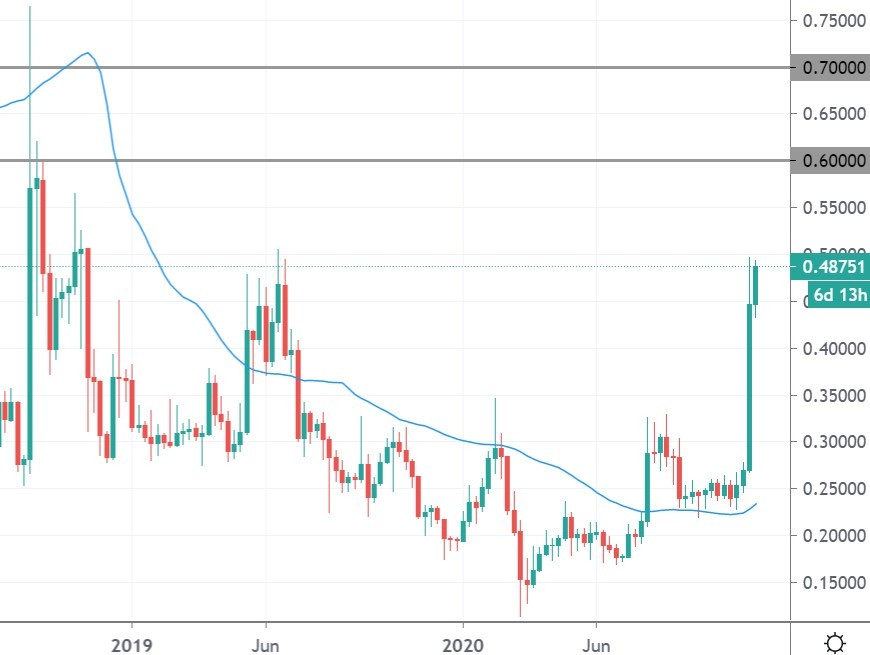 The Ripple price (XRP) soared on Friday as the coin started to catch up to Bitcoin's recent rally. The third-largest coin by market cap saw a gain of 75% for the week and now holds a valuation of $22 billion.
In its Q3 2020 XRP Markets Report released in early-November, Ripple reported XRP sales of $35.8 million (USD) vs. $32.5 million in the previous quarter. The company launched its Line of Credit facility last month in order to support SME businesses with liquidity for cross-border payments and this will factor into future numbers.
The project also noted some other highlights with the addition of Binance, "XRP put, call and straddle options (long-only) as well as leveraged tokens XRP up and XRP down." Flare also released a smart contract platform for XRP through a "utility fork" and making Spark (their token) claimable by certain existing XRP holders. This is positive for the XRP community as it allows developers to create smart contracts for new use cases like lending and derivatives, extending XRP's utility.
The price of XRP has vaulted above the $0.3000 level that proved stubborn this year and is testing the highs at $0.5175. The coin should see follow-through from the media buzz over last week's move and if BTC takes out $20k then a larger move could develop.
BTC
Bitcoin saw highs near $19,000 on Friday as investors continue to buy into the cryptocurrency's growing standing as an alternative to gold. BTC has been boosted by some high-profile investor endorsements in recent months and another came this weekend in the form of asset management powerhouse Blackrock. The world's largest money manager has around $8 trillion of assets under management and the company's Chief Investment Officer of Fixed Income, Rick Rieder, told CNBC that the coin was "here to stay".
He added:
Do I think it's a durable mechanism that ... could take the place of gold to a large extent? Yeah, I do, because it's so much more functional than passing a bar of gold around.
Another interesting piece of research on Bitcoin was shared on Twitter by analyst Jesse Felder of the Felder Report, who said that since going live, Paypal had already been buying 70% of the new Bitcoin coin supply.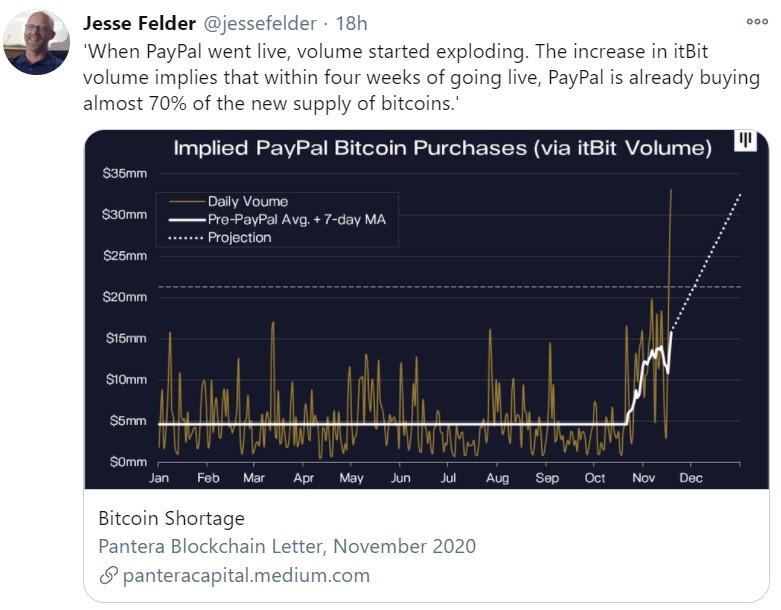 The research is important because PayPal is only just starting with their cryptocurrency support and they may be followed by other payments companies who are afraid of missing out.
Disclaimer: information contained herein is provided without considering your personal circumstances, therefore should not be construed as financial advice, investment recommendation or an offer of, or solicitation for, any transactions in cryptocurrencies.