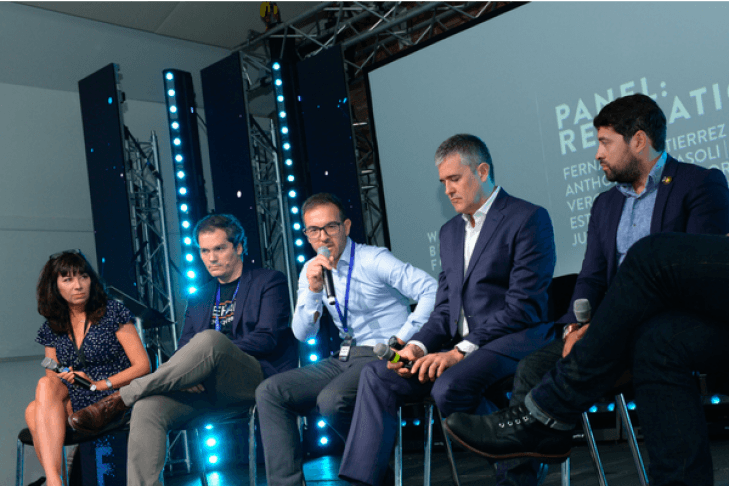 The North American Bitcoin Conference 2018: The ICO Pitch
Jan 31, 2018, 1:37PM
The most resounding subject of TNABC 2018 was the ICO pitches, which were presented together with speeches by 85 Blockchain related professionals
ICOs – The main event
More than 50 ICOs were introduced at the conference. The biggest winners were Shopin, Tax Token, and ImpactPPA who won the prize for the most promising ICOs of 2018 and shared a $100,000 reward. The contest pitted 30 selected start-ups against one another and was sponsored by Victory Square Technologies.
Shopin is a decentralized shopping platform which connects buyers and shoppers through Blockchain. Shopin was also voted as "Best ICO and Startup" by CoinAgenda Global and one of the "Top 5 ICOs" at Davos d10e.
Tax Token aims to modernize the accounting industry, by leveraging Blockchain technology with artificial intelligence. To that end, they have teamed up with Victory Square
ImpactPPA seeks to tokenize energy generation and distribution, to bring clean energy to the emerging markets of the world.
Other notable ICOs include Solve.care which hopes to minimize costs in healthcare administration and make the process more efficient through Blockchain technology. Project Districts is a decentralized platform that aims to connect virtual and augmented reality, for projects that will be funded and developed on their ecosystem. Lastly, Credits is an autonomous Blockchain that has its own internal cryptocurrency and can execute one million transactions per second.
The event and ICO presentations demonstrated the maturity attained by Blockchain technology as we begin 2018. Blockchain is evolving to include a diverse set of industries and attract capital and support from large corporate backers.
Visionaries spoke about the Blockchain's future
Patrick Byrne, CEO at Overstock.com and tZero.com was the keynote speaker for the conference. He talked about the need to bring liquidity to the ICO market. His excitement and expectations for the future of Blockchain were resonant as he proclaimed, "We are sitting on top of the solution to global poverty," and later continued "We're going to disrupt institutions that were binding civilization together for thousands of years."
Jeffrey Tucker from the American Institute for Economic Research's (AIER) and a supporter of cryptocurrencies mentioned people's need to control their own assets. He called to diminish the power banks have over individual wealth. To emphasize his point he referenced the 1933 crisis when the currency value was diluted, and the government confiscated personal gold deposits.
Other notable speakers included Ryan Taylor of Dash and the Dollar Vigilante's Jeff Berwick who said, "This is not about making money. In case you don't know, it's about ending central banking and governments." In a clear attempt to address current speculation that Blockchain and Bitcoin are no more than a bubble.
Remarkable facts & TNABC details
The conference halls were filled with well-established companies and newcomers in Blockchain, like Dash, Monero, Bitpay, Bread, Polymath, Shapeshift, Salt Lending, and Wanchain. Additionally, several major mass media networks covered the event, such as RT, CNBC, and Bloomberg.
A recurring theme of the conference was concern over cryptocurrencies recent price plunge, but attendees seemed confident about the evolution of the growing industry and were not discouraged.
There were numerous attractions for the visitors across the exhibition halls, such as GPU mining grids, crypto ATMs, and 3D printers producing Bitcoins.
The parking lot of the conference was full of rented supercars. One of the highlights of TNABC was without a doubt the shiny Lamborghini for sale. Bitcar, a Blockchain start-up that seeks to decentralize and tokenize the ownership of supercars, was selling the exotic car in exchange for 43 Bitcoins.
Several parties were held during the 3-day event, like tZero's, where the well-known singer Flo Rida performed for Patrick Byrne's invitees that included famous athletes, actors, and supermodels. The TBCNA event closed with an afterparty at a well-known Miami strip club, called E11ven.
Disclaimer: information contained herein is provided without considering your personal circumstances, therefore should not be construed as financial advice, investment recommendation or an offer of, or solicitation for, any transactions in cryptocurrencies.