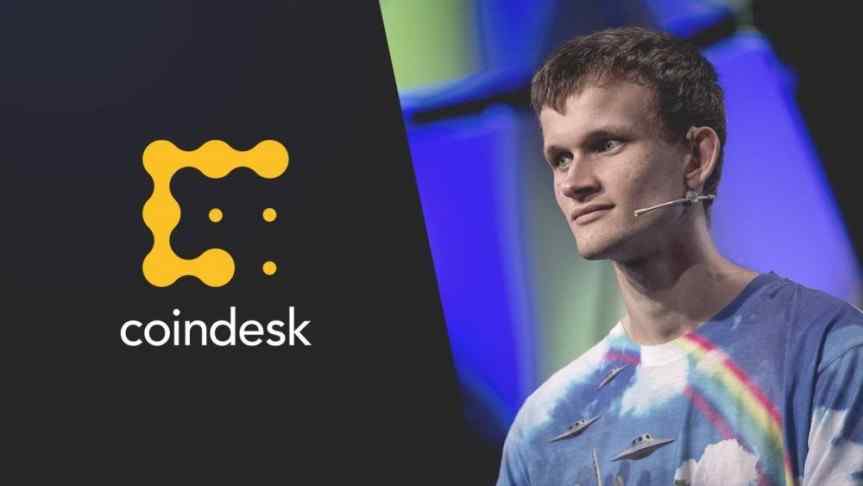 Vitalik Buterin Says CoinDesk is "Recklessly Complicit" in Enabling Scams
Apr 27, 2018, 11:04AM
Vitalik Buterin has called for a boycott of CoinDesk's Consensus conference after one of their articles linked to a known giveaway scam.
CoinDesk, the most widely read source for cryptocurrency news and information, has become the target of scathing criticism by Ethereum founder Vitalik Buterin.
In a Twitter post on Thursday, Buterin chided the publication for linking to a scam project in an article regarding OmiseGo, a Southeast Asian project that focuses on remittances and an integrated payment processing system. Buterin is an advisor to the OmiseGo project.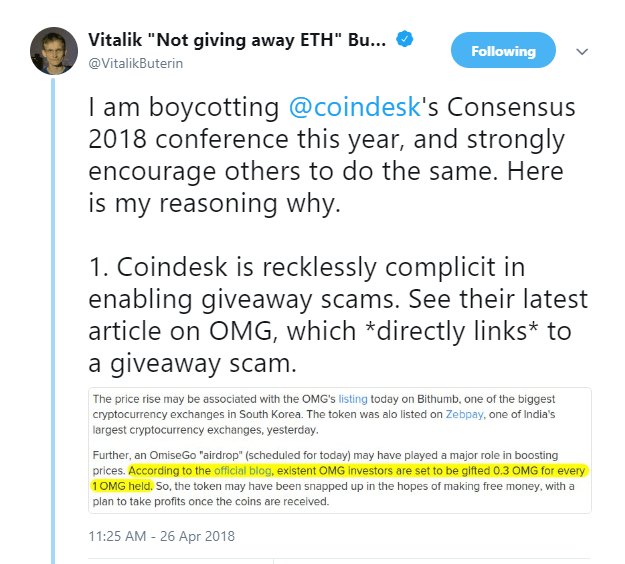 Buterin has been known to openly call out deceitful and underhanded behavior in the crypto world. Not one to mince words, he was brutally direct in his criticism, saying that CoinDesk was "recklessly complicit in enabling giveaway scams."
CoinDesk later rectified the situation by removing the link in question and stating that "they regret the error."
This incident occurs as CoinDesk's Consensus conference approaches, due to be held on May 14 - 16. As a result of this, Buterin has chosen to boycott the conference, which attracts one of the largest crowds of its kind in the cryptocurrency world. This year's speakers include key members from Deloitte, ConsenSys, Ledger, JP Morgan, and Union Bank.
In a statement to Business Insider, CoinDesk's CEO said that "they were disappointed to learn of Vitalik's tweet today regarding a CoinDesk reporting error, for which we apologize" and that "they strive to maintain the highest level of unbiased, ethical journalism in order to provide the best possible coverage of the blockchain industry."
Incidents such as this come at a time when the general blockchain industry, including its news sector, are subject to extra scrutiny because of the numerous scams that have plagued the market. There are many signs that an industry-wide house cleaning is taking place.
Disclaimer: information contained herein is provided without considering your personal circumstances, therefore should not be construed as financial advice, investment recommendation or an offer of, or solicitation for, any transactions in cryptocurrencies.