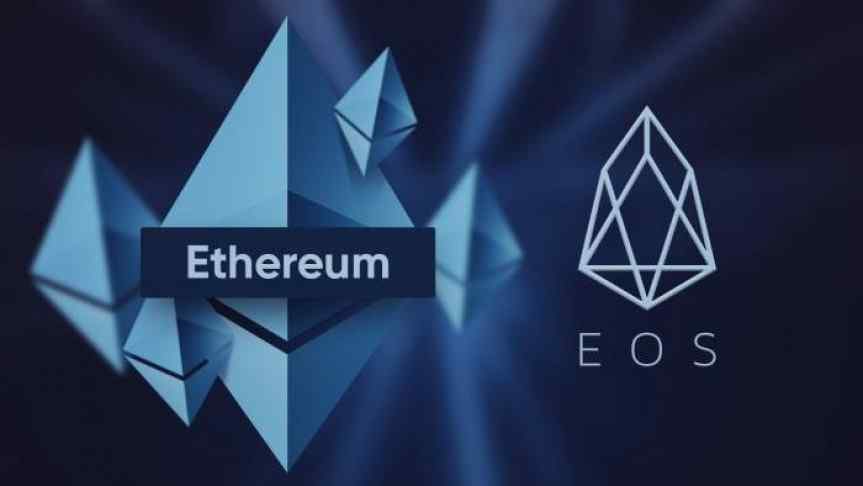 Will Ethereum Continue to Dominate as EOS Successfully Launches its Mainnet?
Jun 11, 2018, 2:18PM
With ancillary blockchain applications such as smart contracts gaining popularity, the future of Ethereum may be threatened by EOS and Tron.
Although the first half of 2018 has not been very noteworthy for most of the cryptocurrency market, it is clear that public perception and awareness about blockchain continues to improve. As a result, the world is starting to realize that smart contract and decentralized app (DApp) platforms such as Ethereum may offer more real-world value than traditional cryptocurrencies. This is perhaps highlighted by the fact that the number of Google searches for the term "Bitcoin" fell by as much as 75 percent in the six months since the start of 2018.
For quite some time now, communities dedicated to discussing Ethereum have been rife with speculation over whether the digital currency will surpass Bitcoin in terms of market capitalization. Given how quickly Ethereum managed to outperform cryptocurrencies such as Ripple and Litecoin to reach the second spot by May 2017, it also seemed poised to continue growing at an exponential rate. A year later though, it still hasn't overthrown Bitcoin as the de facto digital currency, largely due to the fierce competition it has received from alternative blockchain platforms such as EOS and Tron.
EOS: Competing Against Ethereum
EOS was first unveiled by the founder of Steem, Dan Larrimer, at Consensus 2017 as an alternative platform for smart contracts and decentralized applications. A year later, as of the time of writing this article, the cryptocurrency is trading at approximately $14 and is the fifth most valuable by market capitalization.
Ever since its inception, EOS has claimed to be superior to Ethereum since it is capable of a significantly higher transaction throughput, thanks to its unique scalability solution. Blockchain scaling has been a rather important topic for the past couple of years, especially since the transaction fees for Bitcoin and Ethereum both soared well into double digit territory a few months ago.
However, EOS has recently been mired in controversy over questionable decisions regarding the platform's development. For instance, the recent launch of its mainnet came only after several days of unexplained delays. The cryptocurrency community on Reddit was also quick to express cynicism over how only 21 EOS block producers were involved in the vote to launch the mainnet. Both actions are considered to be extremely uncharacteristic of any decentralized and democratic blockchain platform.
However, despite recent hiccups and an uncertain future, EOS has managed to raise $4 billion and gain enough prominence to become one of the top cryptocurrencies, all while claiming to be a better version of Ethereum. It is clear that Ethereum has some fierce competition ahead if the team hopes to maintain its top position. This is only solidified by the fact that according to Google Trends data, Ethereum searches declined by 70 percent in the past year, while interest in EOS almost doubled.
As far as DApp platforms go, it remains to be seen whether developers will migrate away from Ethereum now that the EOS mainnet is ready and fully functional. While it may be a while for EOS to overtake its competitor in terms of market cap due to the platform's relative immaturity, the possibility definitely exists.
Casper: The Ethereum Scaling Solution
In the meantime, it is clear that increased competition has motivated the Ethereum Foundation to also push for newer standards and improvements to its underlying code. The Switzerland-based entity has launched numerous initiatives and bounty programs in the past few months to incentivize developers working on blockchain scaling solutions.
In addition, Ethereum is also due for a slew of major updates designed to allow the network to improve security, reliability, and performance. The most well-known of these changes is the Casper project, conceptualized by Ethereum founder Vitalik Buterin and Virgil Griffith.
The Casper protocol is effectively an update to the Ethereum network that implements a proof-of-stake consensus mechanism instead of the current Ethash-based proof-of-work algorithm. There are several advantages to using a PoS-based consensus mechanism, perhaps the most important being an increase in transaction efficiency. While the rollout of Casper was scheduled to be initiated by early 2018, that has since been delayed indefinitely.
The Future of Scaling
Contrary to popular belief, the Casper update is not the only update proposed for Ethereum in the near future. The Foundation is also funding and overseeing the development of sharding and other second layer scaling solutions designed specifically to mitigate the effects of an ever-increasing volume of transactions.
As with Casper, there doesn't appear to be any specific timeline on when these solutions will be live on the Ethereum mainnet. However, the platform's continued commitment to pushing the blockchain ecosystem forward is likely why investor confidence in Ethereum remains much higher than its rivals.
Disclaimer: information contained herein is provided without considering your personal circumstances, therefore should not be construed as financial advice, investment recommendation or an offer of, or solicitation for, any transactions in cryptocurrencies.