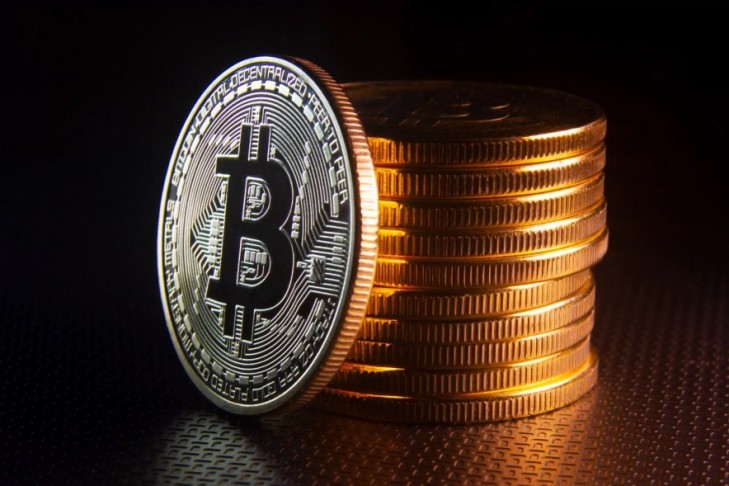 Bitcoin Back at $30k on Safe Haven Asset Demand, SOL, BSV, LINK, Oct. 23
Oct 24, 2023, 8:38PM

by
Kevin George
Bitcoin rallies above $30,000 as gold leads the way on war fears. SOL continues a strong run, LINK whales add before V2.0 staking.
BTC
Bitcoin found another rally this week above the $30,000 level as trades moved to safe-haven assets such as gold over fears that a larger war could erupt around the world.
Prices for BTC are up 14% for the month, with gold 6.7% higher after the outbreak of tensions between Israel and Hamas, alongside further speculation that the Fed is done tightening rates.
However, analyst Benjamin Cowen was more skeptical on the recent rise, predicting a potential dump in altcoins.
In an interview, Cowen said the current rise of Bitcoin is not due to new capital entering the market. He argued that the price of Bitcoin is rising because investors are shifting their focus from altcoins to BTC. Cowen said that eventually the liquidity coming from altcoins will dry up, and Bitcoin will no longer rely on buying pressure to sustain its rally.
"Bitcoin often experiences significant selling pressure before a block reward halving. Maybe this time it will be under such selling pressure after the block reward halving; I do not know for sure, but I believe the reason is that there is not enough liquidity left in the market."
"Despite the rise in the price of Bitcoin, the total market value remained almost the same. The reason behind the rise of Bitcoin, as can also be understood from the increase in Bitcoin dominance, is people converting altcoins to BTC."
Cowen ended by saying that a correction would be due that could "crush the altcoin market."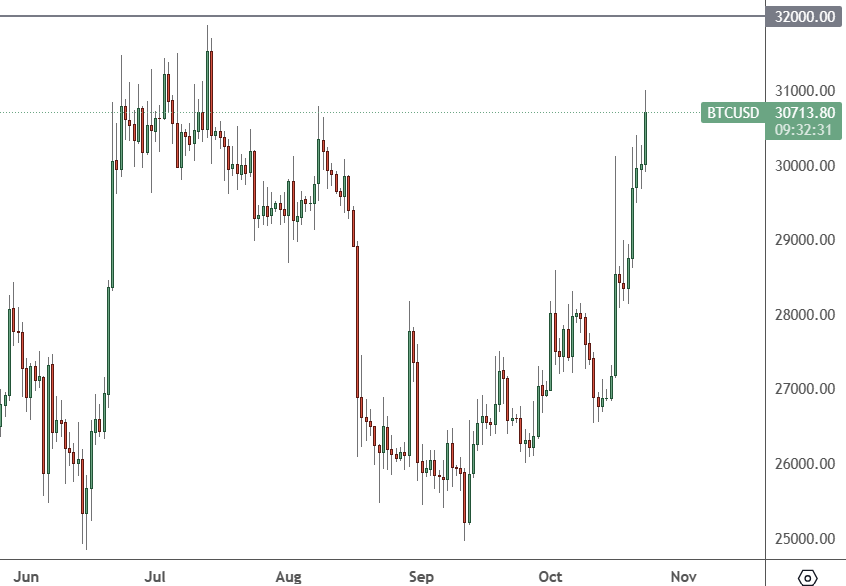 The price of BTC reached $30,173 on Monday and the resistance ahead is at $32,000, which is a barrier to $37,000.
SOL
Solana rallied around 26% for the week as the project got a boost in its Total Value Locked (TVL).
TVL on the Solana blockchain touched a new yearly high of roughly $350 million, according to data from crypto data firm DeFiLlama. The company also said the Solana DeFi sector grew by around $20 million, equalling a 12% growth over the last 24 hours. Solana's value on chain has now increased by more than 40% from the $210.47 million recorded on January 1.
Solana has also signed significant partnerships with the crypto project inking deals with Visa and Shopify. It also recently became an ecosystem partner to the Dubai Multi Commodities Centre, which is an economic free zone within the UAE.
One problem for Solana was mentioned on Bitrates months ago, where the bankrupt FTX exchange and its sister company, Alameda Research, hold more than a billion dollars worth of SOL tokens. That could be a brick wall for the price performance if the firms begin dumping the coin due to court orders.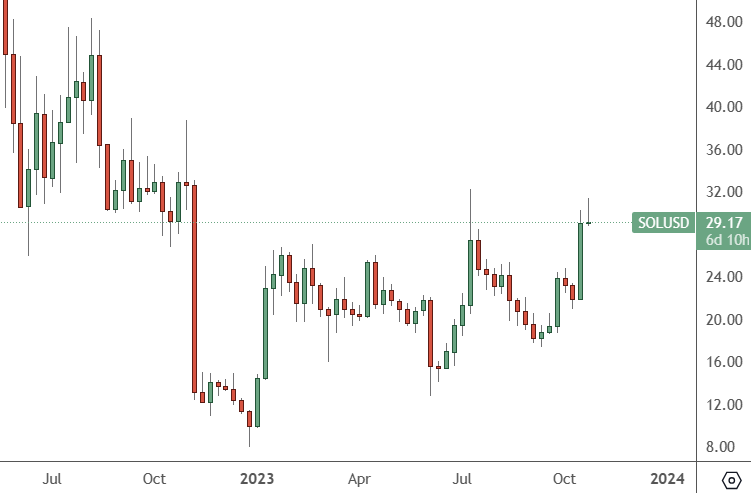 Solana's price on a weekly level is testing a cluster of previous support levels from 2022. That will determine the next path for SOL.
BSV
Bitcoin SV was another top performer in the crypto market this week with a 30% gain.
The project, which was hard forked from Bitcoin Cash (BCH) in 2018, saw highs above $50 after trading at $34 a week ago.
The crypto project, which has had a stormy relationship with BCH, is now ranked in the top 50 coins again, with a market cap of around $1 billion.
The coin rallied on Thursday after the crypto exchange Binance announced it was launching a new "USD-M BSV Perpetual Contract." The derivatives contract, which officially started on Friday, gives traders up to 50x leverage and settles in the Tether stablecoin (USDT).
Despite the gains this week, BSV is still down around 89% from its all-time high of $490, which came in April 2021. The project marked an all-time low near $20 in June of this year.
Bitcoin SV is built to be a peer-to-peer currency that its founders say represents the true vision of Satoshi Nakamoto. However, the project has seen battles with BCH and court cases for its founder, Australian Craig Wright, who also claimed to be Nakamoto, which the community rejected.
BSV's blockchain aims to improve on the efficiency problems of BTC and BCH by increasing block size to reduce transaction fees.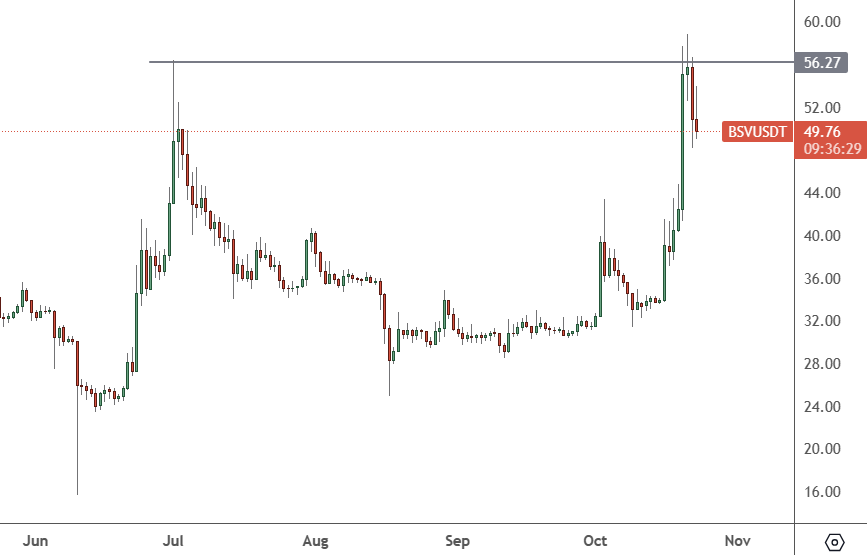 The price of Bitcoin SV is now trading at $49.76 after hitting near-term resistance at $56.27 The market may see a correction this week as the Binance news gets priced in.
LINK
Chainlink led the market this week with a 35% advance for the week.
According to Santiment, Chainlink whales have continued to build their holdings. The network reached its highest levels of whale transactions, unique interacting addresses, and trading volume in the past three months.
Another catalyst for the price of Link has been the upcoming launch of its highly anticipated Chainlink Staking v0.2 platform, which introduces new features, including the Unbonding Mechanism and Liquid Rewards, expected to improve security and transparency.
The release of v0.2 is on schedule for the fourth quarter of this year and will start with an initial expanded pool size of 45 million LINK tokens. The introduction of the v0.2 beta upgrade will gradually expand to a wider range of participants, beginning with a Priority Migration phase for existing v0.1 stakers, followed by an Early Access phase.
Over $100 million worth of LINK has come off exchanges in the past 30 days, according to Glassnode, as investors lock up tokens for staking.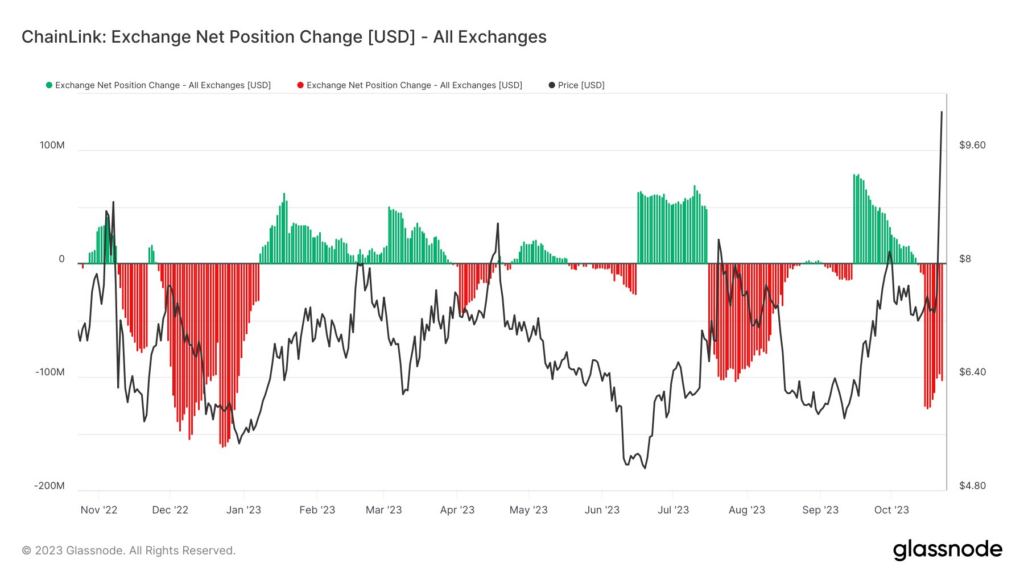 The project now has a market cap of $5.6 billion and ranks at number 13 on the list of projects.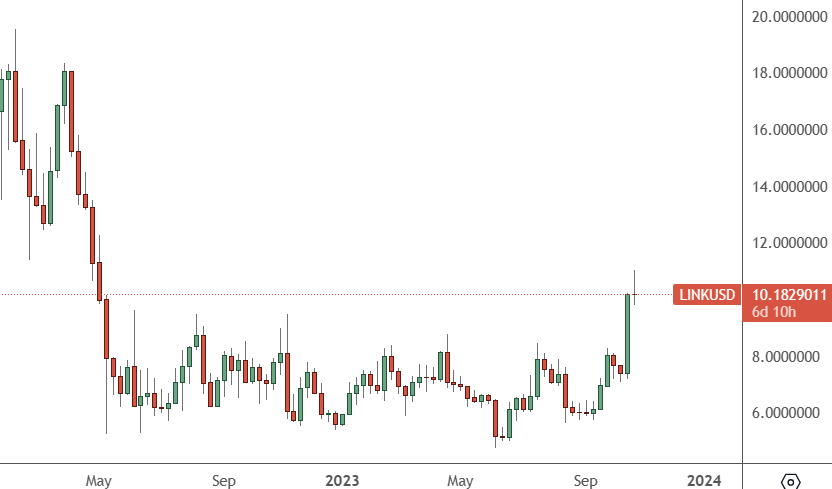 The price of LINK has jumped to $10 and the coin now has the 2022 highs near $18 as a target.
Disclaimer: information contained herein is provided without considering your personal circumstances, therefore should not be construed as financial advice, investment recommendation or an offer of, or solicitation for, any transactions in cryptocurrencies.