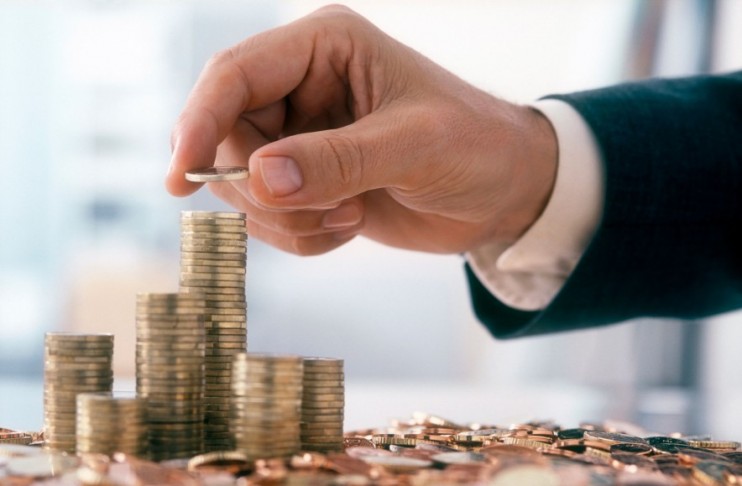 Bitcoin Clears $10k Once More as Dollar Dives, ETH, XRP, Jul. 27
Jul 27, 2020, 3:44PM

by
Kevin George
The U.S. dollar is under pressure and this is helping to drive BTC higher. Analyst sees $20k as banks get custody greenlight.
BTC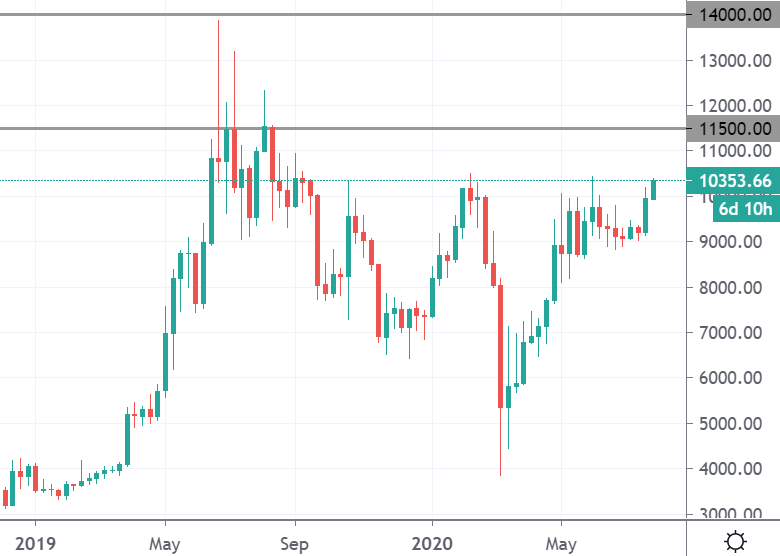 Bitcoin has cleared the psychological $10,000 level again with the coin moving to $10,350 on Monday. BTC is following other commodities such as gold, which touched an all-time high on Monday, amidst a falling U.S. dollar. The greenback is coming under pressure after EU countries passed a EUR750bn bailout scheme and a budget of over a trillion euros. The dollar is also being sold ahead of the coming U.S. election, with the recent civil unrest adding to the political uncertainty of the post-election path for the economy.
The next resistance levels for BTC will be around $10,800 and then $14,000. One analyst who believes the latter can be surpassed is Charles Edwards of Capriole digital assets. Edwards took to Twitter to discuss the recent regulatory green light in the U.S., which allows banks to provide custody holdings. Edwards pointed to a chart of commercial banks' total assets and said,
If US banks put just 1% of their assets into Bitcoin as an investment, hedge or insurance... ... the Bitcoin price more than doubles. Just 1 NASDAQ stock (Grayscale) already owns 2% of circulating Bitcoin supply today. It's not hard to see where this is going.
Banks offering crypto custody solutions became a reality after the Office of the Comptroller of the Currency (OCC) granted permission to federally chartered banks to custody cryptocurrency.
The OCC, which is now run by former Coinbase executive Brian Brooks, said of the move:
The OCC recognizes that, as the financial markets become increasingly technological, there will likely be increasing need for banks and other service providers to leverage new technology and innovative ways to provide traditional services on behalf of customers.
As Bitcoin moves higher on a dollar stumble, it's possible that commercial banks may indeed start to move into cryptocurrencies, however, they may have to buy in with BTC back near its all-time highs.
ETH
Ethereum was the top performer in the top ten currencies with a 35% return on the week. The move comes alongside news that ETH miners' daily income has soared by 60% in a month. The profitability rise comes thanks to soaring transaction fees, as well as relatively slow growth in competition from other miners. Transaction fees on the ETH network, which form part of a miner's daily revenue, have reached a two-year high and I wrote about this being created by the decentralized finance (DeFi) buzz, which brought a spike in network activities.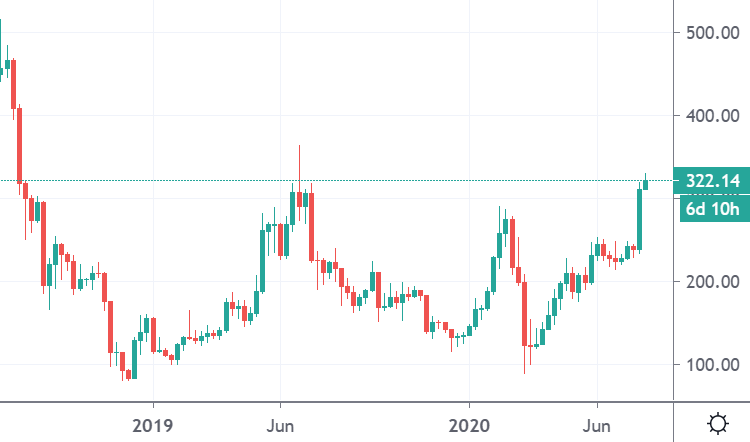 The latest surge in ETH sees the market cap of the number two cryptocurrency sitting close to $36 billion, which is the highest value since the top in July 2019. After clearing recent resistance levels, ETH is now eyeing a move towards the $500 mark and increased activity in DeFi and mining income could see it get there soon.
XRP
Ripple has unveiled a payments platform based on XRP that will work on popular internet browsers. Craig DeWitt, the blockchain payment infrastructure firm's director of product, made the announcement via Twitter and shared a medium blog describing the product in more detail.
Payburner includes, "a browser plugin, PayID integration, Request for Payment with encrypted peer to peer messaging, PayID network search, and a brand new eCommerce flow for 1-click checkout experiences."
The blog said of the project's goals:
We believe strongly in the freedoms digital assets like XRP deliver to individuals and businesses. Payburner's role is to build an excellent and sustainable payment platform leveraging the best in class digital asset for payments, XRP.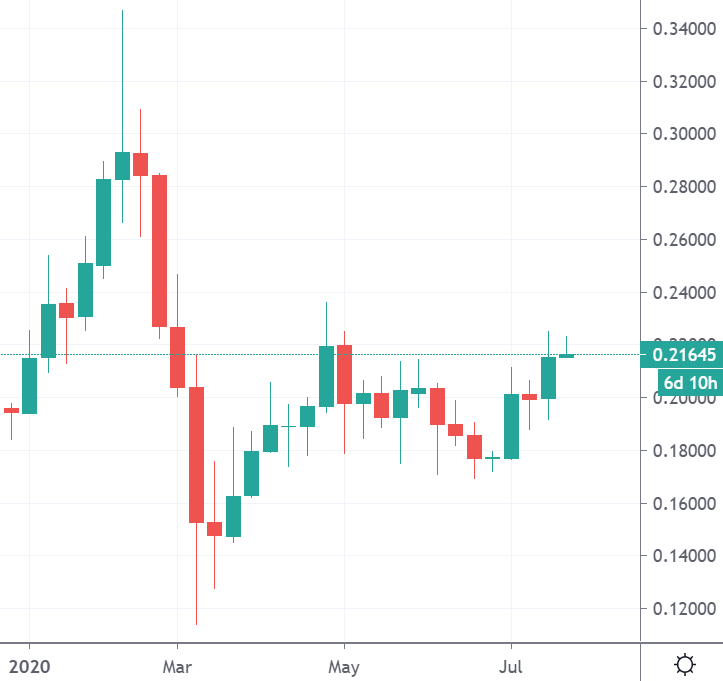 XRP was 10% higher on the week at $0.2165 and is testing resistance at the $0.2200 figure. This is a key level and if the coin can get above then a move towards the $0.3000 level is possible.
In a separate insight piece, Ripple discussed how cryptocurrencies are more important than ever in the post-virus landscape. The article stated,
In a pre-COVID world, FIAT currencies like the U.S. dollar, for example,would be the closest answer to instant payments. However, the exchange of this currency requires face-to-face interaction, something that is strictly limited in the ongoing fight to prevent the spread of the virus.
The use of digital currencies is a solution to these types of problems and would also solve travel issues for those who live in less populated parts of the world and need to commute to their local banking branch.
The weeks ahead in the cryptocurrency market will be dominated by Bitcoin's push through the $10k mark once more. The U.S. dollar could fall further into the U.S. election and if BTC can get through the $14,000 mark it could start attracting the attention of new investors.
Disclaimer: information contained herein is provided without considering your personal circumstances, therefore should not be construed as financial advice, investment recommendation or an offer of, or solicitation for, any transactions in cryptocurrencies.