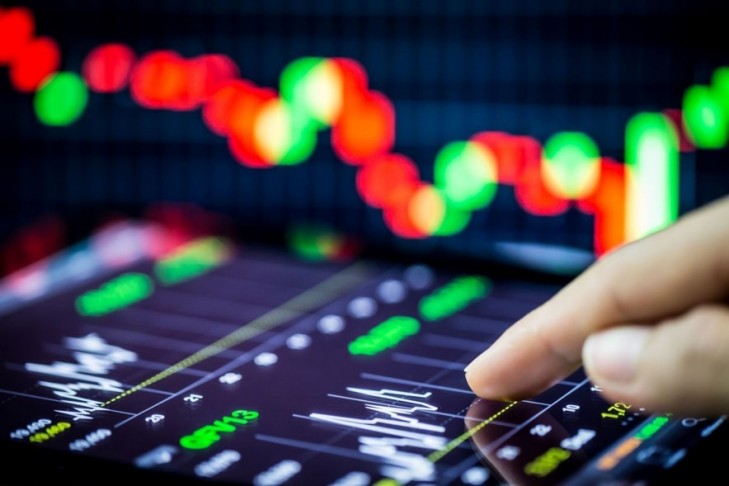 DeFi Solutions and Staking Create an ETH Rally, SYS, SXC, ARK, Jul. 20
Jul 21, 2020, 7:17PM

by
Kevin George
DeFi solutions are leading to a rise in ETH transactions. Other projects are now bridging the gap between blockchains and the fiat moeny world.
ETH
Ethereum transactions are now close to the highs of 2018 as the popularity for DeFi applications builds. Current transaction levels in ETH are around 1.1 million per day and the coin saw strong volume from the mid-March crypto lows.
Decentralized finance (DeFi) has been the buzz segment of the crypto industry this year with gains seen in coins such as lending platform AAVE, and most DeFi coins are built from Ethereum's ERC-20 coin technology.
The following chart highlights the lead that Ethereum has over other platforms when it comes to decentralized applications (DApps).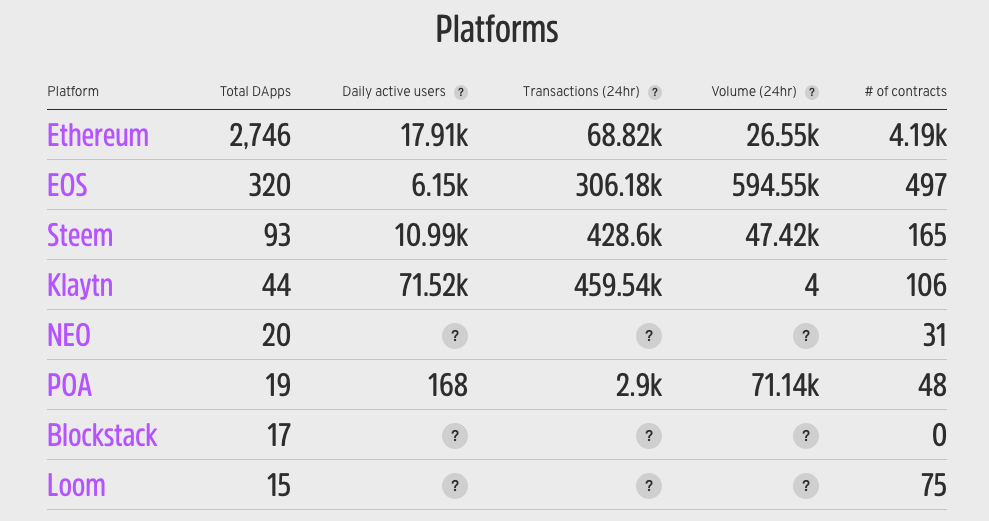 Alongside the DeFi boost, investors are keen to get into ETH ahead of the upcoming version 2.0 upgrade. ETH is moving to a Proof of Stake system and some have suggested it could be a game-changer for the coin.
It is hoped that the incentives gained from staking coins will boost demand for the coin while reducing the coin's supply.
An ETH developer said of the upgrade:
Eth2 is a huge undertaking to provide an upgraded, next-generation, highly-scalable and secure, decentralized consensus to Ethereum. There are dozens of teams and hundreds of individuals working each day to make this a reality. The path we've chosen is difficult, but immense progress has and continues to be made.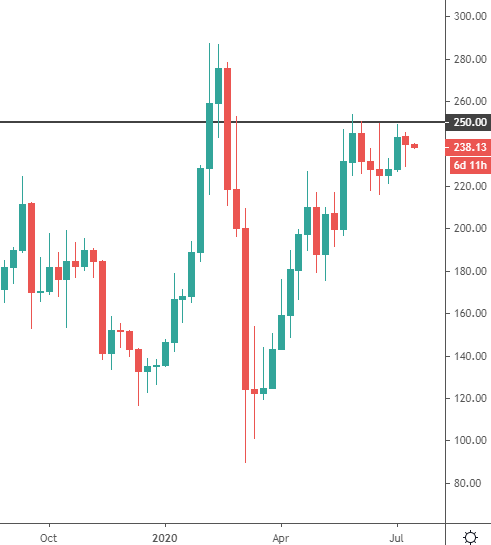 ETH has pulled back after a recent test of the $250 level, but the coin could still advance through that level in the weeks ahead. The release date is still unknown but the coin's co-founder ensured it would happen this year.
As the decentralized finance world grows it is likely that ETH will see price gains. Coins held for staking would also reduce the supply circulating on exchanges for new buyers.
SYS
Syscoin is one of the crypto projects that is ERC-20 compliant and the coin saw a 230% gain this week.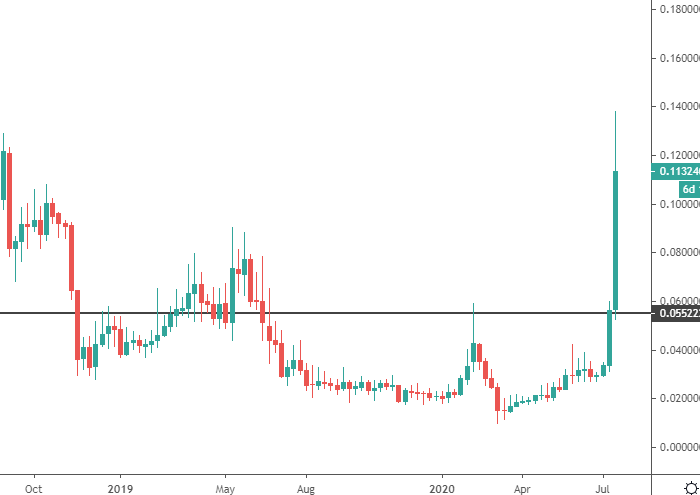 The Syscoin Platform introduced a bridge-structure called Syscoin Bridge, which facilitates a trustless two-way transaction channel between Syscoin and other blockchains. The platform has also announced a bridge bounty for users and promoters of the bridge. The platform's website said:
Syscoin 4.0 introduces a first-of-its-kind, two-way bridge to Ethereum. This allows Ethereum developers to move ERC20 tokens back and forth between the Ethereum network and Syscoin Platform, where they can make use of the scalability and high-transaction-throughput that Syscoin offers.
SYS is currently ranked at number 104 in the list of coins by market cap with a value of $66 million. The recent move higher has seen the coin rally from $0.03 to $0.12 and this has taken the coin above a key support level from 2017.
SXP
Another big gainer on the week was Swipe token with an advance of 179% on the week. The move sees the coin hitting all-time highs.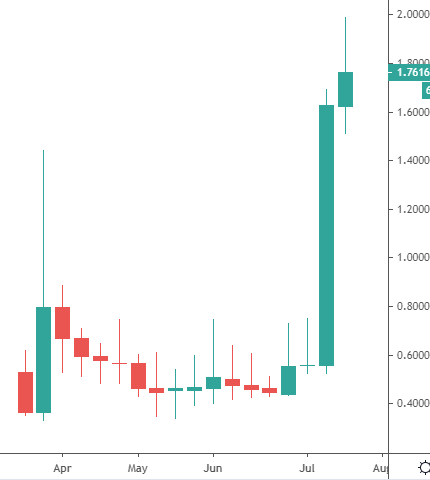 Swipe provides users with crypto debit cards in order to pay for purchases using their coins. In their half-year report for 2020, developers highlighted recent payment partnerships with big tech companies:
Swipe has continuously expanded its features and reach over the course of its inception. This year, we have sealed notable partnerships with mobile payment solutions such as Apple Pay, Google Pay, and Samsung Pay to increase the options of our users to buy and spend cryptocurrencies.
In March and April, new coins were added to the Swipe wallet with DAI, TRX (Tron), ARK, and USDC now available to use for spending. Swipe has also waived fees for all verified users of their cards and the company is looking to assist newcomers with crypto knowledge articles.
On July 7 it was announced that Binance had made a deal to acquire Swipe and the two are now working together to bridge the fiat to digital gap.
ARK
Ark was strong this week with a 41% gain and the coin has gained steadily since breaking out from the 2019-20 trading range. The coin now looks like it could test the $0.800 levels later.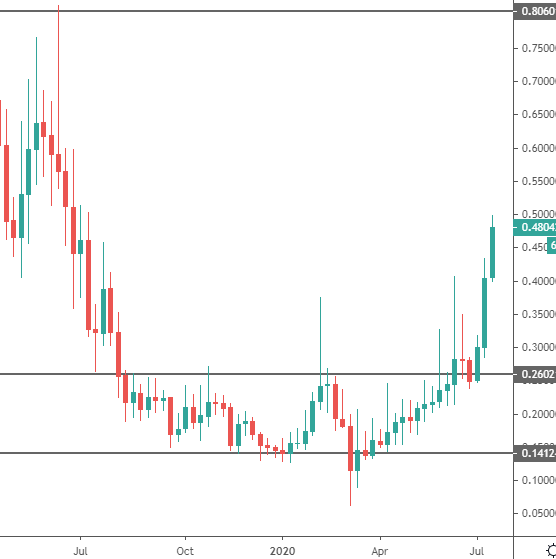 One of the innovative solutions created by developers is their Platform SDK which provides an easy and normalized way to interact with networks. Because of the ability to merge different blockchains, ARK's latest wallet is multi-currency and supports many of the largest coins, such as Bitcoin, Ethereum, Ripple, and EOS. More coins and networks are planned for the future.
The goal of the SDK platform is to lower the barrier to entry for developers in the crypto and blockchain world. ARK is also one of the quicker blockchains with a transaction speed of eight seconds.
Disclaimer: information contained herein is provided without considering your personal circumstances, therefore should not be construed as financial advice, investment recommendation or an offer of, or solicitation for, any transactions in cryptocurrencies.