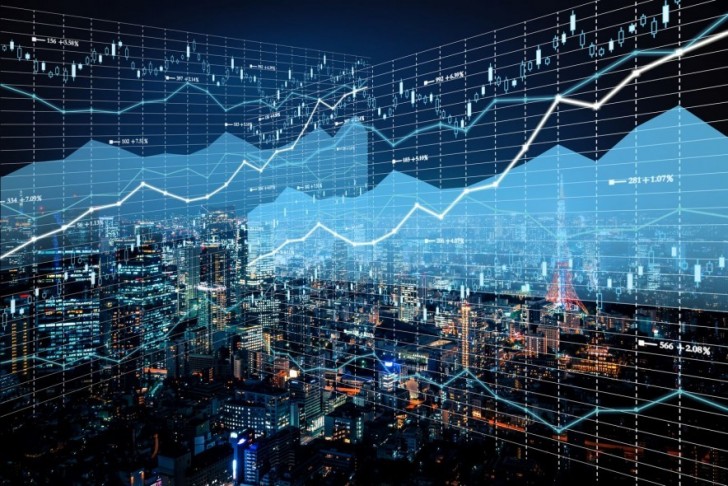 Bitcoin Forks Complete Their Halving Events Ahead of BTC, BSV, BTG, XTZ, FCT, Apr. 13
Apr 13, 2020, 6:48PM

by
Kevin George
Hard forks of Bitcoin have completed their halving events with BSV and BCH going first and BTG coming this saturday. FCT highlights altcoin risk.
BSV
Bitcoin SV has just completed its own halving, with the 630,000th block produced on Friday. The move sees block rewards reduced from 12.5 BSV to 6.25 for each block mined.
BSV saw a rally on the week to a high around 224, but the BTC fork closed on the week below $200, which may suggest a drift back to $150 if the general market declines.
This is a possibility because BTC failed to close above the $7,000 level for a fourth-consecutive week and a pullback to $6,000 or even $5200 is possible.
Data from researchers Glassnode showed that BTC whales (accounts with 1000 BTC or more) are now at a two-year high. This suggests that despite the recent panic selling, long-term BTC holders are happy to sit tight.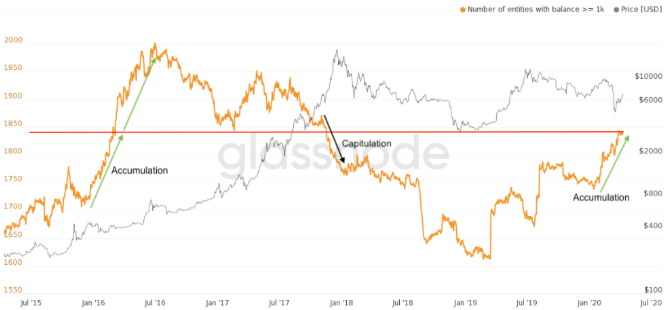 The company stated,
This trend implies that despite an uncertain market environment, whales remain confident that now is a good time to be accumulating BTC, suggesting that they believe there is further room for growth.
One whale did decide to cash out at $7,000 on April 10th with a deposit on Huobi leading to a $250 sell-off in the leading cryptocurrency. The growth in whale accounts highlights further that the sell-off in recent weeks was driven by short-term money and speculative institutions. Long-term blockchain investors are not selling and especially not during a BTC halving and a looming economic crisis.
The halving in BSV was part of a series involving the Bitcoin hard forks, with BCH completing the event on Wednesday, and the original BTC blockchain going through the process next month. Although BSV's price hasn't moved substantially, there has been a slowdown in mining activity. This is part of the bullish expectations for halvings, where the block rewards are reduced leading to less coin supply. In the current situation, it is now more valuable to mine BTC until May and BSV shares the same SHA256 algorithm, so miners will be moving their hardware and efforts to the original blockchain until the BTC halving is complete in May.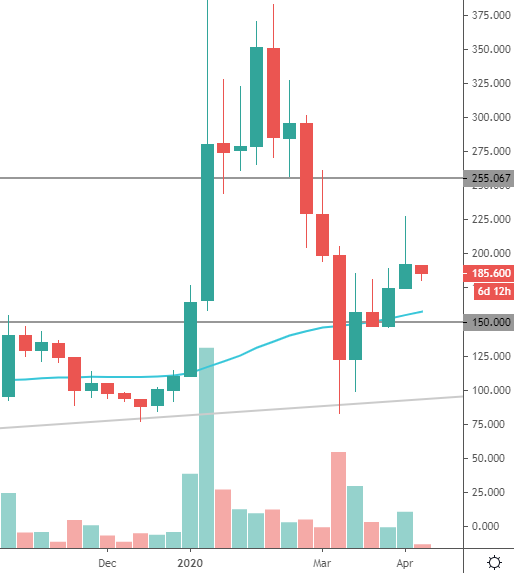 Support for BSV will come in at $150, which is where the 50 moving average resides. Below that would be the trendline near the $100 level.
BTG
Bitcoin Gold is another fork of Bitcoin that is approaching its own halving event.
The BTG blog states,
This halving, the third in BTG's blockchain history, will happen exactly at block 630 000.
BTG is a variant of Bitcoin that is made to be mined on GPUs and follows the same halving schedule as Bitcoin. The reward is cut in half every 210 000 blocks, or roughly every four years.
BTG is expected to reach the halving block on Saturday the 18th of April. The project currently has a market cap of $170 million and trades at number 37 in the list of coins by market cap. The current 24-hour volume in Bitcoin Gold is in the $50-60 million range.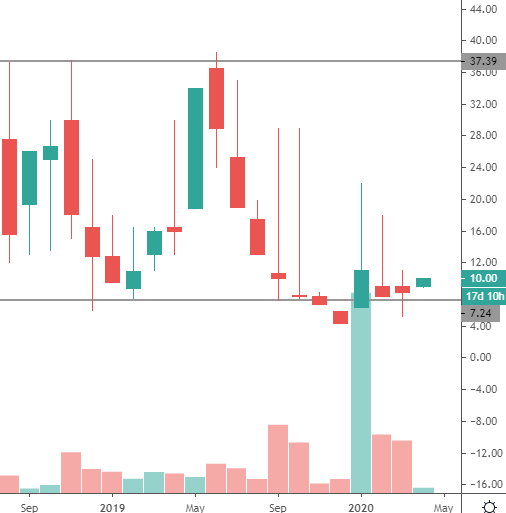 BTG has rallied from monthly support around $8.00 and the price is now testing the $10.00 mark. The big volume in January was positive but the price will now be driven by the BTC price action pre-and-post halving.
XTZ
Tezos was a strong performer in early-2020 as the coin rallied from $1.30 to touch a high near $4.00. The market has since returned to the mean and bounced from a longer-term trendline, which we have seen in many other coins and the recent bounce is finding resistance at the $2.00 level.
XTZ is currently trading with a market cap of $1,37 billion and we may see another small pullback before an attempt to regain some of the recent highs, but this will depend on the movement of the overall market.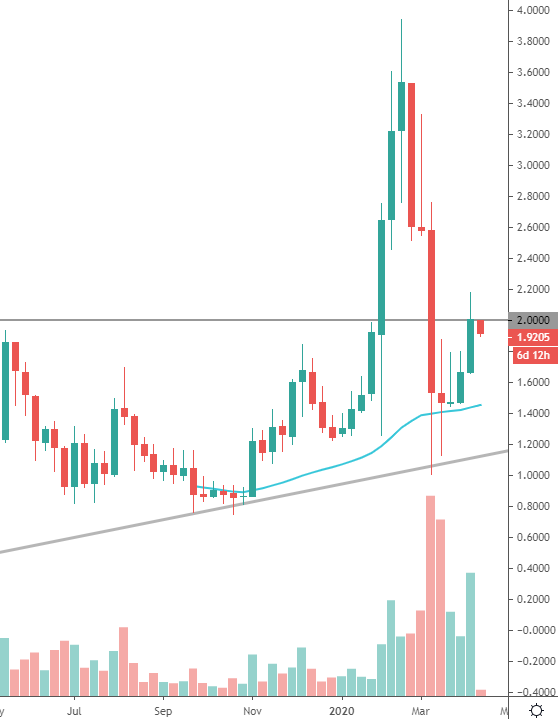 Support for XTZ is at $1.20–1.40 and getting above $2.00 would have little resistance ahead for a push to $4.00 again.
FCT
The Factom project is under pressure to shut down after releasing 80% of their 10 staff, leaving only two developers. The move comes after years of failing to secure a series B venture funding
The company's lead investor, FastForward innovations, claimed that the project was closing, but this was met with a rebuttal from the Factom project.
COO Jay Smith said,
They'll be putting out a correction. This has been a long-running argument between us and FastForward.
The FCT coin currently trades at $1.57 with a market cap of $14 million. This is a fall from grace for the project, which had a market cap of ten times that in December of 2018.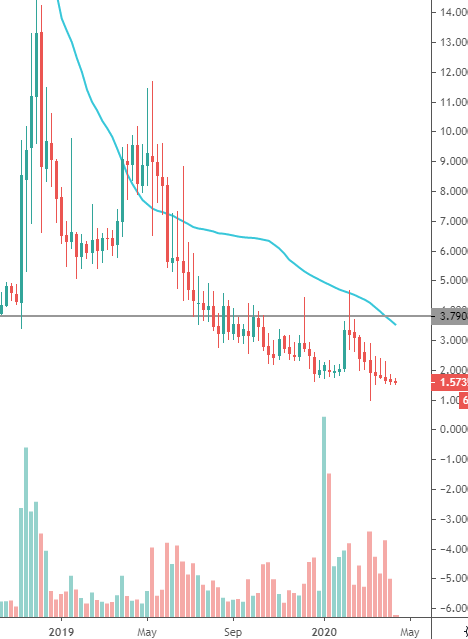 The FCT price would need to see big price gains and users to attract investment and rebuild but it would be hard to see how that happens with only two developers.
Separate comments from Mark Yusko, CEO of blockchain investment firm, Morgan Creek Digital may be worth noting here, where the company's attitude to altcoins was underlined in a Youtube interview.
While stating that they do not own XRP or Stellar due to their close ownership, Yusko also stated that he expected 99% of altcoins to fail.
He commented,
There's nothing wrong with utility tokens — or 'shitcoins' as they're affectionately called — there's nothing wrong with them, it's just that 99% will go to zero because they're just pre-seed stage venture capital, which has a very low hit rate.
Factom is now trapped in the downward spiral of pre-seed venture capital being used up and having no investors willing to seed the project.
Disclaimer: information contained herein is provided without considering your personal circumstances, therefore should not be construed as financial advice, investment recommendation or an offer of, or solicitation for, any transactions in cryptocurrencies.