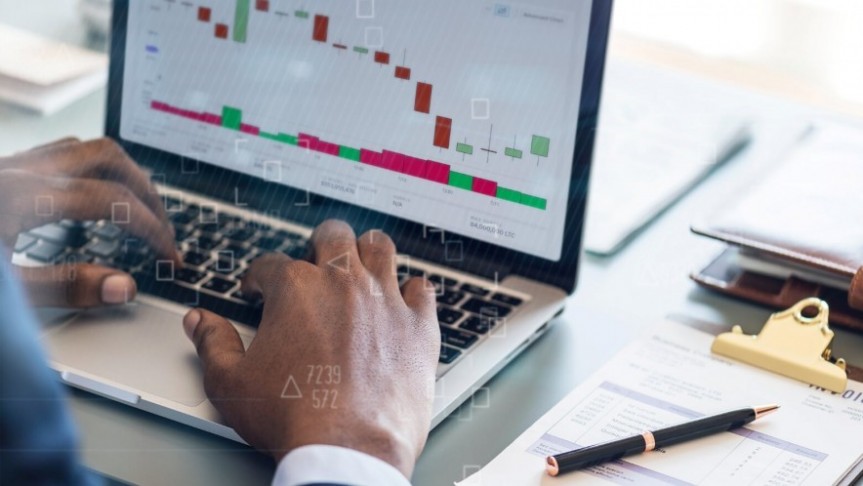 Dash, IOTA, Neo, Litecoin & XRP Technical Analysis: Sunday 15 July 2018
Jul 15, 2018, 9:50AM

by
Kevin George
Dash and IOTA are stabilizing while Litecoin announces new partnership but sees no significant price rise, XRP could use a boost to recover.
Dash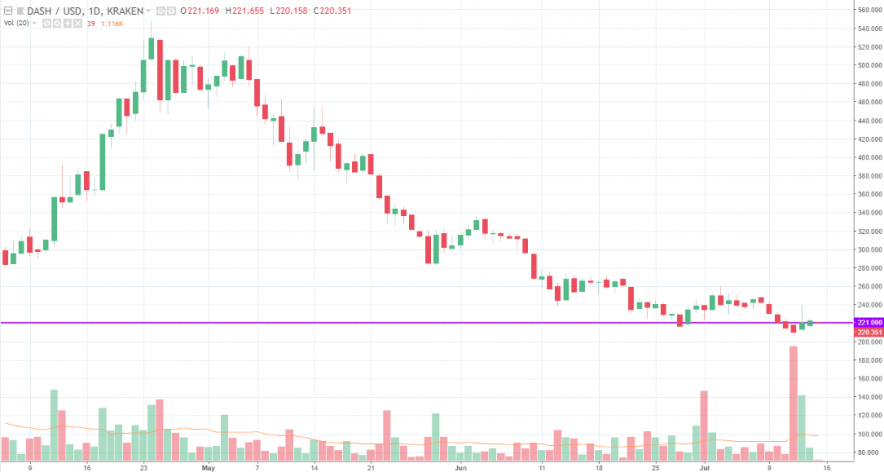 The price of Dash has mirrored the general cryptocurrency market in recent months as it drifted lower and mounted two failed rallies in February and April. Despite the negative price action, Dash has some positive sentiment surrounding the privacy coin and is one to keep an eye on in future weeks.
Dash CEO, Ryan Taylor, stated recently that he wants to create a private equity-style investment fund that would be the first of its kind, owned and operated by a DAO. One of the benefits in owning equity or assets would be the removal of continued doubts surrounding the valuation of cryptocurrencies and would create a tangible asset-backing.
Dash has had a mixed week of trading, with some losses early in the week being countered by some weekend buying. Dash is hovering around a key weekly support level and if we see a positive week, it would be a signal for further gains.
IOTA
IOTA is another coin that has seen some positive developments in recent weeks as the project partnered with some household names in Europe. The most exciting of these partnerships is with European car giant Volkswagen. The partnership would see Volkswagen adopt blockchain technology in its business and vehicle maintenance.
Volkswagen's Chief Digital Officer, commented on the IOTA project,
Distributed Ledger Technologies (DLT) are crucial for the future of trusted transactions. IOTA has great potential to become a DLT leader with the Tangle approach.
IOTA's technology is designed for the Internet of Things (IoT) connectivity that will be the future of electric vehicles and smart household technology. When looking at the Dash and IOTA announcements in recent weeks, we can see that we are looking at the potential for a growth company, rather than just a coin.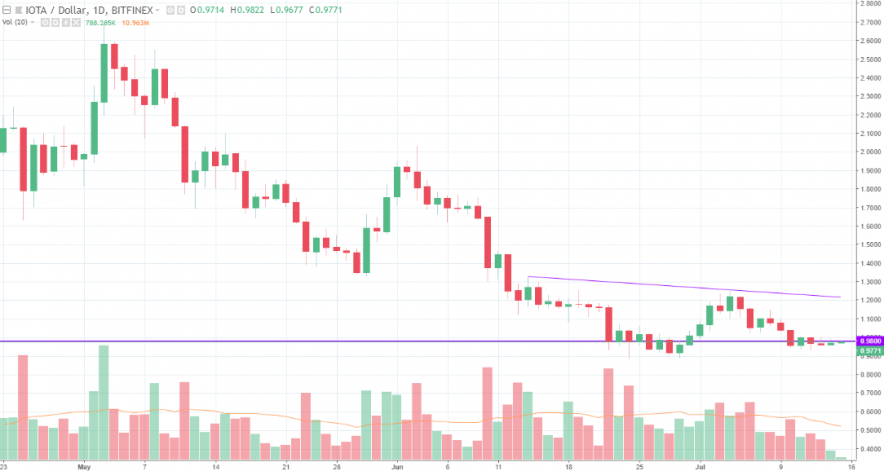 IOTA trading is similar to DASH as we probe a key weekly support. Despite losses early in the week, IOTA has been in a tight range with muted volume. Recent sessions have been dominated by bearish volume days but if we see some more buying appearing in the upcoming week, we could secure the key support and start a move towards the resistance around the $1.20-1.30 level.
NEO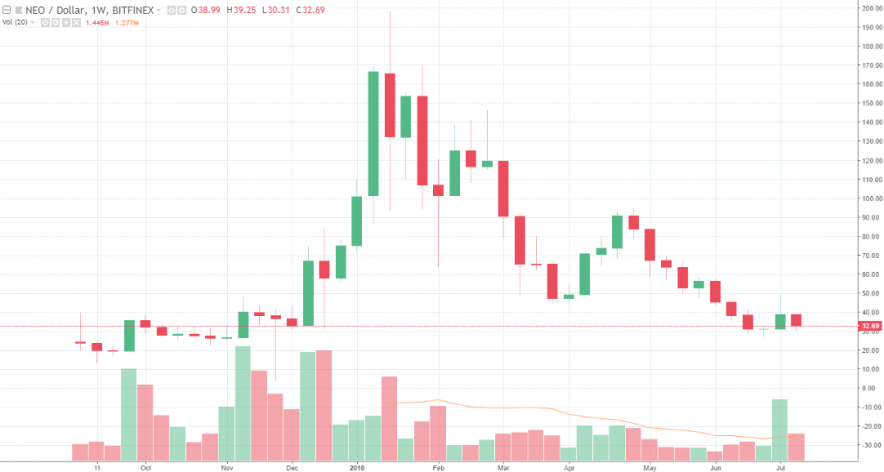 NEO created some hype when it shared its future plans for the cryptocurrency and simultaneously giving a teaser of the NEON Wallet V2 through fixes and updates.
On the weekly chart, NEO pulled back into previous levels from the end of 2017 and is giving us a bearish signal for the week. It is still possible that NEO can find support at these levels and the previous failure at the $40.00 level creates a resistance level for a bullish setup.
The weekly chart on NEO shows a strong bullish volume bar for last week and this occurred near those previous support levels. This week could be a pause for further advances but a bullish weekly close would be needed to confirm this.
Litecoin
Litecoin was in the news over the last week after its founder, Charlie Lee, announced that the LTC Foundation had entered into a strategic partnership with Token Pay, in order to buy a stake in a German bank. The latest development for Litecoin brings the potential of mass adoption closer to being the sixth-largest cryptocurrency.
Token Pay's CEO, Derek Capo, elaborated on the key reasons for the tie-up,
Some banks, they close down bank accounts if they get a whiff of anything to do with crypto. We saw a lot of competitors with similar offerings get cut off because they didn't own the bank and they didn't have control.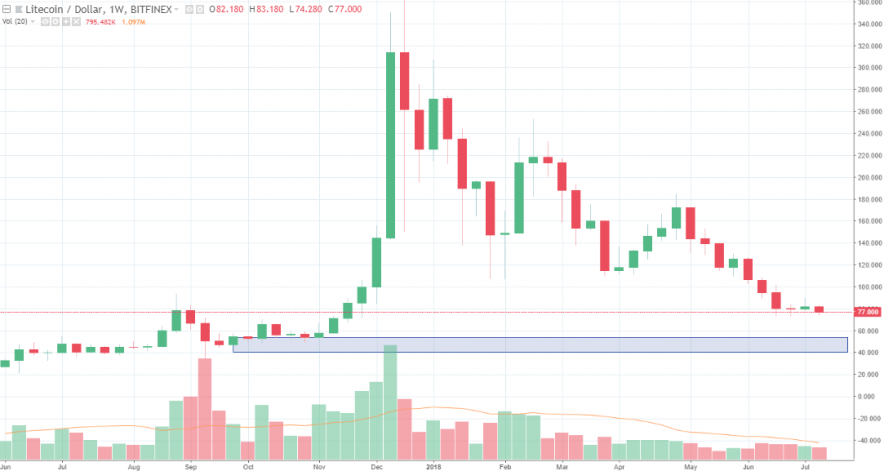 The news of the strategic partnership has failed to create any real demand in the market for Litecoin, with the currency falling over the last few sessions and aiming for a test of the lows that were set at the end of June. Litecoin has moved lower from potential support levels from March.
The chart rectangle highlights the next area of strong support and this would be a target for any further losses. It is possible that Litecoin can still bounce higher if strength appears this week in the overall market. Resistance levels for Litecoin are in the $120 and $170 levels for future weeks.
XRP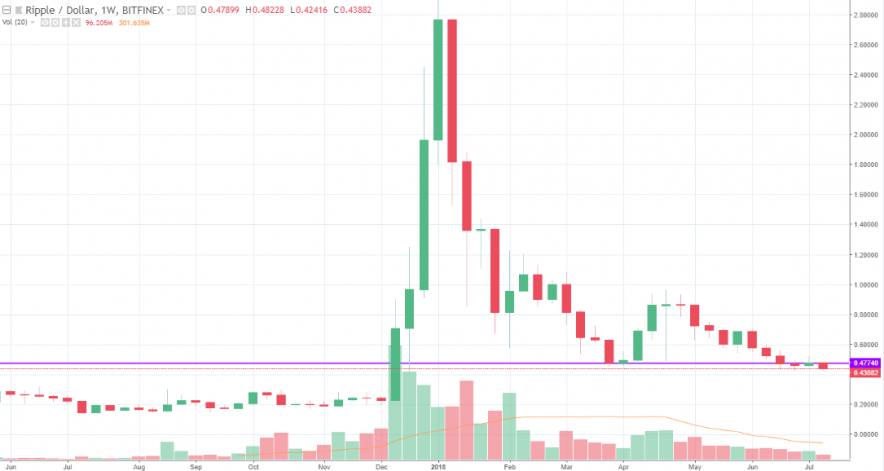 The price of XRP has been similar to Litecoin, with the price coming very close to testing the June 29 low on Thursday of this week. Like DASH and IOTA, XRP is hovering around a key support level from April. The failure to close above this level last week was a negative development and this week has also been bearish. It is still possible that XRP can advance, but we will need to see a good week that clears the resistance level around $0.48 to give us a signal for more buying.
In all of these charts it should be noted that we are still not seeing any panic selling. The selling is measured and there is simply a lack of buying at the moment, even though we are seeing some interesting developments, such as Litecoin Foundation's stake in a bank. These coins are now trading at a discount and there is a race on between developers to create a mass adoption offering. The development of this will occur ahead of the next wave of retail involvement so it is a good time to consider the fundamentals and get in ahead of any institutional buy spikes and media attention.
Disclaimer: information contained herein is provided without considering your personal circumstances, therefore should not be construed as financial advice, investment recommendation or an offer of, or solicitation for, any transactions in cryptocurrencies.