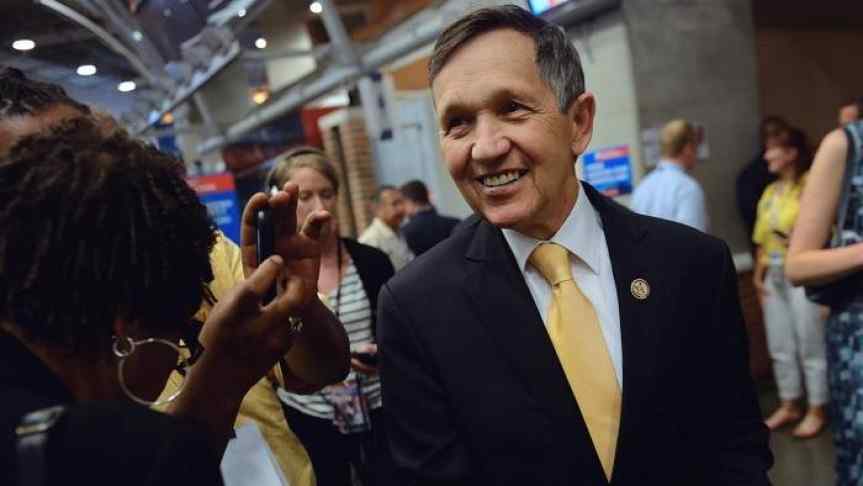 Former Congressman Attends Bizarre Yacht Party of "First Decentralized Society"
Jun 13, 2018, 10:40AM

by
Chris Madill
On June 4, an ambiguous blockchain-centered political project dubbed "Decenturion" hosted a yacht party, which a former congressman attended.
On June 4, an ambiguous blockchain-centered political project dubbed "Decenturion" hosted a party to commemorate the project's first step in becoming recognized as an independent state. The event celebrated the opening of Decenturion's "floating embassy", which takes the form of a yacht located at Pier 40 in New York City. Surprisingly, this stranger-than-fiction "embassy party" actually attracted the company of a real-life politician, Dennis Kucinich. Kucinich, a former congressman, was the Democratic Party Presidential Nominee in 2008.
Kucinich and his wife, Elizabeth, were featured in photos appearing on Decenturion's Facebook page. The photos showcase a lavish yacht with scenic views of the New York skyline in the background. Dencenturion merchandise is scattered throughout the photos, and the attendees appear jovial while they enjoy the "embassy party" next to provocative signs that state "Enough with taxes!". It is unclear why Kucinich attended the yacht party, but his presence adds a confusing layer to the mystery surrounding Decenturion.
Very little is known about Decenturion since their public presence is limited. On their website, Decenturion describe themselves as "THE FIRST DECENTRALIZED AUTONOMOUS SOCIETY". Their manifesto is difficult to read as it is riddled with all-caps vague phrases and offers little insight into what technology the project uses or what benefit the project provides to users. It also lacks a coherent roadmap, and if it were not for Decenturion's promotional video, the project's goals would be very difficult to deduce.
It appears Decenturion aims to create a "direct democracy", using blockchain technology to underpin a democratic system that allows citizens to vote on issues directly, without the need for elected officials. A noble cause, but Decenturion does not appear to provide tangible information regarding how the project will accomplish this feat. Much of the rhetoric Decenturion provides to interested individuals seems to raise more questions than answers,
THE WORLD IS AN OPEN-SOURCE PLATFORM AND HUMANITY SHOULD BE EMPOWERED TO MAKE CHANGES TO THE SYSTEM TO BENEFIT THEIR LIVELIHOOD
DECENTURION OWES ITS EXISTENCE TO ITS CITIZENS' ACTIVITIES. HOWEVER, DECENTURION IS UNIQUE IN THAT RESIDENTS POSSESS SUCH HIGH VALUE THAT THEY DO NOT PAY ANY TAXES TO THE STATE. ON THE CONTRARY, DECENTURION TRANSFERS ALL OF THE ASSETS TO ITS CITIZENS FOR FREE IN THE FORM OF TOKENS FROM STARTUPS ADMITTED INTO DECENTURION
Regardless of Decenturion's ambigious ideology, the idea of employing blockchain technology to transforming current political systems is neither wrong nor new. Blockchain technology does hold promise for re-defining our democratic systems around the globe, and many other projects are actively proving this as fact. Moscow has been allowing citizens to cast votes for municipal matters via a private version of the Ethereum blockchain with their Active Citizen project. The project was designed to help foster trust in the democratic matters of a seemingly corrupt Russian voting system. In Switzerland, the city of Zug is trialing a similar blockchain-based voting system in the hopes of proving that blockchain technology is a trustworthy and reliable tool for collecting votes on important issues. There are other examples of blockchain-voting systems being implemented globally in the hopes of improving democracies by removing the possibilty of corruption through the use of "trustless" immutable ledgers. It remains to be seen whether projects like Decenturion would serve merely to leverage the hype surrounding blockchain-based democracy, and ultimately to undermine the legitimacy of the concept.
Disclaimer: information contained herein is provided without considering your personal circumstances, therefore should not be construed as financial advice, investment recommendation or an offer of, or solicitation for, any transactions in cryptocurrencies.