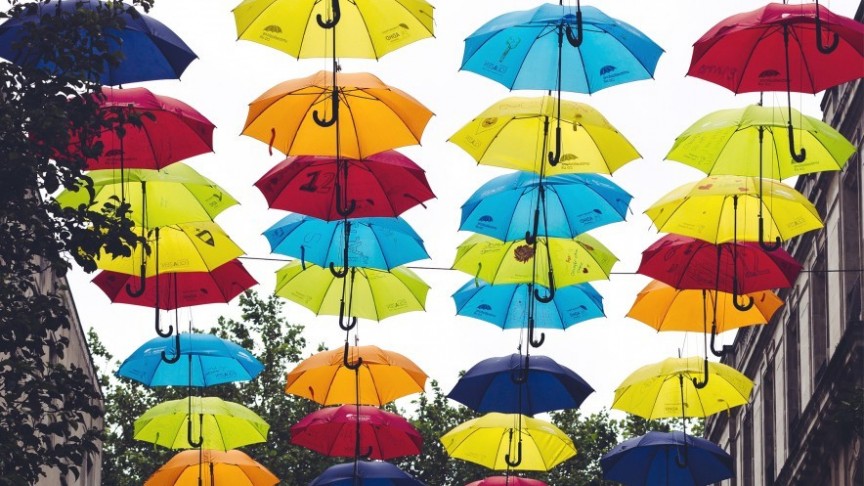 Liverpool City Is Using Blockchain to Lead the Fight against Climate Change
Jul 24, 2018, 8:05AM

by
Chris Madill
Liverpool and the Poseidon Foundation are testing blockchain technology to help Liverpool become the world's first climate-positive city.
Liverpool's City Council (LCC) plans on using the power of blockchain technology to help Liverpool become the world's first climate-positive city. The LCC is teaming up with the Malta-based, non-profit Poseidon Foundation to test a blockchain platform that allows for the monitoring and exchange of tokenized carbon credits. The announcement was made on the Liverpool Express site as well as on the council's Twitter page,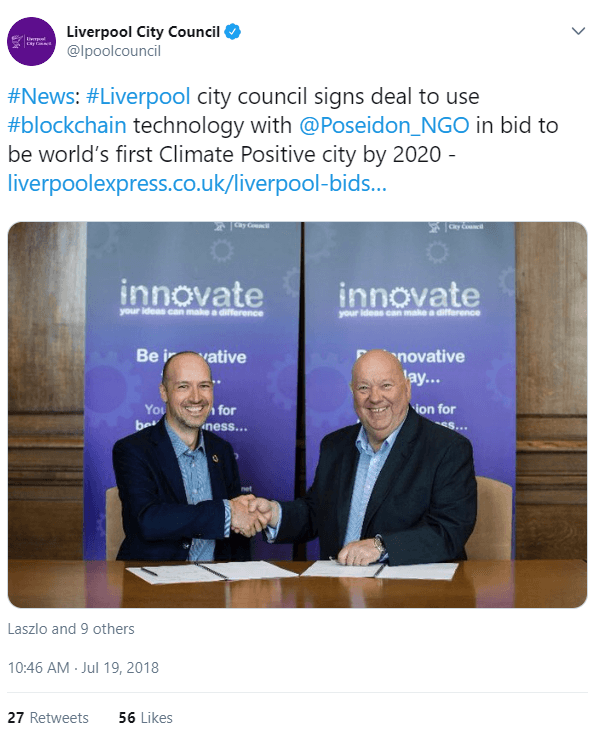 This move is the latest in the city's progressive approach to becoming climate-conscious, with Liverpool leading the global race to cut their carbon footprint by initiating energy-saving initiatives and investing in renewable energy resources. The LCC's partnership with Poseidon aims to offset Liverpool's climate impact by over 110%, leading the city to its ambitious goal of becoming the world's first climate-positive city by 2020.
Poseidon's platform is based on the Stellar blockchain and is described in the company's whitepaper as
Blockchain technology that introduces transparency and traceability to make and track an impact where it matters most – forest conservation.
Essentially, Poseidon aims to create a global carbon market where everyone from individual consumers to industrial companies can easily purchase carbon credits, on an easily tracked and immutable public ledger, ensuring credits are retired from circulation without being "double counted".
Liverpool Mayor, Joe Anderson, sees the value in Poseidon's technological solution to the current issues facing carbon markets. In a recent press release, the Mayor expressed his excitement over the new partnership between LCC and Poseidon,
Poseidon's technology is the first of its kind to truly deliver a solution to governments, businesses and individuals around the world to help reverse the causes of climate change, and I am thrilled this agreement will bring this cutting-edge technology to our city. / Joe Anderson, Mayor of Liverpool
Blockchain technology is proving itself to be a powerful tool in the fight to save the environment. Thanks to the ability of Digital Ledger Technology (DLT) to efficiently and immutably manage data, blockchain tech is now being tested to help manage everything from our planet's food supply to the incentivization of solar energy generation to the tracking of material waste across multiple industries.
Disclaimer: information contained herein is provided without considering your personal circumstances, therefore should not be construed as financial advice, investment recommendation or an offer of, or solicitation for, any transactions in cryptocurrencies.