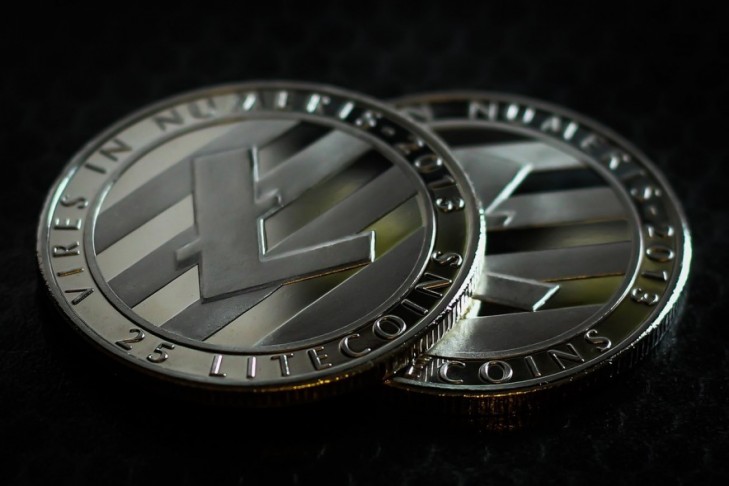 LTC Cuts Block Rewards in Half and XTZ is Added to Coinbase, NEX, Aug. 5
Aug 5, 2019, 6:58PM

by
Kevin George
Bitcoin has rallied again as global instability leads to safe haven flows once more. LTC has "halved" and XTZ is added to Coinbase Pro.
Bitcoin saw a rally of 22% in the last week to trade at $11,729 as the market gained on safe haven flows following a stock market sell-off. Stock market investors in the U.S. were disappointed at the Federal Reserve's decision to only cut interest rates by 0.25%, with many hoping for a 0.5% cut. The Dow Jones Industrial Average has lost 1,000 points in the last four days and the selling could spur others to take profits.
Alongside the rates decision, the Trump administration has also reignited the trade war with China after the President introduced further tariffs on Chinese imports. China responded to the move by weakening the Chinese currency and cutting off imports of U.S. soybeans. The trade war is threatening stability in a time of a global economic slowdown that is risky for the financial system. The Federal Reserve's decision was unique as it came at a time of relative strength and the decision was likely done to assist foreign governments by trying to weaken the dollar.
Another flashpoint in recent weeks has been Hong Kong with protestors engaged in street battles with authorities.
The ongoing protests have "crippled transportation" in the city and have seen the Hong Kong dollar weaken versus the U.S. dollar. Hedge fund manager Kyle Bass, who has been betting against Hong Kong's currency peg, had a sobering take on the events to come as China has stated they may intervene to quell the protests.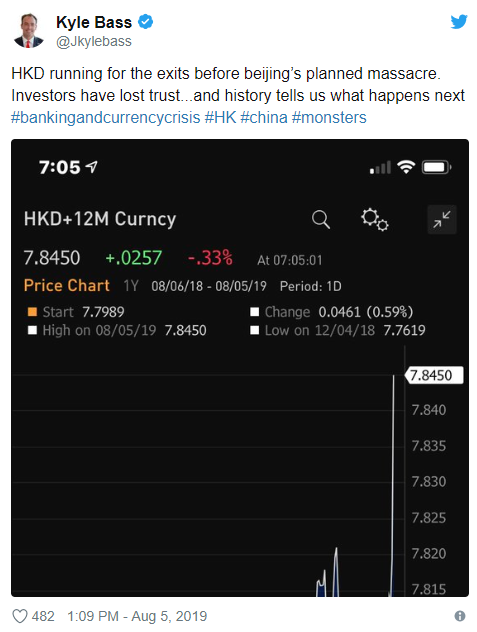 Events such as these are a threat to global stability and risk a financial crisis moment in a developed nation that could have very serious repercussions. Falling currencies in Asia are also a likely driver of cryptocurrency strength as investors seek to move money out of depreciating assets and find safety.
In cryptocurrency news last week, U.S. retail giant Walmart has filed a patent for its own digital coin, which would position it alongside Facebook's Libra offering. The arrival of these coins and their user base makes them a very real threat to the traditional banking system, which relies on customer deposits to leverage their investments. Once these coins come onboard, a movement of funds into new spaces may see physical banking services disappear.
LTC
Litecoin has just seen its anticipated "halving" move with block rewards now reduced by half to 12.5 LTC. Litecoin's founder Charlie Lee announced the news on his twitter feed.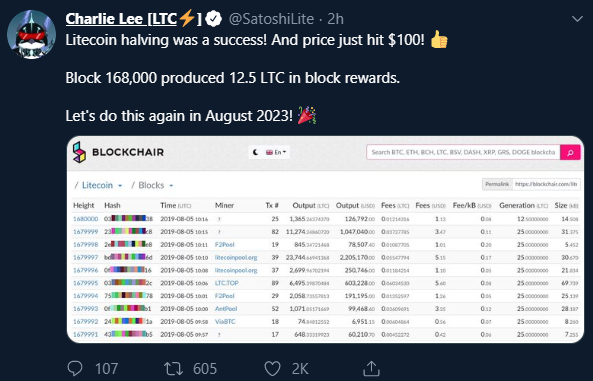 The price of LTC now trades above $100 after a recent correction saw it trade around $76. If the price can stay above the $100 level this week then another rally is possible to retest the recent highs. The horizontal line on the chart is an area of previous support and would be a good level to close through on a weekly basis.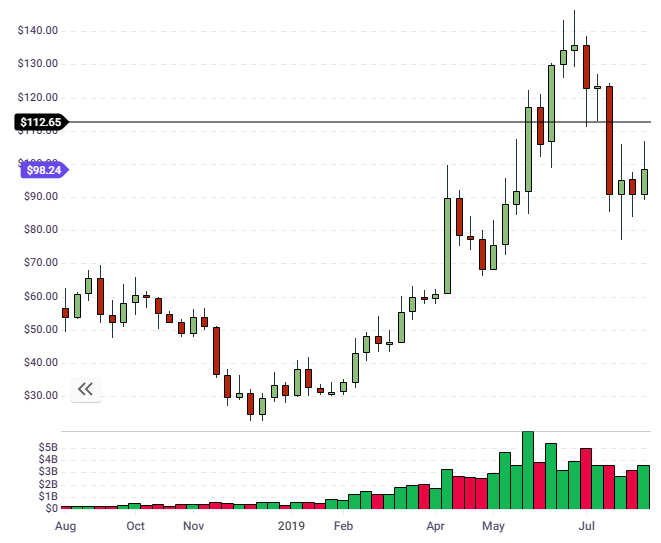 The move higher in LTC was helped by Bitcoin's rally as the majority of coins are in positive territory for the week.
NEX
A strong performer on the week was Nash Exchange (NEX) with an advance of 28%. The project is built around a decentralized exchange with the website stating that it is a "Mobile wallet meets trading app." Nash Pay aims to connect your wallet to dApps and websites in order to pay for services. Another feature of the platform is an ability to stake NEX tokens and receive a share of exchange fees. Tokens can be staked with a lock of up to 2 years and pay a monthly dividend related to your holding period.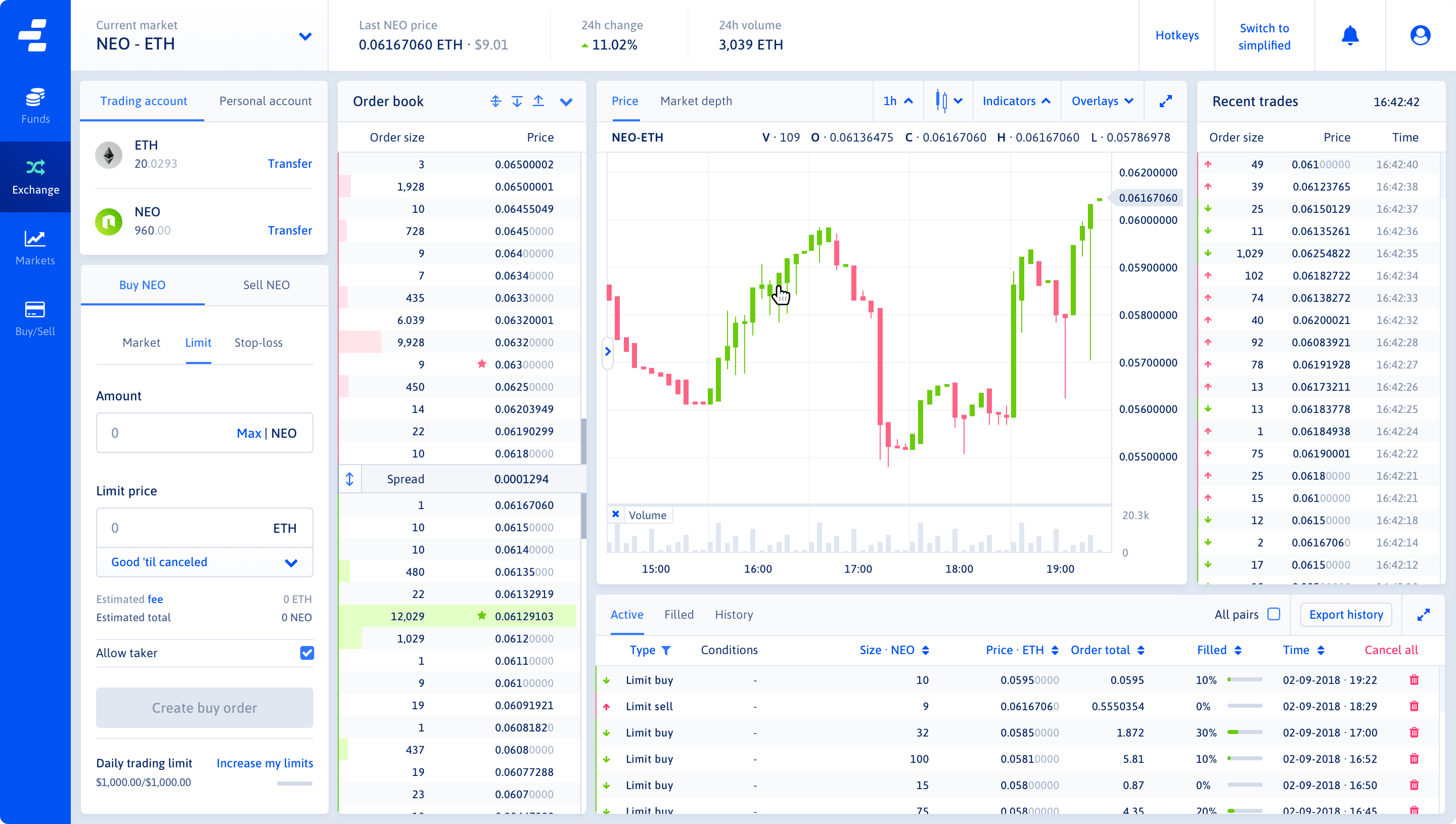 The move higher in the last week has seen NEX move to 60th in the list of coins by market cap with a value of $120 million. The coin has a relatively low circulation at 37 million coins of a total 56 million and this sets the current price at $3.30. The market traded as low as $1.30 back in May.
XTZ
The "Coinbase rally" has blessed holders of Tezos with an announcement that XTZ would be added to the Pro platform causing a 37% rally. The coin will be available to trade as of today. The Tezos announcement is the latest in a list of additions to the trading platform which included Chainlink, EOS, DAI, Dogecoin, and XRP. History has seen the coins added to the trading platform first before being added to the retail platform.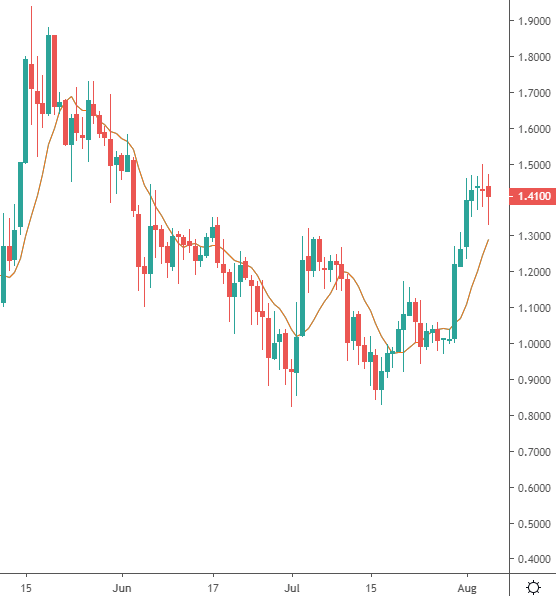 Tezos is currently trading at $1.40 after a strong push through resistance. The coin will look to advance further towards the May high of $1.90. Demand will come from the Coinbase listing but the project is involved in a high stakes lawsuit that deems whether the token is a security or not. If it was determined to be a security it could be removed from cryptocurrency exchanges.
Disclaimer: information contained herein is provided without considering your personal circumstances, therefore should not be construed as financial advice, investment recommendation or an offer of, or solicitation for, any transactions in cryptocurrencies.