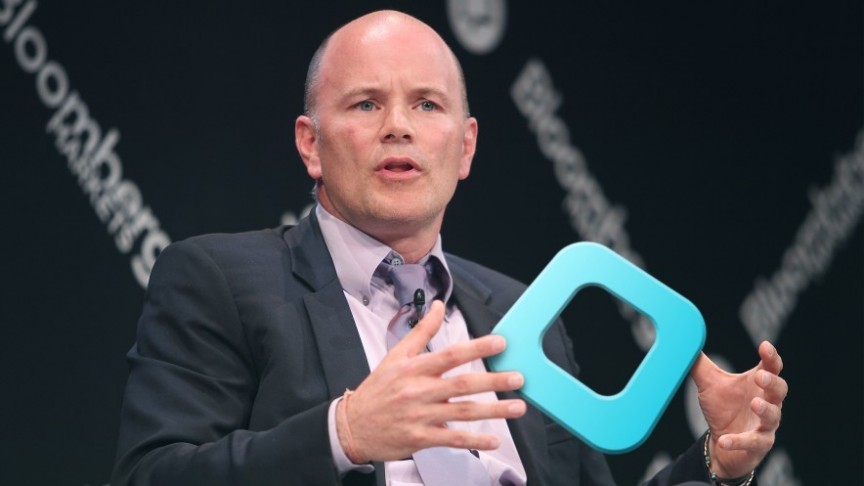 Novogratz's Galaxy Digital Raises $52.5 Million for Crypto-Lending Firm BlockFi
Jul 25, 2018, 9:08PM
Mike Novogratz's Galaxy Digital has invested $52.5 million in crypto-lending service BlockFi, which lends US Dollars against crypto collateral.
Former hedge fund manager turned crypto-bull Mike Novogratz's investment firm Galaxy Digital has announced that it has concluded a fundraising round for crypto lending firm BlockFi. The funding round raised a sizable $52.5 million for the project. Galaxy Digital has previously invested in AlphaPoint, an asset-digitization service, and Everipedia, the decentralized equivalent of Wikipedia. In keeping with Novogratz's claim that institutional investment is set to arrive in crypto, this marks the first institutional investment in crypto-asset backed loans.
Zac Prince, CEO and co-founder of BlockFi, also said,
Galaxy's investment and decision to make us their exclusive consumer lending partner is a strategic step towards BlockFi delivering credit across the crypto ecosystem. The support we've seen from existing clients and investors highlight the strong demand for leveraging Bitcoin or Ether for low-cost USD loans. We look forward to expanding our services to support more cryptocurrencies and more geographic markets in the near future.
A Crypto Lending Service
BlockFi is a crypto-lending service that offers loans backed by crypto assets. Launched in January 2018, it has already served multiple customers, including the CMO of Blockstake. Users can leverage their Bitcoin or Ether to receive US Dollars, with their cryptocurrency acting as collateral. The deal with Galaxy Digital will feature a loan purchasing facility, as well as an equity investment.
BlockFi announced the deal on Twitter: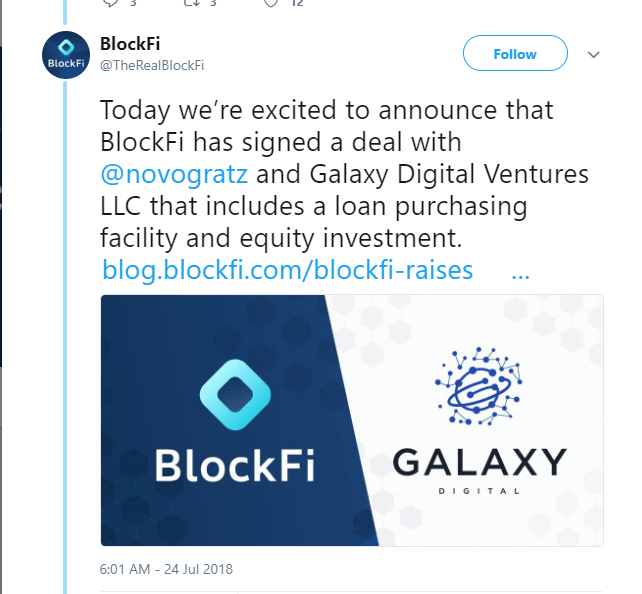 Novogratz Is Making His Own Prophecy Come True
Novogratz is well known in the crypto-community for his bullish remarks on the market. Earlier this week, he stated that institutional investors would eventually join in on ICOs to avoid missing out on the blockchain boom. Predicting that institutions are gearing up for investment, Novogratz hopes his "crypto merchant bank" Galaxy Digital will pave a way forward for institutions and open up the market.
We're excited to partner with BlockFi and jointly lead the way for financial institutions to participate in crypto investing strategies. A robust lending market is the keystone for financial systems and BlockFi's institutional approach and deep lending expertise were key drivers in our decision to partner with them. /Mike Novogratz
Novogratz is not being entirely unrealistic in his vision of a crypto-dominated world, predicting that a global presence for blockchain is still likely to take five to six years to take hold.
Disclaimer: information contained herein is provided without considering your personal circumstances, therefore should not be construed as financial advice, investment recommendation or an offer of, or solicitation for, any transactions in cryptocurrencies.