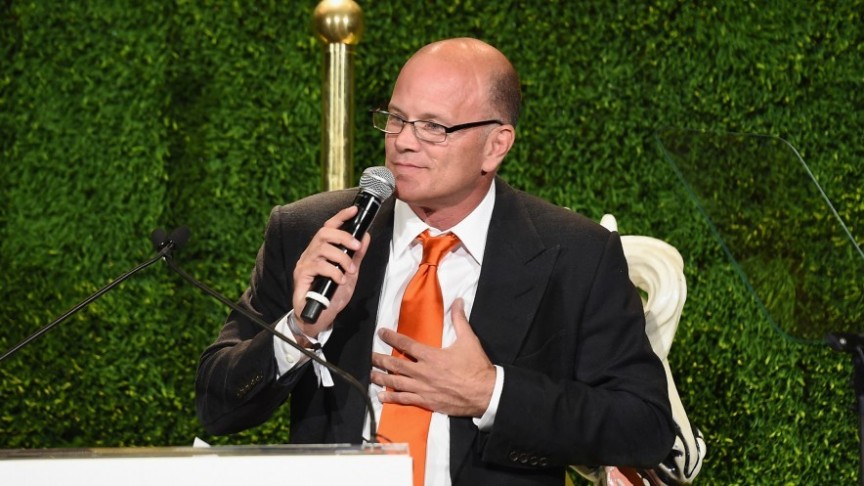 Crypto Bull Novogratz Says Institutional Funds Coming, EOS Will Hit 50k Transactions
Jul 23, 2018, 10:16PM
Ex-hedge fund manager Mike Novogratz has said that a 'herd of institutional investors' are coming, and that EOS will hit 50k transaction rates.
Billionaire Mike Novogratz, former hedge fund manager and member of the investment firm Fortress Investment Group said, in his keynote speech at Korea Blockchain Week, that crypto will soon see a 'herd of institutional investors' as well as transaction rates comparable to that of Visa.
In a wide-ranging interview with TheStreet, Novogratz doubled-down on his prediction that crypto would become a multi-trillion dollar asset class, saying that he is convinced that institutional investors will realize that a new economic train is in the making.
I think institutional investors are slowly coming to the realization that blockchain will be Internet or Web 3.0 and they'll want to participate just like they want to participate in the Web.

Their first way of participating is going to be through venture-capital funds. Many of them are already participating because they've invested in Sequoia or Polychain or Benchmark or many of the other VC funds that invest in this area. The second step for them will be buying the coins and/or the ICOs themselves, but many of them are participating in the ICOs already through their venture investments. / Mike Novogratz
Estimated to have crypto assets nearing $1 billion, Novogratz compares this phase of cryptocurrencies to the explosion of the internet in the late 90s and early 2000s. He is known for his support of the EOS project, being an investor of parent group Block.One, as well as for his frequent bullish commentary on cryptocurrency. Novogratz has been investing in the space since as far back as 2013.
Novogratz Believes EOS will Reach Visa-level Transaction Rates Soon
The interview also touched upon EOS, with Novogratz stressing his belief that EOS will be able to process 50,000 transactions per second in just a few months, placing it at the performance levels of Visa, which operates at roughly 56,000 transactions per second.
Novogratz said,
The EOS ecosystem is built on a blockchain that's called the "delegated proof of stake." And so, instead of having many, many staking agents, they pick twenty. And because it's just twenty and those twenty have big computing power behind them, the EOS blockchain will be much, much, much faster than the other blockchains. It's already doing 5,000 transactions a second. It should be doing 50,000 transactions per second in a few months.
According to Novogratz, security tokens stand to benefit investors the most, because of their ability to fractionalize assets, making them less volatile than the general crypto market and allowing for investment in assets otherwise inaccessible to equity investors.
Disclaimer: information contained herein is provided without considering your personal circumstances, therefore should not be construed as financial advice, investment recommendation or an offer of, or solicitation for, any transactions in cryptocurrencies.