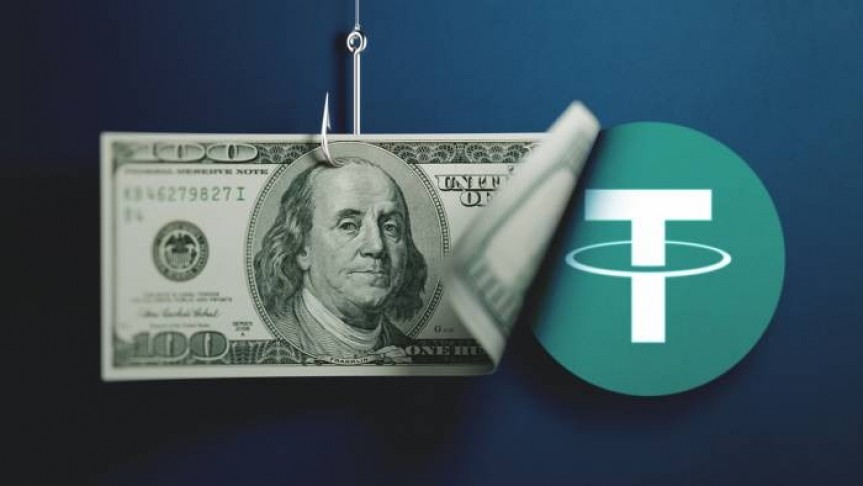 Tether Releases Report to Quell Fears About Reserves, Community Unsatisfied
Jun 21, 2018, 4:42PM
The Tether project has released a report that details its bank balances, but the community wants a genuine audit for full reassurance.
Tether, a stable coin that has caused deep division in the crypto community, has been under intense scrutiny over the past few months, including being the subject of a report related to market manipulation.
While the premise of Tether's USDT token is that it is a stable coin backed on a 1:1 basis by the US Dollar, there has never been conclusive proof that the company has the USD reserves on hand. In an effort to allay fears, the Tether team released a transparency report.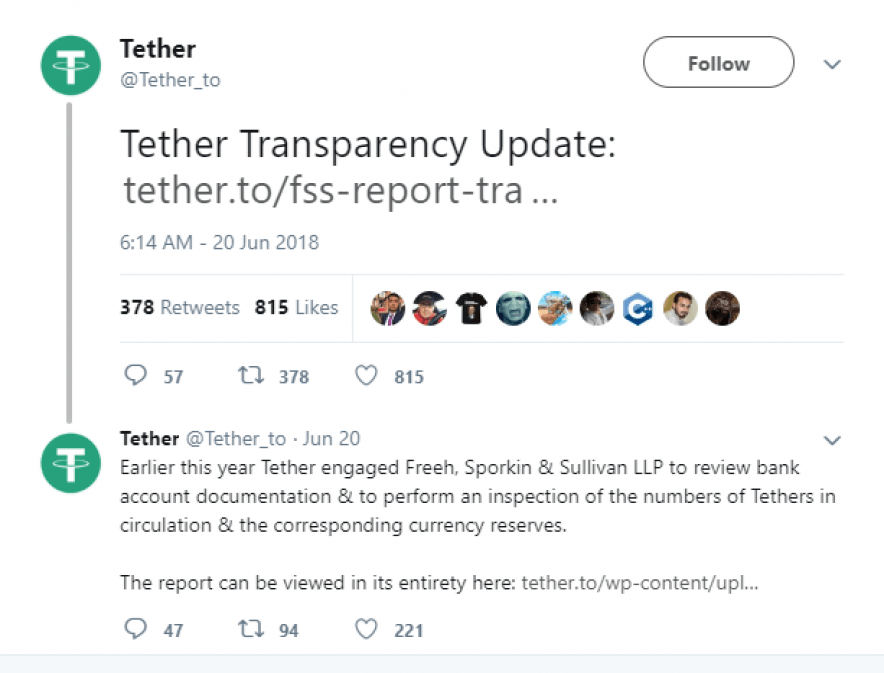 In a statement released on the project's site, the team has stated that their tokens are fully backed by USD reserves and has been verified by consulting reports and industry insiders. A formal document released with the aid of a Washington-based law firm, FSS, showcases the project's financial reserves involving two of its banks, which totals just over $2.5 billion dollars. This is the total amount in circulation.
FSS was given the task of investigating Tether's finances and has ostensibly offered some assurance that the company is not engaged in any fraudulent activity. The statement mentions several documents that were provided by Tether, including its Anti-Money Laundering Secrecy act, and bank and personnel documents.
Despite this effort, many in the community are not buying into Tether's statement, arguing that it hardly proves that Tether does indeed back its tokens on a 1:1 basis with the US Dollar. What the community wants is a strict and impartial audit, which Tether has as of yet refused to undergo.
The Community Continues to Harbor Doubts
Preston Byrne, a blockchain technologist, clearly expressed the concerns held by many in a tweet pointing out that the released report is not an audit,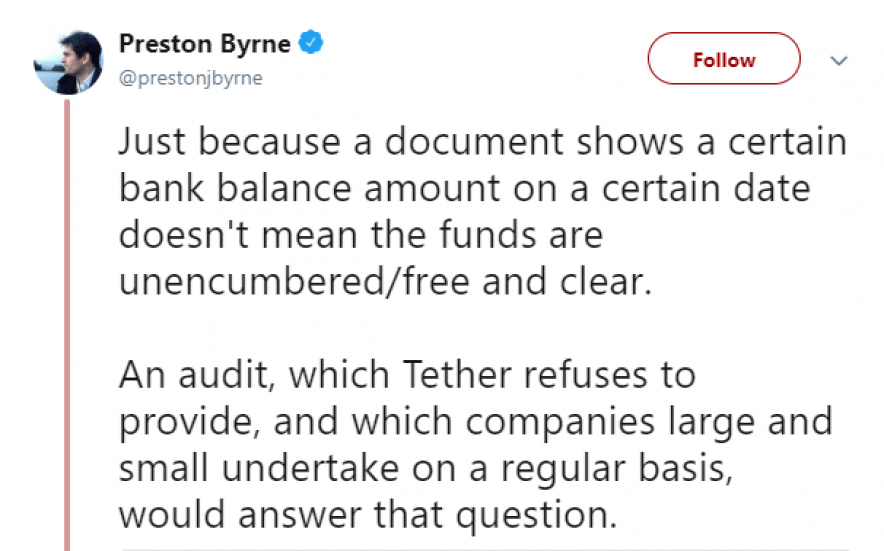 Reddit users aren't taking this development positively either. They note how it raises more questions than it answers. They highlight several irregularities with the report, particularly the source of the funds and why Tether didn't undergo a full audit.
Tether might regret the move to release the report. Its reputation hangs in the balance, having already experienced an intense few months. As the SEC pours more resources into dealing with the cryptocurrency market, and as the sentiment of the community moves increasingly towards reasonable regulation, projects like Tether will be forced to lay themselves bare. Odd financial figures discovered at that point could have severe repercussions for Tether and for the larger market.
Disclaimer: information contained herein is provided without considering your personal circumstances, therefore should not be construed as financial advice, investment recommendation or an offer of, or solicitation for, any transactions in cryptocurrencies.