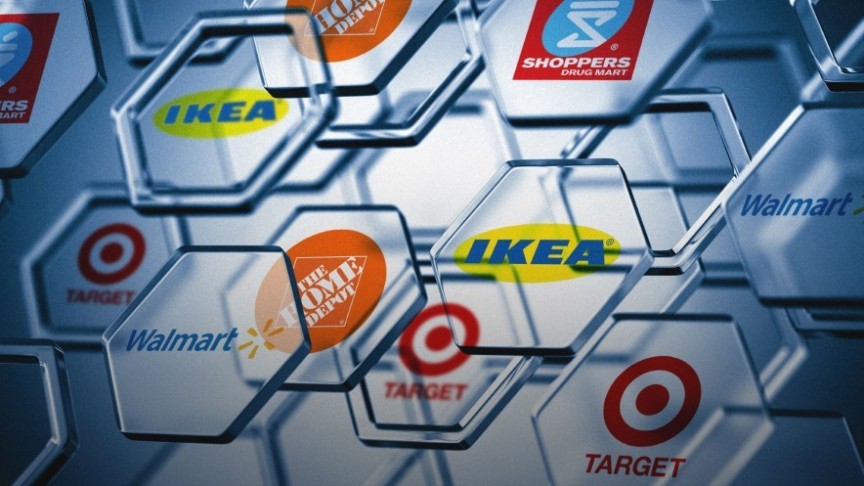 Big Block Stores: Five Retailers That Are Adopting Blockchain Technology
Nov 8, 2019, 6:13PM

by
Mike Dalton
Retail outlets and big box stores are beginning to adopt crypto and blockchain. How are they using it to manage their supply chains and payments?
Blockchain technology has massive potential in almost every area of the economy, and retail is one of the biggest sectors. According to a recent Deloitte report, the top 250 retail companies bring in $4.5 trillion in revenue, and each company has an average size of $18.1 billion. As such, retail is a prime target for crypto and blockchain.
In fact, retailers are already adopting blockchain: several notable stores are using the technology to handle supply chains and business relations. This doesn't mean that these stores are accepting Bitcoin from their customers―instead, they have much more ambitious goals. Here are five companies that are making use of blockchain.
IKEA and Nordic Store: Payment Settlements
This month, a press release revealed that IKEA has accepted an Ethereum-based payment from an Icelandic business, Nordic Store. To be more precise, this transaction involved two other Ethereum-based services: Monerium, which offers an e-money token, and Tradeshift, which creates smart contracts for businesses.
IKEA itself hasn't commented on this, despite suggestive headlines. It seems that Nordic Store and Tradeshift are primarily involved, and it's not clear that IKEA itself intends to adopt Ethereum. However, this news does mean that cryptocurrency is gaining traction in Europe―and that Iceland has permissive crypto regulations.
Home Depot: Shipping Dispute Resolution
Home Depot, meanwhile, has its own blockchain initiative underway. Recently, Eurofinance reported that the hardware store partnered with Google Cloud to track its supply chain. This project has been a long time coming: Home Depot has reportedly been working with Google Cloud since 2016, but this is its first blockchain initiative.
Home Depot is testing Ethereum and Hyperledger as record-keeping platforms, which will allow it to resolve disputes with suppliers concerning shipment quantities. If this plan is effective, the blockchain platform could allow Home Depot to manage its inventory as efficiently as more tightly controlled businesses, such as Amazon.
Walmart and IBM: Seafood Safety
Walmart has consistently been one of the retail sector's biggest blockchain adopters. It's involved with several food safety initiatives, such as the Blockchain Food Safety Alliance, IBM's Food Trust, and the Walmart China Food Traceability Program. These initiatives have featured big names like IBM, Carrefour, JD.com, VeChain, and PwC.
All of these efforts involve food supply chains, and most recently, Walmart announced plans to monitor its seafood products. With the IBM Food Trust, Walmart will trace shrimp from its source in India to its destination: Sam's Club stores in the United States. This is just one of Walmart's many efforts―it also began to trace lettuce last year.
Target and ConsenSource: Paper Products
Target is another big box store with its own blockchain project. In 2018, Target began to develop ConsenSource, a supply chain tool based on the Intel-backed Hyperledger Sawtooth blockchain. This year, Target moved forward by integrating ConsenSource with Hyperledger Grid, a blockchain specifically aimed at supply chain management.
Target hasn't announced many concrete applications for its work, but it seems that it plans to focus on supplier certification. In 2018, Target trialed ConsenSource by using it to manage its paper products and interact with suppliers in the forestry industry. Of course, this is just one possible application, and there may be more to come.
Shopper's and TruTrace: Cannabis Traceability
Shopper's Drug Mart, a subsidiary of the Canadian retail chain Loblaw's, is planning to use blockchain tech to trace its medical cannabis. Shopper's has chosen to rely on TruTrace StrainSecure, a blockchain-based tool that tests the drug's makeup and ensures that it has not been degraded in quality at any point in time.
The Canadian drug store first announced this project in June, and in November, it is planning to move into Phase 2, which will involve setting standards and onboarding partners. This project may not progress quickly, but when it does, it will give customers, pharmacies, and prescribers a product that is guaranteed to meet standards.
In Conclusion
These blockchain-based efforts might not attract the attention of typical customers. However, the benefits might trickle down to the public by allowing retailers to offer safer and more trustworthy products―and more efficient service. That said, many of these blockchain efforts are in their early stages, and some may not reach maturity.
On another note, some services do give customers a way to pay with crypto. Bitcoin debit cards allow you to spend crypto almost anywhere you go, though these are third-party services that have not been endorsed by retailers. Additionally, some stores officially accept crypto, meaning that there is something for every shopper.
Disclaimer: information contained herein is provided without considering your personal circumstances, therefore should not be construed as financial advice, investment recommendation or an offer of, or solicitation for, any transactions in cryptocurrencies.