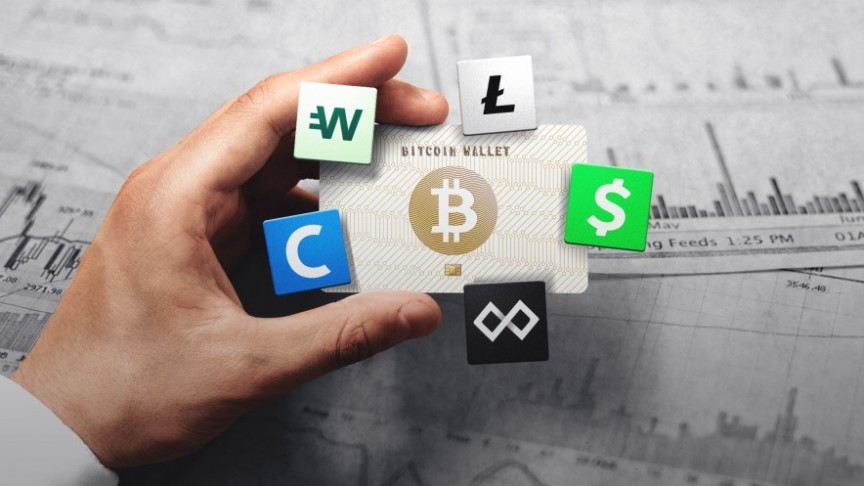 Crypto Debit Cards: Five Options That Make Spending Easier
Jul 17, 2019, 12:25PM

by
Mike Dalton
Cryptocurrency debit cards are an easy way to spend crypto holdings--so, are they working out? Here are five cards that are attracting attention.
Cryptocurrency isn't accepted everywhere. Even though it is quickly gaining ground as a payment option, it is not quite a universal. Fortunately, there is an easy way to bridge the gap: by using a crypto debit card, you can convert your crypto holdings to regular currency at stores, online marketplaces, and ATMs. There are many different cards to choose from―this article will look at five options that are particularly noteworthy.
Coinbase Card
This April, the major exchange Coinbase launched its own VISA-powered payment card. The end result is Coinbase Card, a crypto debit card that allows Coinbase users to spend Bitcoin, Ethereum, and Litecoin. The card can draw funds directly from your Coinbase account, and it also offers several security features and transaction monitoring tools, providing a wide range of functionality.
Initially, Coinbase only made its card available to U.K. customers, but since then, the card has also gone live elsewhere. The card is now available in six different European countries, and Coinbase CEO Brian Armstrong has hinted that the card will soon be available in the United States. The Coinbase card can be spent at stores all over the world, regardless of which country you obtain it in.
Litecoin BlockCard
Recently, the Litecoin Foundation announced the launch of a brand new (and official) Litecoin debit card. This is a team effort with Ternio, which produces the BlockCard line of crypto debit cards. Litecoin's new debit card will also be integrated with LoafWallet, the official wallet of Litecoin, and Bibox, a prominent crypto exchange. This means that there will be many ways to deposit funds onto the Litecoin card.
The card's launch date has not yet been set. According to the original announcement, the Litecoin Foundation and Bibox are planning to reveal registration details in the near future. Initially, the Litecoin card will only be available in the U.S., but the Litecoin Foundation is working hard to offer the card elsewhere. In the meantime, the standard Ternio BlockCard is also available, and it offers compatibility with several coins.
Wirex
Wirex is a well-established crypto company, and it has offered its crypto debit card since 2015. This debit card can be loaded from an online Wirex account, which offers support for several different cryptocurrencies, including Bitcoin, Litecoin, Ethereum, XRP, and Waves. Wirex also offers "cryptoback rewards" through its new WXT token, which was first distributed via an OKEx presale in June 2019.
Originally, Wirex only served customers in the U.K., but it has expanded its services over the past year. Wirex entered the U.S. market in early 2018, then expanded into Canada in September 2018. Like most debit cards, Wirex can be used around the world―it can be spent at more than 40 million outlets to be precise. Wirex is also expanding its crypto options: it added support for Stellar (XLM) earlier this year.
TenX
TenX is a crypto company based out of Singapore, and it produces a crypto debit card of the same name. This debit card is integrated with an associated TenX wallet, which offers support for Bitcoin and Ethereum. TenX also distributes rewards to customers with its PAY token, and it additionally offers security features and real-time transaction monitoring in order to keep your funds safe.
The company has hit a few roadblocks in the past. After TenX ran its ICO in 2017, key figures faced allegations of wrongdoing, and the TenX card was not launched until January 2019. Nevertheless, the company has maintained its image, and its crypto debit card is finally available. The TenX card was initially available to users in Singapore, but TenX has been rolling out the card throughout Asia since then.
Square Cash
Square is a company headed by Twitter CEO Jack Dorsey. It produces Cash App, a mobile payment app that has supported Bitcoin since November 2017. This app can be used with or without its corresponding debit card―both draw funds from the balance of a single Cash App account. Cash App and the Cash Card are primarily targeted at U.S. customers, but Square offers limited support for customers in the U.K.
Square is expanding its support for Bitcoin in other ways as well. Until recently, Cash App users needed to buy Bitcoin through the app, but soon, Cash App will allow users to deposit Bitcoin from any crypto wallet. Square is also planning to hire crypto developers, who will be assigned to develop tools for the Bitcoin ecosystem. This means that some exciting new Cash App features might be on the way.
In Summary
These are just a few of the most notable crypto debit cards, but no matter which option you choose, the benefits are always the same: crypto debit cards allow you to spend your coins almost anywhere with virtually no effort. Many crypto cards can also be funded with regular fiat currency for an added level of convenience. These features make crypto cards a convenient option for everyone.
Disclaimer: information contained herein is provided without considering your personal circumstances, therefore should not be construed as financial advice, investment recommendation or an offer of, or solicitation for, any transactions in cryptocurrencies.