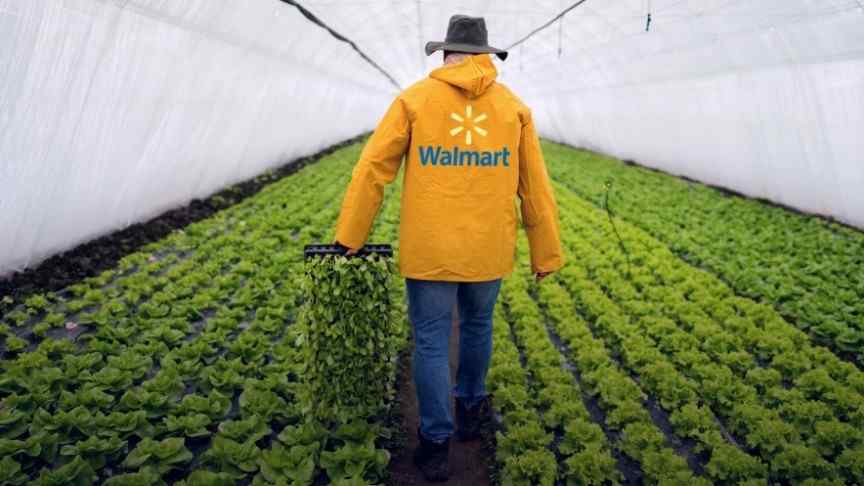 Walmart to Use Blockchain to Trace Lettuce from the Farm to Retail Shelves
Sep 25, 2018, 6:16PM
Walmart, in an effort with IBM, will use blockchain technology to trace lettuce from the farm to shelves. Suppliers will have a year to conform.
Retailing giant Walmart has revealed that it intends to partner with IBM to use blockchain to prevent the spread of E.coli in contaminated lettuce. The company, which is investing heavily in blockchain, sent a letter titled 'Food Traceability Initiatives' to its product suppliers, informing them how blockchain can be used to improve food traceability, by tracking food from the farm to retail shelves.
The letter reads,
Over the past 18 months, Walmart has piloted new technology in collaboration with numerous suppliers and IBM and we have demonstrated that meaningful enhancements to food traceability is possible. Using the IBM Food Trust network that relies on blockchain technology, we have shown that we can reduce the amount of time it takes to track a food item from a Walmart Store back to source in seconds, as compared to days or sometimes weeks.
The letter then states that Walmart will ask its suppliers to comply with the order to use IBM's Food Trust network. Suppliers will have roughly one year to implement the new blockchain technology, which Walmart will be introducing in two phases. The first phase requires direct Walmart suppliers to implement traceability by the end of January 2019. The second requires suppliers to implement the technology in their own vertical systems and for their own suppliers to implement the solution. The intention is to integrate full end-to-end traceability, which should dramatically improve Walmart's capability to quickly pinpoint the source of any future E-coli outbreaks.
Walmart will work closely with suppliers to help them implement the new technology. To that end, they will be releasing seminars and documentation demonstrating implementation strategies.
With over 210 people in 36 American states having been affected by E.coli in 2018, Walmart hopes that Distributed Ledger Technology can greatly reduce the time it takes to respond to any outbreaks since end-to-end farm to warehouse data will be stored in a central repository accessible to all.
Frank Yiannas, VP of Food Safety at Walmart, refers to an outbreak of E.coli that likely originated from Yuma, Arizona as an example of a situation that could have been mitigated,
None of the bags of salad had 'Yuma, Arizona' on them. In the future, using the technology we're requiring, a customer could potentially scan a bag of salad and know with certainty where it came from.
Walmart Attempting to Pave the Way with Blockchain Technology
Food traceability is a well-recognized use case for blockchain and several efforts have already been launched. IBM is particularly active in this area. Walmart has previously collaborated with IBM and China's JD.com to launch the Blockchain Food Safety Alliance. Another popular effort is Provenance, which uses blockchain to track tuna from the moment it is caught to the point it reaches customers with the goal of ensuring food safety, reducing illegal labor, and avoiding overfishing.
Walmart is no stranger to blockchain, having applied for several patents beyond food tracing applications. These include patents for energy distribution, payment and customer behavior systems, and an ambitious plan for using robots for shipping.
Disclaimer: information contained herein is provided without considering your personal circumstances, therefore should not be construed as financial advice, investment recommendation or an offer of, or solicitation for, any transactions in cryptocurrencies.