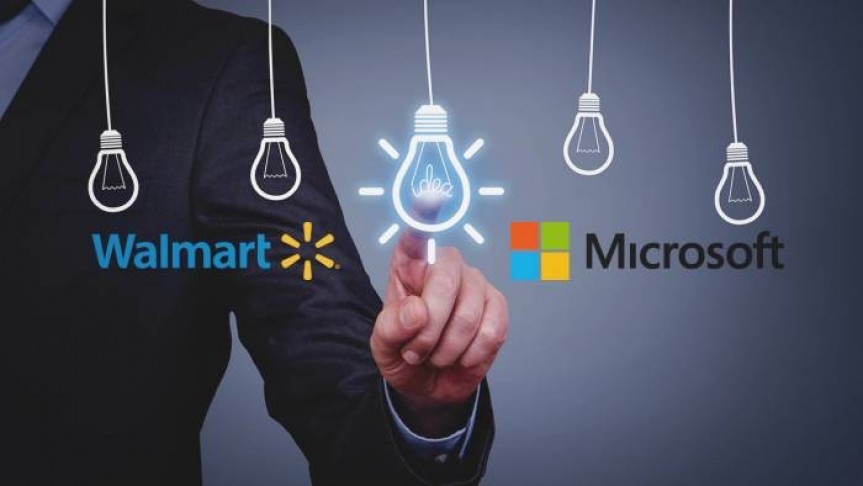 Big Names Like Microsoft and Walmart Make Blockchain Moves
Jun 15, 2018, 6:56PM
Microsoft will help reduce counterfeit with blockchain technology while Walmart has filed a blockchain related patent for energy distribution.
The blockchain world seems to be gaining more traction as major companies like Microsoft and Walmart announce new initiatives using the technology.
Microsoft and Ardents, a track and trace solutions provider, have announced a collaboration that will focus on fraud detection using blockchain technology. Ardent Solutions was selected by Microsoft as the Microsoft Dynamic Partner of the Year for Europe, Middle East, and Africa.
Counterfeiting is a problem in the pharmaceutical industry, which is what this collaboration is targeting. Christophe Devins, founder and CEO of Ardents, described the project,
Our alliance with Microsoft to co-develop Adents NovaTrack will offer game-changing Blockchain-based unit identification for various industries around the world. Our deep roots and successes in serialization and traceability, enhanced by Microsoft Azure Cloud technology, will provide our clients total transparency all along their supply chains and secure product authenticity for end users.
In similarly eyebrow-raising fashion, Walmart, the world's largest company by revenue, has filed for blockchain-related patents.
Microsoft and Walmart Both Show Major Blockchain Interest
Like Microsoft, this is not Walmart's first venture into blockchain technology. They previously teamed up with IBM in an effort to track food through the supply chain. The industry analysis seems to be that Walmart is trying to get an early foothold with the new technology, something they missed during the e-commerce revolution, which Amazon leads by an impossible margin.
Microsoft, on the other hand, has been known to try and test various technologies to see how they can integrate it with current services. They are now offering cloud-based technologies for blockchain development - cloud is a major source of revenue for them - and are getting more deeply involved with the upcoming age of the Internet of Things.
Walmart's attempt to bring the technology into their business is not without logic. There are several ways in which it can revolutionize the supply chain industry, and make managing inventory and logistics easier.
Walmart's latest patent is interestingly more focused on energy distribution. It will work towards making it easier to manage energy consumption for companies using blockchain-based devices. It can apply to either residential or commercial properties, with the users supplying Bitcoin to the device, which can then be delivered to utility providers for the energy.
Enterprise Level Use of Blockchain Technology Will Only Rise
While many decry the volatility and shadiness of cryptocurrencies, no one denies the power of the underlying blockchain technology. Virtually every major company, from Microsoft to Google to Facebook, is looking to get into the game somehow. Expect to hear more such developments over the course of the year.
Disclaimer: information contained herein is provided without considering your personal circumstances, therefore should not be construed as financial advice, investment recommendation or an offer of, or solicitation for, any transactions in cryptocurrencies.