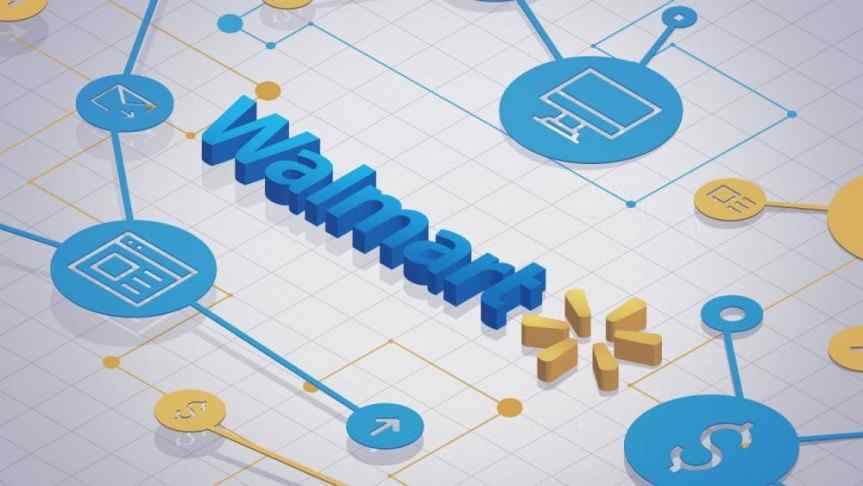 Walmart Aims to Monitor Customer Behavior With Two More Blockchain Patents
Apr 24, 2018, 8:17AM
Walmart announces new patents for Blockchain-based vendor payment and courier systems, which may also be used to monitor its customers' behavior.
Walmart has filed two patents with the U.S. Patent and Trademark Office for software aimed at creating an automated, Blockchain-based e-commerce ecosystem. Specifically, the patents describe a Vendor Payment Sharing System and a Courier Shipping System. With this latest patent, submitted on April 19, Walmart becomes one of several corporations to file numerous Blockchain patent applications in recent months.
The first patent describes a decentralized system that will be able to process payments, record purchase history, and encrypt transactions in a permissioned Blockchain.
The application describes, "a vendor payment sharing system, [which would] automatically process payment for a total amount due for the products and services related to obtaining and delivering the products; automatically dividing the payment between parties that provided services related to obtaining and delivering the products; and encrypt the payment and the division of the payment with a blockchain."
The second patent describes a peer-to-peer shopping network with a rating system. Using distributed ledger technology to keep pace with its competitors (i.e. Amazon), Walmart would be able to improve its shipping efficiency and delivery times.
According to the application, "Online customers enjoy a customized and expedient shopping experience that is typically not offered at a brick-and-mortar store. For example, online customers can order items online at any time, thereby avoiding the time-consuming effort of being physically present at the store to select items of interest from shelves and waiting in line at the store checkout to purchase the items especially at peak times."
Is Walmart Trying to Monitor Customer Behaviour?
Both filings are rather dubious, however, as they lack technical details and look more like a proof-of-concept. The most interesting aspect of both patents is Walmart's apparent intention to monitor its customers' online behavior under the auspices of enhancing its services and shopping experience. The company will be able to provide users with suggestions by understanding their long-term purchasing and browsing patterns, all of which will be recorded in the Blockchain. The patent application describes the information collected as follows:
"Depending upon what sensors a person encounters, information can be available regarding a person's travels, lifestyle, calorie expenditure over time, diet, habits, interests and affinities, choices and assumed risks, and so forth. This process will accommodate either or both real-time or non-real time access to such information as well as either or both push and pull-based paradigms."
The patent filing further proposes the use of Artificial Intelligence and describes integration with the Internet of Things. Whatever form the new patents take when implemented, it appears consumer privacy concerns will need to be forefront in the discussion.
Disclaimer: information contained herein is provided without considering your personal circumstances, therefore should not be construed as financial advice, investment recommendation or an offer of, or solicitation for, any transactions in cryptocurrencies.