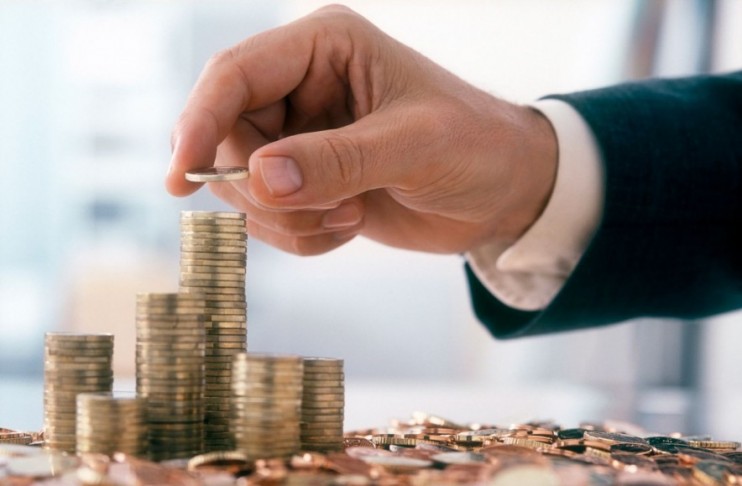 Bloomberg Joins Bullish Chorus for Bitcoin, ETH, ETC, WAXP, LINK, Jun. 8
Jun 8, 2020, 11:47PM

by
Kevin George
Bloomberg suggests $20k BTC for 2020. ETC hard fork and price diverges from ETH but developers still see a future. WAX strong on TOPPS cards.
Financial news and data provider Bloomberg have added their weight to the bullish calls for Bitcoin with a price estimate of $20,000 for the year. In a research note, the company took the opposite view to Goldman Sachs saying, something needs to go really wrong for bitcoin to not appreciate," adding:
Bitcoin will approach the record high of about $20,000 this year, in our view, if it follows 2016's trend.
Bloomberg's bull case was built on the themes that the coin bounced back quickly from the stock market selling in mid-March, whilst the Federal Reserve has made big moves to devalue the dollar, and authorities seem keen to eliminate paper money and go digital.
Despite this, Bloomberg didn't expect to see the price gains extending into other markets, saying,
We see little upside in the ETH price absent a rising tide from Bitcoin…is breaking away from the pack in terms of adoption and is supported by almost-ideal macroeconomic conditions for stores-of-value amid quantitative easing.
It's nice to see another mainstream name joining the bull case for cryptocurrencies, however, I feel they will be wrong on Ethereum. Price has been strong lately and funds are loading up as the coin moves towards a long-awaited upgrade.
Another Bitcoin bullish prediction was from the co-founder of Blockfyre and Moonrock Capital. Simon Dedic discussed his price targets on his Twitter account and saw a price of $150,000 for BTC, while he also saw gains for "solid" altcoins.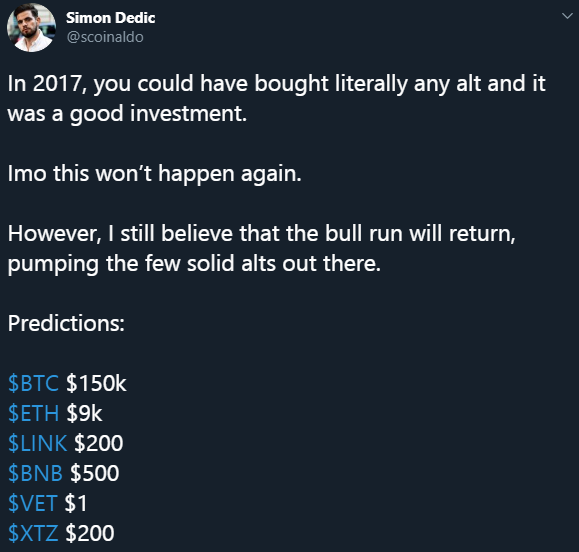 Those altcoins included ETH with a $9k price expectation. BTC couldn't hold the rally above $10,000 at the beginning of last week and closed at $9,720. This risks a pullback if buyers don't emerge.
ETC
On the subject of Ethereum, the hard forked Ethereum Classic is looking to move further away from the Ethereum chain with the "Phoenix" hard fork.
This is a breakaway for ETC, which is staying with the Proof-of-Work (PoW) while ETH moves to Proof-of-Stake (PoS). The move will be the third fork over the last year for ETC and developers are hoping the move will breed innovation.
In an interview ETC Executive Director Bob Summerwill said,
You had Unix and then you had Linux and then you had iOS and all of these different families of related operating systems and related kernels. I think it's likely that you're going to have something quite similar on the Ethereum side – that you're going to have many many Ethereum-flavored solutions compatible to varying degrees.
The price of ETC is lagging the price of ETH with a drop of 42% since February, compared to a drop of 7% in the latter. ETH has a larger developer community but the price is largely driven by institutional investment. If ETH does see big gains on the 2.0 upgrade, ETC will still appreciate as the two retain some ties. We also cannot rule out that ETC will adopt the PoS protocol at a later date.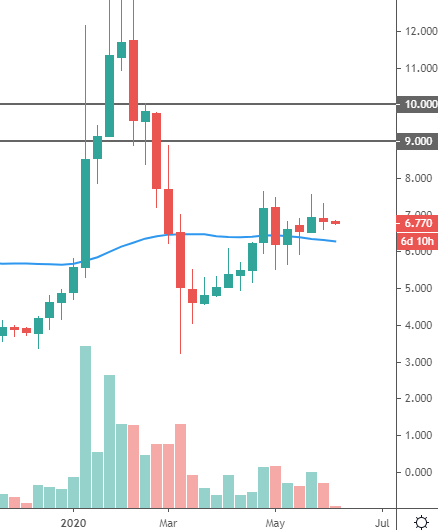 ETC has resistance at the $9-10 levels if it wants to make a push for the February highs.
WAX
The price of WAX was up strongly for the week with a 70% gain.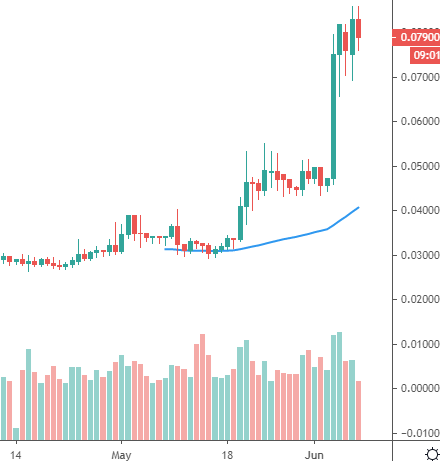 The WAX platform is aimed at trading digital and physical items. One of the company's recent successes was the release of Garbage Pail Kids trading cards in a tie-up with the famous TOPPS trading card group. The GPK cards sold out in just 28 hours, which comprised of 12,000 card packs. That success will undoubtedly lead to further collaborations with TOPPS, which made its name in the trading of sports cards being the contracted manufacturer for Major League Baseball. The company was acquired by former Disney CEO Michael Eisner in 2007, and prior to that deal, the company had $317m per year in revenues.

TOPPS Europe also licenses products such as WWE and Pokemon and the major European soccer leagues across the continent. If WAX were to secure the trading of sports cards from Topps it could catapult the fortunes of WAX in the future as coin demand for trading reduces supply.
WAX currently ranks at number 68 in the list of coins by market cap with a valuation of $93 million. There are currently 1.18 billion coins in circulation out of a total of 3.6 billion.
LINK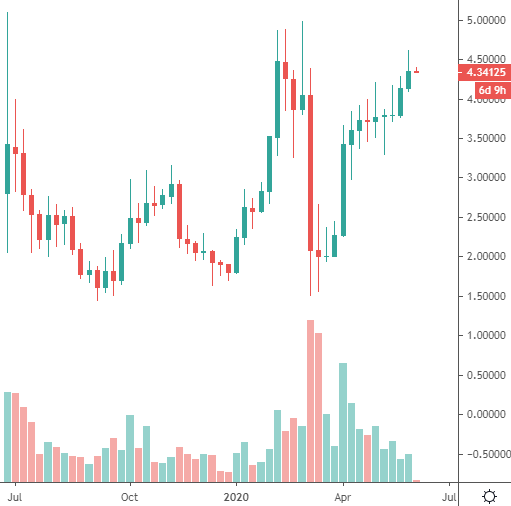 LINK is one of the better performers from the mid-March lows with a bounce towards the record highs. This highlights the underlying demand for the coin and it should do well in a BTC rally. LINK was one of the altcoins singled out by Blockfyre with a target price of $200.
A recent development on the platform was the Chainlink VRF, which allows the addition of randomness to smart contracts. Some uses for this include enhanced security from hackers and the ability to improve added security to games and in-game scenarios such as player rewards.
LINK is ranked number 14 in the list of coins with a market cap of $1.52 billion.
Disclaimer: information contained herein is provided without considering your personal circumstances, therefore should not be construed as financial advice, investment recommendation or an offer of, or solicitation for, any transactions in cryptocurrencies.