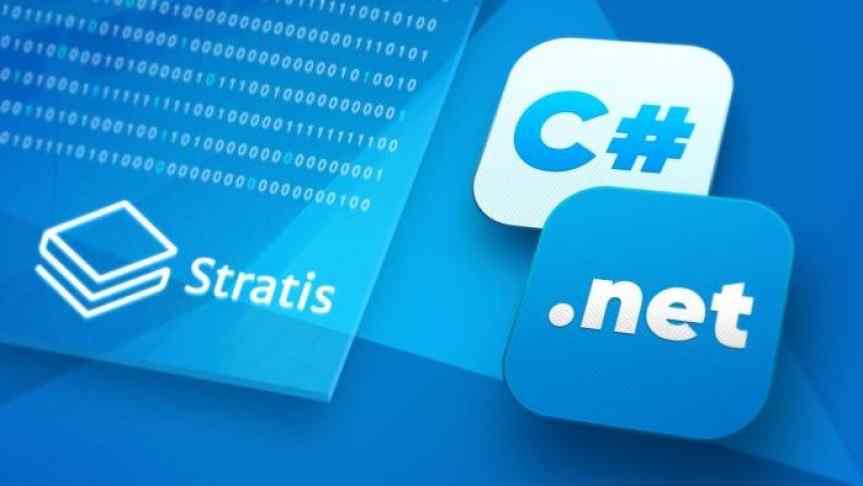 How Much of an Impact Will Stratis' C# Smart Contracts Have?
Jun 5, 2018, 2:54PM
Stratis is developing blockchain solutions for businesses including C# programmable smart contracts, which may compete with Ethereum.
Blockchain will not be mainstream until it has become entrenched in the business solutions market. If enterprises begin to adopt blockchain at a faster rate, it will most certainly become an increasingly significant sector of the market. This is why projects like Stratis are considering what they can do to design and improve upon existing blockchain applications to help businesses integrate blockchain into their existing structure.
Stratis has identified a major barrier to entry: the difficulty of developing native blockchain applications since it remains such a specialized programming field. Their solution is to offer a full range of blockchain-related business services, including C# smart contracts so that companies can build dApps in a widely-known programming language.
The advantages of auto-enforceable smart contracts are too good to be passed up by businesses. You don't have to go too far back to remember that businesses that failed to effectively integrate internet technology were overtaken by those that did. The trouble, however, is that blockchain integration is far more challenging than web integration. Designing a system from scratch requires an engineer who specializes in the field. You don't have the luxury of simply attaching a blockchain extension to your business module -- for the most part, they don't yet exist. Not to mention, the field is still rapidly evolving. To build the best system, businesses at this stage have to hire individuals at the top of the development pack to get ahead. This skews the balance in favor of the major players (Amazon, Walmart, MasterCard among others are deep in developing numerous blockchain applications, for instance.)
Stratis Wants to Offer Blockchain-as-a-Service
Having identified this issue early, Stratis set out to make blockchain a possibility for every business. From smart contracts to easy decentralized application development, Stratis offers end-to-end development for C#-based blockchain application on the .Net framework.
To round it off, they are also setting up an academy to help developers learn and more easily develop blockchain solutions for their companies. The end result of all of this is that companies now have a comprehensive solution for blockchain solutions that eliminate the need to hunt for resources, talent, and knowledge.
The most interesting aspect of this is that companies can deploy their own ICOs using the platform. Indeed, several projects have already done so - including a Silicon Valley company called Gluon that is one of their flagship ICOs. Stratis allows complete customization of the ICO, as well as the handy feature of accepting payments in over 50 cryptocurrencies and fiat. KYC integration is also readily possible.
Smart Contracts in C#
Now, the question might arise as to why programming smart contracts in C# might be of any significance. Ethereum, after all, has them written in Solidity, a language similar to, but with enough nuance to differentiate it from, JavaScript - an extremely popular language.
C# is the most popular enterprise-level language in the world. With the release of the alpha version of C# smart contracts, the many millions of developers who are well-versed in C# now have the means to easily deploy blockchain solutions for their company.
Stratis' own motto is "We make blockchain easy for you." With the tools, options, and language available to integrate blockchain into existing enterprise architectures, Stratis has widened the entry into blockchain.
Will Stratis Cut into Ethereum's Market?
Given that Stratis is astutely sharpening its focus for the enterprise market, one might think that Stratis would be a competitor to Ethereum, with its own large focus on smart contracts.
Personally, I believe this is unlikely to be the case. It is certainly true that with its choice of language and serving of BaaS to businesses, it puts itself in a good position. However, Ethereum is much more than that, bringing more general but just as effective smart contract possibilities to the entire market. Ethereum's scaling solutions also make it likely to dominate in the market for many years to come. It is hard to see up and coming developers shying away from using Solidity to develop smart contracts. The underlying platform is of more importance.
There is the claim that Stratis' structured smart contracts will be safe and secure for businesses to use, having been audited for loopholes. This by itself is not a compelling argument.
The likely outcome is that Stratis will be gain a foothold as a subset of the smart contracts market - focusing mostly on businesses and companies that want to easily launch their ICOs.
Takeaways
Presently, opinion in the market seems to weigh too heavily on competition. We are in a very early stage in the market and to think that one project will compete with another is a little premature. Rather, we should think of Stratis as a competing software just as we have in computing today. We have several versions of a software, catering to the demands of specific niche users. In the same way, we should see different blockchain platforms catering to the needs of specific markets.
Disclaimer: information contained herein is provided without considering your personal circumstances, therefore should not be construed as financial advice, investment recommendation or an offer of, or solicitation for, any transactions in cryptocurrencies.