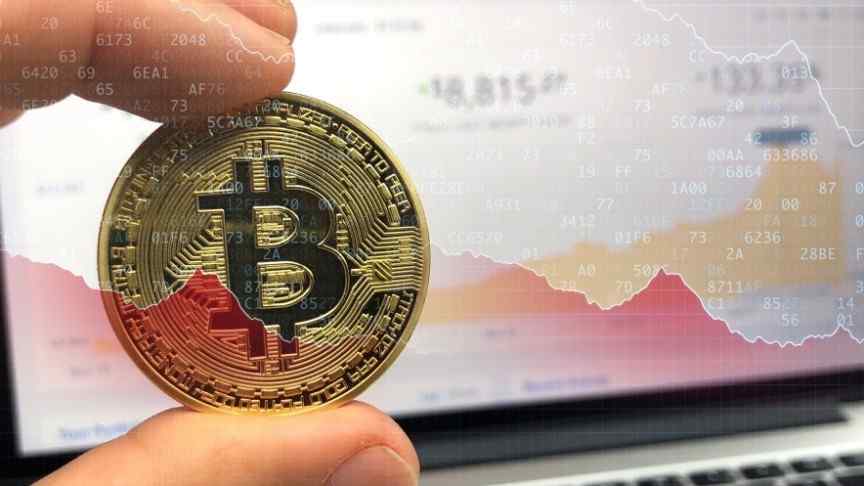 Ripple Blasts Higher on xRapid, BTC Holds Key Support, XLM & TRX Analysis: Sep. 21
Sep 21, 2018, 9:25AM

by
Kevin George
Ripple has blasted higher on the imminent xRapid release. XLM and TRX are also on the move as Bitcoin holds the upper levels of a recent range.
XRP
XRP has blasted higher with a gain of over 41% in the last 24 hours as Ripple gets close to releasing its new xRapid product, which it hopes will be a game changer in the world of payments. After trading under $0.30 for most of the month, the third-largest coin by market cap has rallied to $0.47 and is giving investors hope that a significant low has now been made. Speaking to CNBC, Ripple's head of regulatory relations for Asia-Pacific, Sagar Sarbhai, shared his expectations that the new development, which is aimed at helping banks speed up transactions, will go live within a month.
Sarabai said,
I am very confident that in the next one month or so you will see some good news coming in where we launch the product live in production.
Ripple has already partnered with 120 banks and financial institutions for their xCurrent product, which is used to settle international transactions. Any new product that Ripple delivers, such as xRapid, would likely be adopted by the same institutions if it provides value to their business. Previously, Ripple's CEO Brad Garlinghouse stated that Ripple would have "dozens" of banks using xRapid by the end of 2019.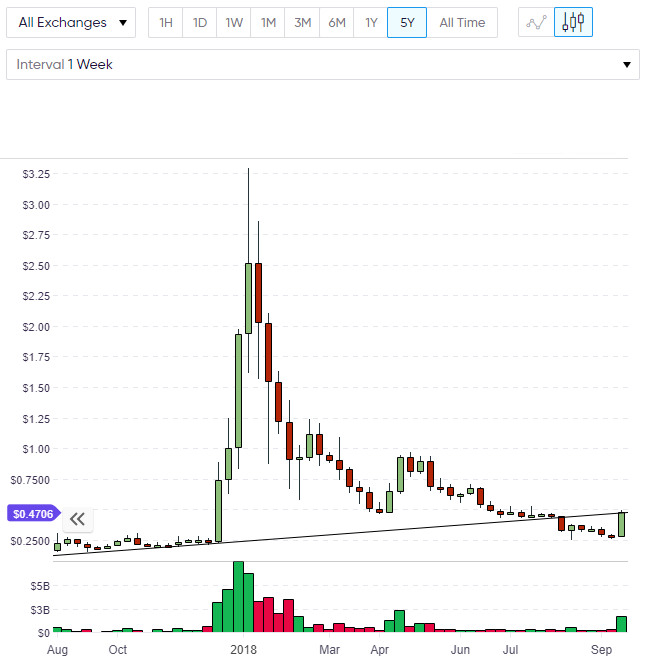 On the weekly chart, XRP has rallied from support above the $0.25 level and is threatening to make a double bottom on the chart. Key resistance now comes in at $0.50 and a weekly close above there would be very positive going forward. The gains in XRP will likely see further volume appear in the coin.
BTC
The rally in XRP coincides with continued support in Bitcoin with the price holding above the key $6,500 level after a relatively quiet two weeks for the market. Bitcoin has support coming in at $7,000 and may move towards that level by the end of the week. A weekly close above there would hint at a possible test of the $8,500 resistance level that led to the sell-off in mid-July. The continued ability of Bitcoin to hold above $6,000 is a positive signal but more strength is needed to provide confidence that this is a floor.
Billionaire crypto enthusiast Mike Novogratz had recently talked of a floor for the cryptocurrency market and he has stated his confidence in the arrival of institutional money. Speaking to Reuters, Novogratz said,
Yes, it is off its highs, but it has established itself as a store of value [...] I think institutions are moving towards investing. It's shocking how much has happened.
His comments refer to the developments we've seen in recent weeks with the arrival of Wall Street giants such as Fidelity Investments into the cryptocurrency market.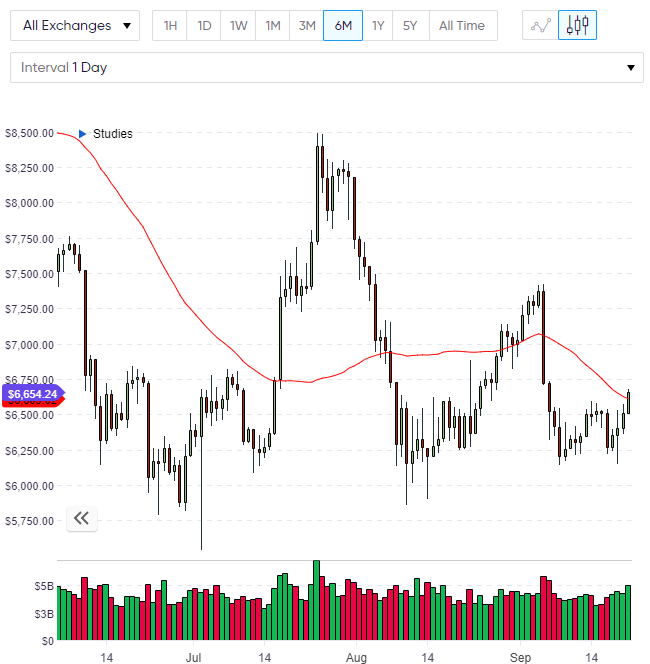 XLM
Stellar is another coin that has rallied in the last 24 hours with a gain of over 20%. This bullish activity is positive for the overall market because the headline gains will attract attention and see further volume appearing in the market.
I noted in a previous article that,
The rally in XLM hints at a potential double bottom on the daily and the weekly chart, with the next level of interest being around the $0.2400 level. A break above this level could see a stronger move towards the previous highs over $0.3000.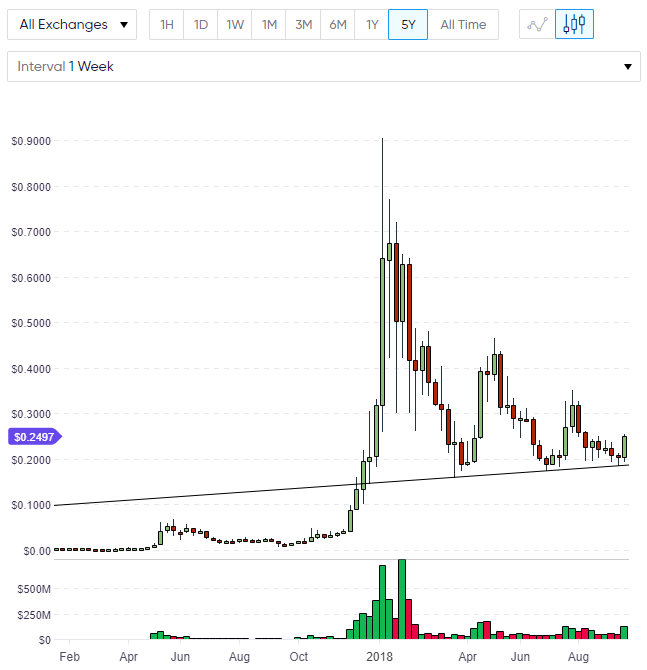 The price of XLM is approaching that $0.30 level with a current price near $0.25. A bullish close at this level or higher would suggest that an important low has been made.
Stellar is another coin that has seen exciting developments in the payments after corporate giant IBM announced that it was moving out of the beta phase with its Blockchain World Wire (BWW) payment system. BWW utilizes the Stellar blockchain and is another project that is pushing into the market for cross-border payments.
TRX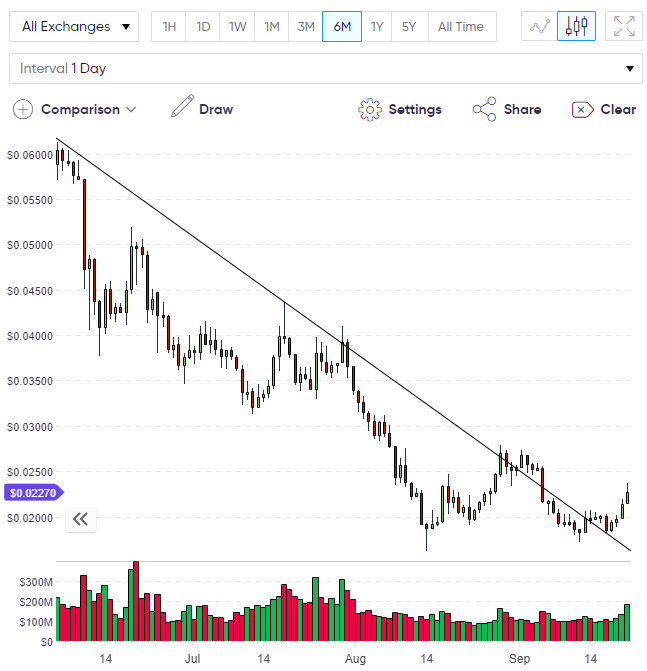 Tron is another gainer on the week with a 15% rally in the last 24 hours. Tron now trades at $0.0227 and although the move hints at a possible low, there is still some work to be done before TRX can erase some of the damage done since June. The key level on the week is $0.025 and a close above there should see further gains next week.
Disclaimer: information contained herein is provided without considering your personal circumstances, therefore should not be construed as financial advice, investment recommendation or an offer of, or solicitation for, any transactions in cryptocurrencies.