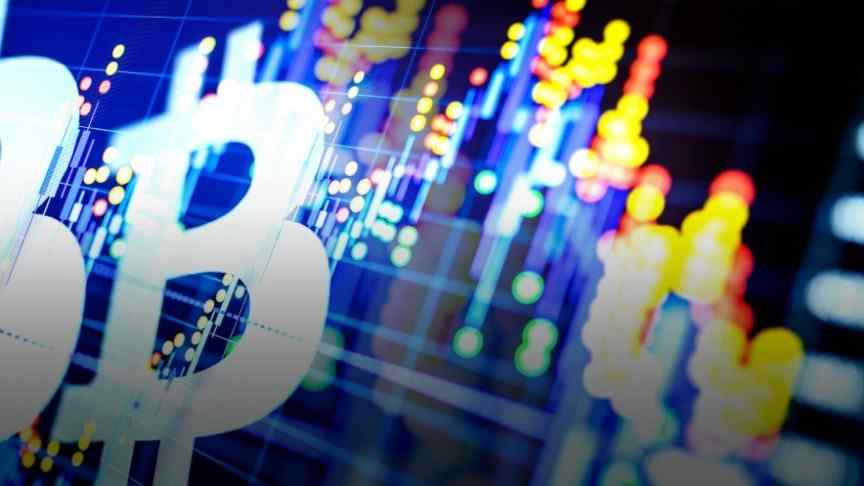 Bitcoin Surges as Tether Cracks, Will We See Crypto Safe Haven Flows? Oct. 15
Oct 15, 2018, 6:28PM

by
Kevin George
Bitcoin surges as the Tether peg cracks. Will cryptocurrencies get a safe haven boost as the stock market slump resumes?
BTC
The cryptocurrency market has seen a strong rise overnight with nineteen of the top twenty coins showing gains. The only coin showing a loss is the Tether stable coin, which is boosting the price of the other market constituents.
Traders often sell Tether before they buy other coins and the price of Tether had dipped 3% ahead of a surge in Bitcoin's price from around $6,300 to blow through previous resistance at $7,250.
Although the price of Bitcoin has since retreated to $6,720 for a gain of 6%, the move may be a signal that some big dip-buying is occurring, which may attract further flows as the week progresses. The move in Bitcoin is significant in relation to the past weeks' activity and it is also significant because of the fear that is currently spreading in financial markets.
Some traders are using the Tether slide to question the coin's dollar-backing once again. Tether has always claimed to be backed 1:1 by the U.S. dollar but has failed to substantiate these claims. In recent weeks we have seen a rise in stablecoins coming to market with Circle's "USDCoin" and others by companies such as IBM in the works. The fact that Tether broke its link to the USD by selling off to 85 cents may be a sign of things to come. A panic selling of Tether would see big volatility in the next few weeks.
I have noted in previously that Bitcoin could see flows of money in financial sell-offs due to its "digital gold" tag. Although the price of BTC has been stagnant and "boring" to traders and cryptocurrency enthusiasts in recent weeks, it has actually proved itself to be more stable and this makes it attractive to larger investors who will have seen the price floor at $6,000 for four consecutive months. Bitcoin is holding its value as emerging market currencies are volatile and stocks have seen big sell-offs.
This could be a watershed moment for cryptocurrencies.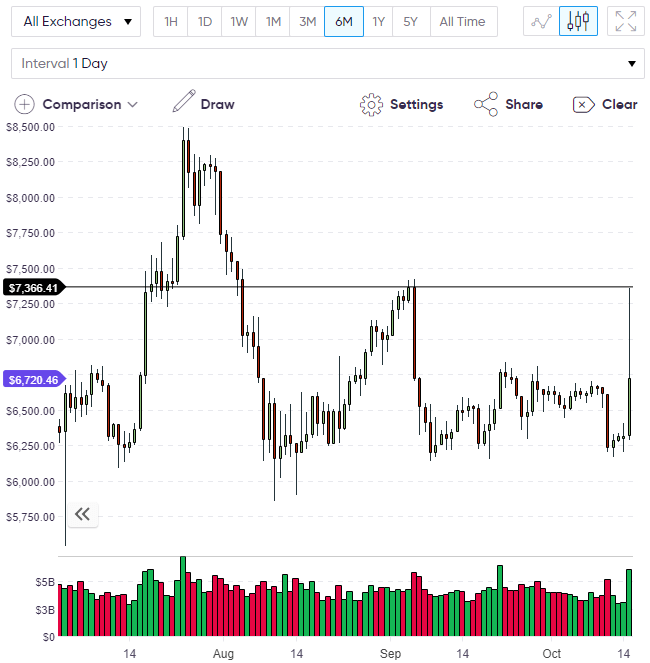 The price of BTC has bounced off the resistance that I mentioned in previous articles at the $7,250 level. If the price sees a further rally this week then a move above that level targets the key $8,500 level. If financial markets see an extension of last week's panic, BTC could be at $10,000 sooner, rather than later. Overnight in Asia, we have seen a four-year low for Chinese stocks and the indices as the indices in the U.S. failed to hold onto Friday's bounce.
The International Monetary Fund (IMF) has been vocal in recent weeks about the risks that are facing the financial system. They also commented on the risks that cryptocurrency poses to that system. The report said,
Cybersecurity breaches and cyberattacks on critical financial infrastructure represent an additional source of risk because they could undermine cross-border payment systems and disrupt the flow of goods and services. Continued rapid growth of crypto assets could create new vulnerabilities in the international financial system.
This quote is worth noting because it comes against the backdrop of blockchain projects that are trying to create a faster and more secure payments system and a possibility of BTC or other coins becoming a safer store of value. What they get wrong is that vulnerabilities in the financial system could lead to rapid growth of crypto assets, rather than the other way around.
BCH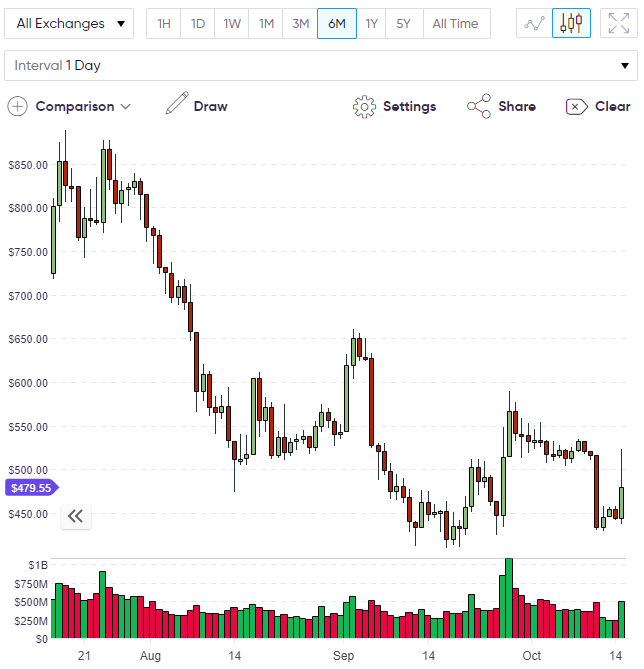 Bitcoin Cash saw a push to the psychological $500 level on the back of the broader market rally. Resistance for Bitcoin Cash is looming at $550 and $650 for the month ahead. Traders should keep an eye on the Tether development as an exit into other stablecoins or into Bitcoin could see big sums of money fleeing into cryptocurrencies.
BTG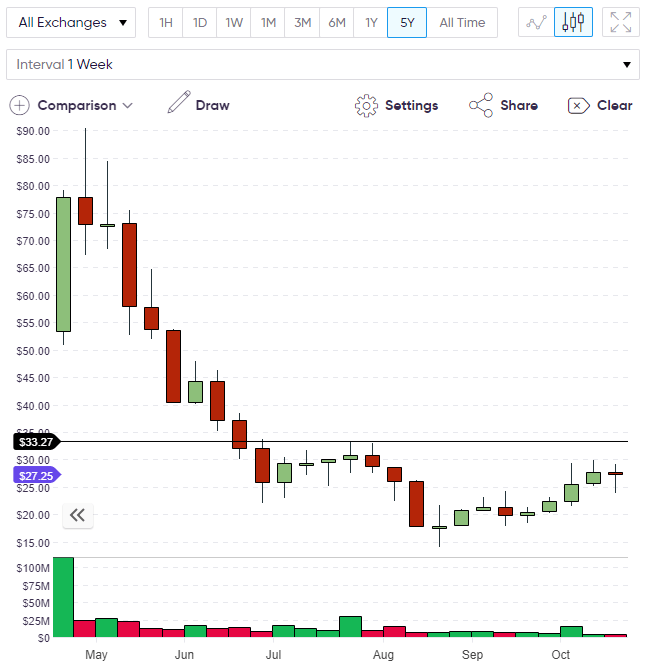 The rally in BTC has boosted Bitcoin Gold and the resistance at $33.00 is now in sight. If we see further gains in the market this week, this level could open up a move towards the $50.00 level, which was last seen in June of this year.
BTG had seen a dip in the wake of news that the Bittrex exchange was removing markets for BTG and also Bitcoin Private as well as removing support for their wallets. Bitcoin Gold has struggled after an $18 million hack. Bittrex has been removing markets for many smaller altcoins as the decline in the crypto market this year has led almost non-existent trading volumes.
Disclaimer: information contained herein is provided without considering your personal circumstances, therefore should not be construed as financial advice, investment recommendation or an offer of, or solicitation for, any transactions in cryptocurrencies.