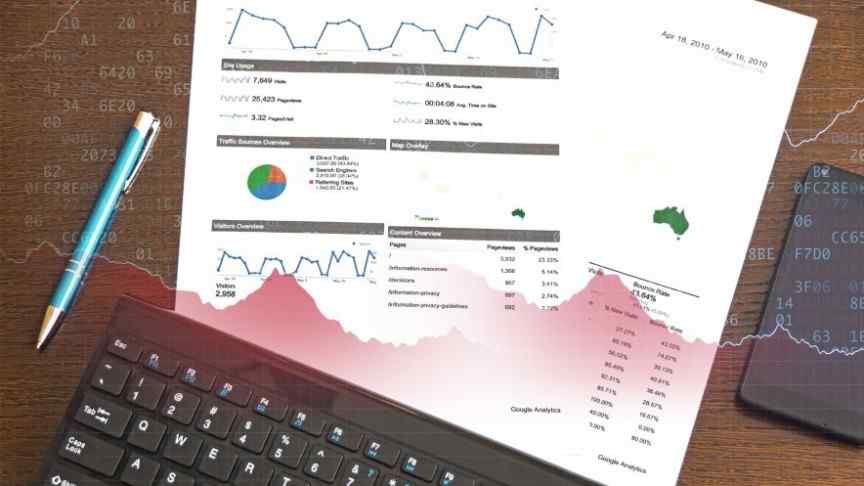 Bitcoin.com Seeks Its Own Crypto Exchange, BCH, IOTA, REP, Analysis Oct. 10
Oct 10, 2018, 11:19AM

by
Kevin George
Bitcoin.com is looking at acquiring or building its own cryptocurrency exchange. IOTA may be heading for another auto industry partnership.
BCH
The digital-coin wallet provider Bitcoin.com is seeking to acquire or build its own exchange. Bloomberg reported on CEO Roger Ver's comments, shared at an interview in the crypto-friendly country of Malta, where he stated,
If we build it ourselves, we can do it really, really cheap, and we get exactly what we want. But we don't have the security of a battle-tested exchange that's been around for a while.
The goals for the Bitcoin.com exchange would be to use Bitcoin Cash as the base currency for the platform and the goal would be to tap into the current traffic that passes through the website already with Ver commenting that the exchange,
will be posted on Bitcoin.com so we'll have thousands or tens of thousands of new users every single day.
The move by Bitcoin.com is seeking to boost the adoption of Bitcoin Cash, although the plans may be a little late as many other exchanges are boosting their offerings or moving to decentralized versions.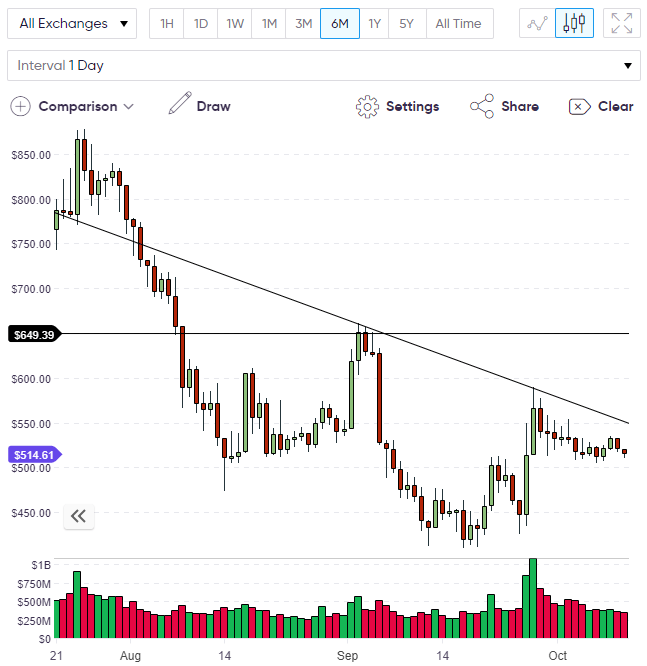 The price of Bitcoin Cash has failed to gain any further traction from the strong move that took price from $450 to almost $600 two weeks ago. The downtrend line marked is the first obstacle to clear on the path to $600 and the September bounce high at $650 would be a more significant level.
The U.S. Securities and Exchange Commission (SEC) have recently appointed a pro-cryptocurrency commissioner in a move that may help get an ETF over the line. Elad Roisman has been sworn in by SEC Chairman Jay Clayton and Roisman had the following to say on cryptocurrency in July,
the SEC must examine and re-examine its rules, regulations and guidelines to ensure that they are still working as intended to accomplish the SEC's mission. This is most recently manifested in areas such as data protection and cybersecurity, as well as the emergence of new investments and technologies such as initial coin offerings and blockchain.
He also stated that the Commission should approach these new technologies in a "fair and transparent manner".
The SEC has now set a deadline of November 5 to hear statements for and against the proposed Bitcoin ETFs that were under consideration and it's still possible that an ETF can be approved by year-end.
Another cryptocurrency exchange in the news was Bitfinex, which released a statement on its blog in an attempt to clear up recent rumors that it was insolvent. Bitfinex noted a small team with low operating costs and shared links to its BTC, ETH and EOS holdings.
Further afield, we also see further blockchain support in Switzerland after the Swiss Finance regulator (FINMA) granted the first asset management license for a cryptocurrency firm. The move will open the door for other service providers to apply for licenses and is another sign of the growing acceptance of cryptocurrency and the blockchain.
IOTA
IOTA has been active in the automobile sector previously with a partnership announced between the Internet of Things (IoT) blockchain and European car giant Volkswagen to log the company's maintenance schedules. Another company, CarVertical yesterday tweeted that they are preparing a "huge surprise" for their users and the IOTA community.
CarVertical seeks to combat used car fraud by decentralizing data and bringing power to consumers. The company website states that the process for the business,
We process and verify all the data, blockchain confirms its reliability. This means that car's "biography" cannot be changed, faked or manipulated.
The coming news is obviously going to be a tie-up that leverages the IOTA blockchain for storing CarVertical's data. This and the previous moves highlight that IOTA is positioning itself as the go-to provider for automobile industry blockchain solutions that could have wide appeal.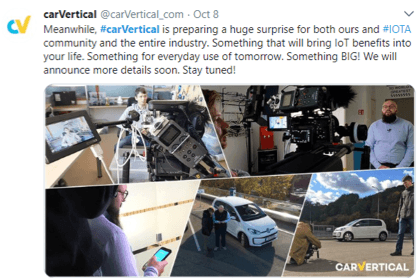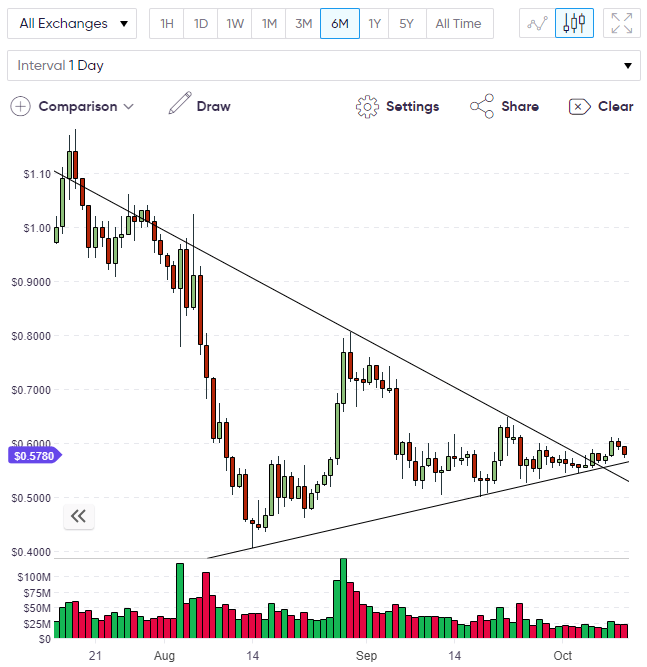 The price of IOTA has been stuck in a tight range since mid-September and the coin is struggling for a catalyst as many others in the cryptocurrency space. The news from CarVertical may provide a useful catalyst for a move in the coming days. IOTA needs to hold the current uptrend line and make a move towards previously failed resistance at $0.800 in order to create a stronger base setup. Keep an eye on this coin if you are interested in automobiles or electric vehicle technology as the project already has the attention of the big-name car makers.
REP
Augur is planning its upgrade to a v2 version which will require manual migration of the project's REP tokens to a new set of contracts. The prediction markets project updated the community on its Medium page and among the upgraded features will be DAI integration to bring stablecoin stability to the staking markets. Bugfixes, ERC-777 support and a buy back will also be included. There is no expected timeline, but the company did stated that,
the development team has begun the necessary research and development into all listed features.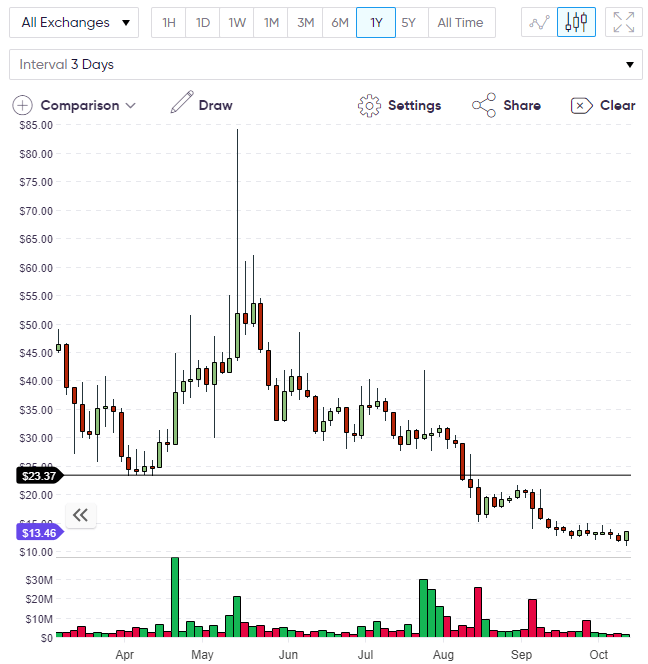 On the charts, REP has a potential setup for a bottom that brings price back towards the $20.00 level and the April lows-turned-resistance at $23.37. Many other coins such as BTC and ETH had April lows and a rally, so it is likely that REP will benefit from any broader market rally. The longer-term success of the project is less certain as it was reported that the platform saw a 90% decline in its user base from the April launch.
Disclaimer: information contained herein is provided without considering your personal circumstances, therefore should not be construed as financial advice, investment recommendation or an offer of, or solicitation for, any transactions in cryptocurrencies.