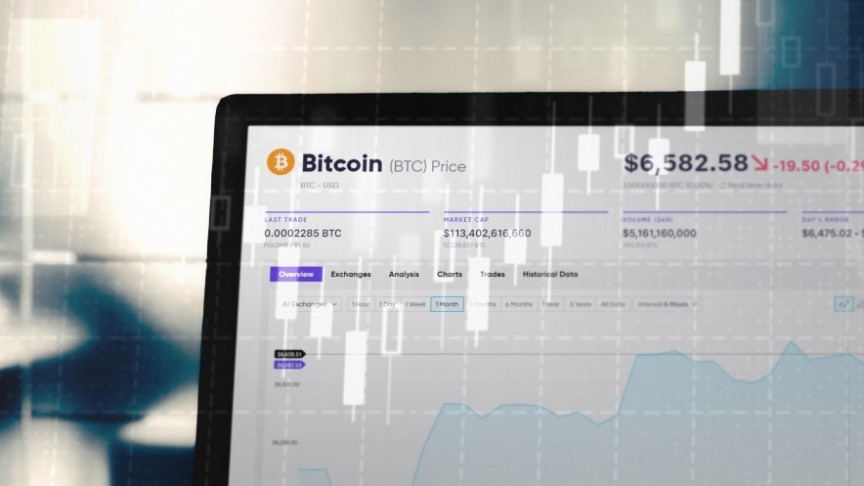 BTC Shows Promise as Stellar Facebook Rumors Swirl, IOTA & ADA Are Climbing: Aug. 13
Aug 13, 2018, 11:16AM

by
Kevin George
Bitcoin has closed above the weekly support levels from June and gives hope that the two-week sell-off was simply a pause.
BTC
Bitcoin has seen buyers emerge at the $6,000 level and is suggesting that the two-week sell-off in the largest cryptocurrency was nothing more than a correction. The rally on hopes of an ETF approval faded but BTC is not as weak as other coins and may have tested key support from 2017. It is likely that we will see a small rally this week to test the strength of BTC but we are still waiting for a catalyst to see any meaningful gains.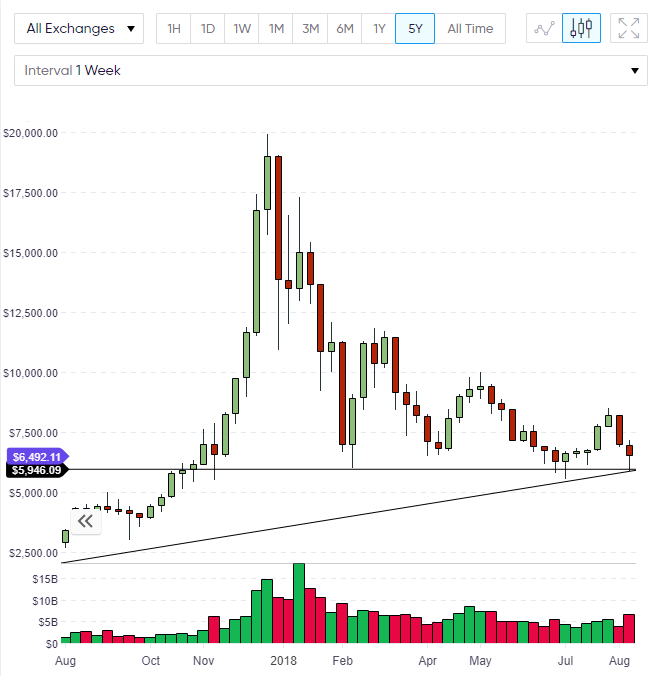 Next week could be interesting for Bitcoin as we get another SEC decision on an Exchange Traded Fund (ETF). The Boston-based ETF provider ProShares, one of the largest ETF providers, has proposed two contracts to financial regulators; ProShares Bitcoin ETF and ProShares Short Bitcoin ETF. It's very possible that the ProShares application will get approval. The Winklevoss ETF was denied because of fears that they could not provide the required security or guard against manipulation. There is no doubt, however, that their criticism of the current financial system played a part. Politics still runs the show in the finance world and the SEC would feel less pressure if they granted the first Bitcoin ETF to an established provider.
After holding support in BTC, we are likely to see a small rally this week that doesn't close higher than $7,000. That would set us up for the SEC decision next week and it will decide the next path for BTC around this $6,000 support level.
XLM
The price of Stellar is up 8% in the last 24 hours as rumors circle about a potential tie-up with Facebook. Stellar is a coin I have been positive about in recent weeks due to the attention that it has received from technology giant, IBM.
A story leaked on Friday through Business Insider that Facebook and Stellar had held talks over a possible partnership. Stellar refused to comment on the story and Facebook were quick to deny it; nevertheless, this would be one to watch in the coming weeks. Facebook Vice President, David Marcus, has also stepped down from his position as a board member with Coinbase over fears that there was a conflict of interest. This may also tie with the Stellar story as some believe Stellar Lumens will be one of the next additions to the Coinbase exchange.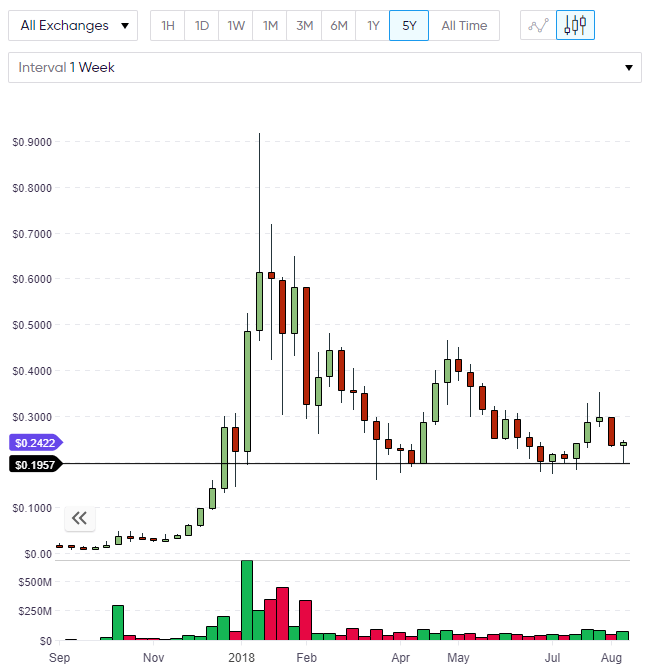 The price of XLM is interesting as we have also tested a key support level and bounced higher. It was disappointing that Stellar gave up the $0.30 level, but the selling was affected by the general market weakness. If XLM can find support here, then a test of the $0.30 level is possible and there may be some additional interest due to the Facebook rumor. A break below the $0.20 support level would lead to weakness in the weeks ahead.
IOTA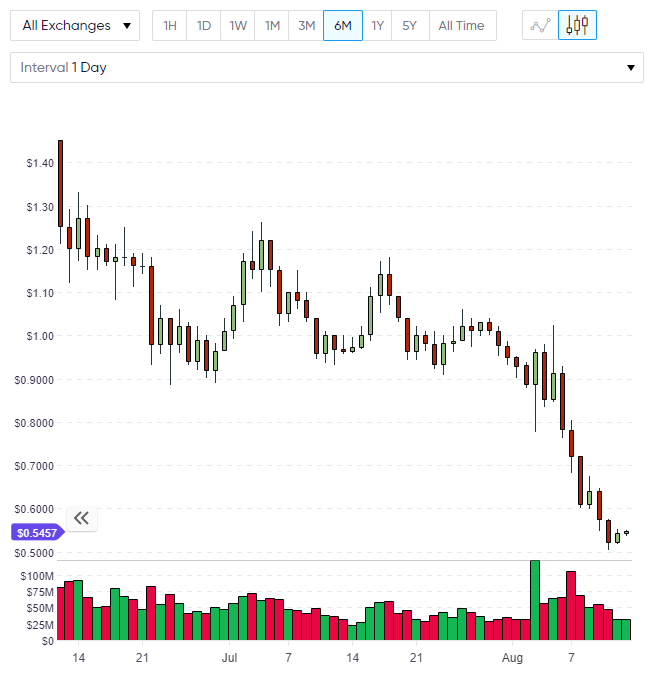 IOTA is another positive coin on Monday with a move of 2.3% higher, although the recent price action in IOTA has been negative with a close below the key weekly support at $1.00. We are now trading at $0.546 and it's unlikely that we will see any considerable gains from here. IOTA will probably test lower levels and attempt to find a bottom in the price. IOTA is currently ranked at number eleven in the list of coins by market capitalization.
ADA
Similar to IOTA, the price of Cardano has moved through a support level in the last two weeks and is looking for a bottom. The move higher on Monday is a small bounce as the market decides where to go next. $0.1200 would be the first obstacle on the way up and we are still trading lower than the 50 moving average on the daily chart which would be tested around the $0.1400 level.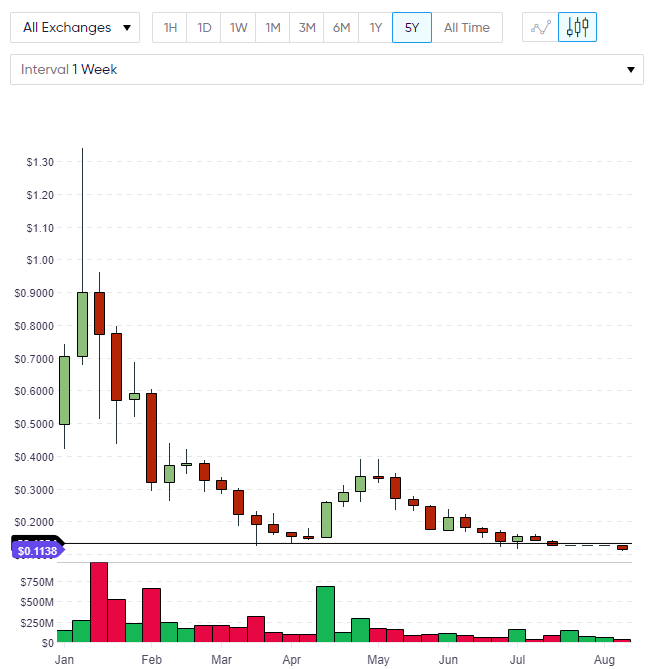 Cardano's founder, Charles Hoskinson, answered public questions on Twitter yesterday and discussed his thoughts on the Cardano project. in summary, Hoskinson stated that the hard work was over for Cardano, and that he was disappointed that the lofty ambitions of the project had maybe cost them in terms of market leadership as they were not moving at the pace of other projects, where the teams were heavily focused on cryptocurrency experience.
The weekly resistance on Cardano is at $0.1300 and we would need a close above here on the week to suggest a further test of upside levels.
Disclaimer: information contained herein is provided without considering your personal circumstances, therefore should not be construed as financial advice, investment recommendation or an offer of, or solicitation for, any transactions in cryptocurrencies.