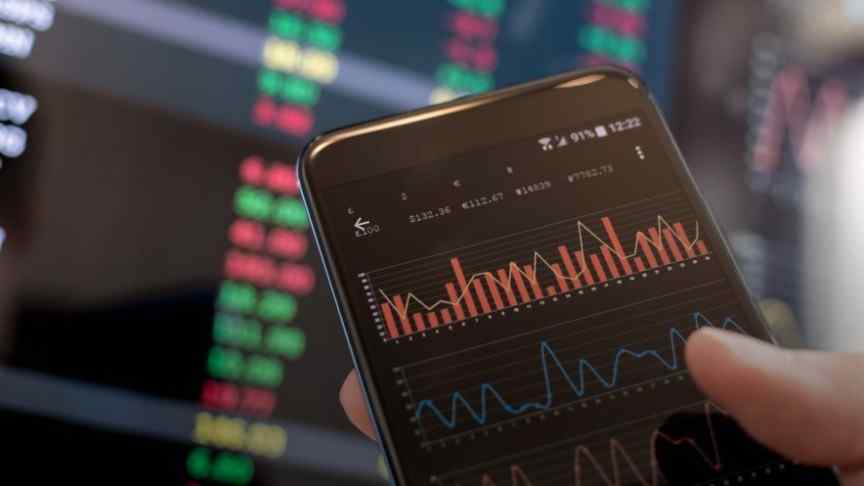 NEM Gains in a Quiet Market as XRP Flounders, BTC: Market Analysis, Oct. 3
Oct 3, 2018, 11:05AM

by
Kevin George
NEM has posted modest gains in a quiet crypto market as XRP struggles to push higher. Coinbase sees $8bn valuation on Tiger investment.
NEM
The price of NEM rallied on Monday and Tuesday before giving up half of its gains. NEM still trades above daily resistance and has been one of the better movers on the week.
In a recent development, a sustainable tech company named Xarbon chose the NEM blockchain as a host for its carbon trading initiatives. Xarbon claims to have reduced
200 million tons of carbon from the atmosphere and has protected over 500 thousand hectares of rainforest.
Xarbon's co-founder Jeffrey Liu commented on why they chose NEM:
When I was deciding on which platform to build our digitized Xarbon units, I was choosing between the obvious ERC20 and NEM mosaics. There were also other options such as Bitshares and Waves. There are several reasons we decided to use NEM in the end. One was, of course, the ease of use. We required specific and very technical features. For example, we needed a blockchain that will allow us to create digitized assets with certain amounts of decimal points. Not many platforms can do that.
Carbon credits are tradeable permits which are released on the market by companies that have spare emissions capacity and are bought by companies that have exceeded their regulated emissions. These permits are traded on exchanges and the price of contracts have seen a fourfold rise in 2018 after the EU overhauled the system.
In other recent news, NEM Foundation, a Singapore-based non-profit has also announced a partnership with Oath Protocol, which aims to protect the rights of dApp developers, and also announced the Bistox exchange, which is a semi-decentralized crypto exchange that it claims is "one of the most secure", and leverages NEM's smart assets technology. Bistox's token, BSX, will be sold in an upcoming ICO.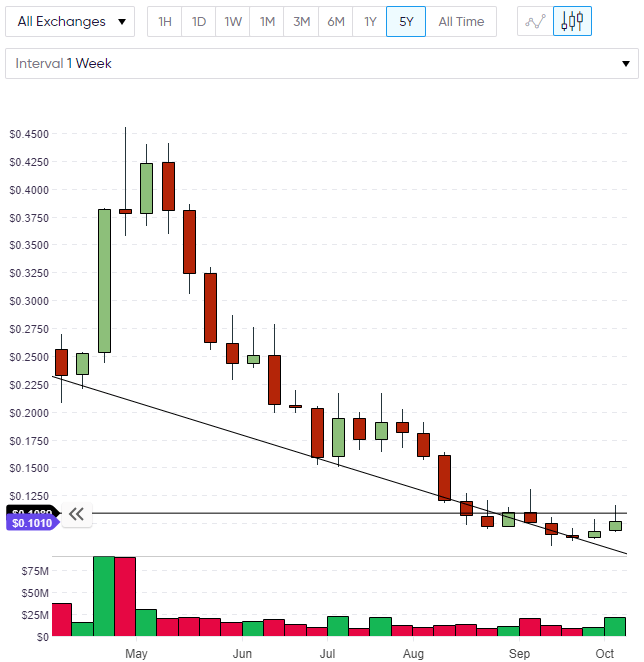 NEM currently trades at $0.101 and is looking to find further strength to take it through the $0.125 and $0.15 levels. NEM traded at a high near $2.00 in early-2018 and has been hit by the market sell-off since early-May. Previous support from 2017 also appears at the current trading levels so a further rally would hint at a potential low for NEM.
XRP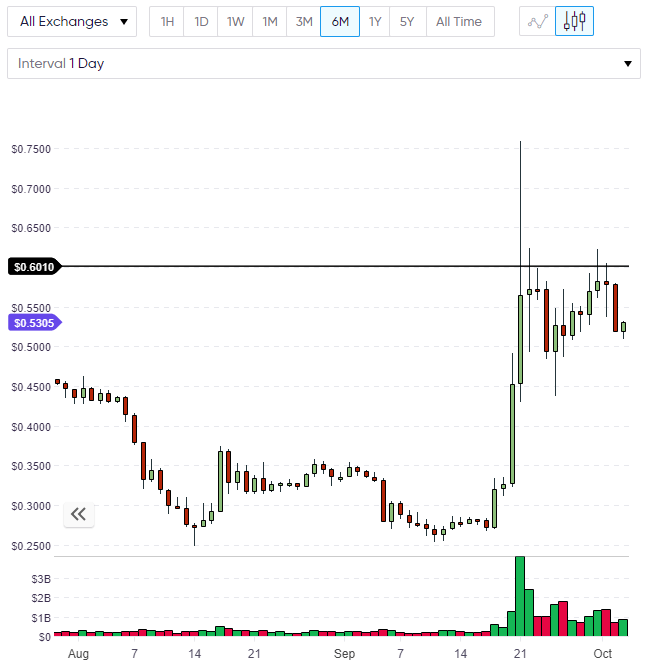 XRP is showing a modest gain of 2% this morning; yesterday's sell-off, however, was disappointing and was a daily double top at the $0.60 level. These technical moves are based on a quiet market and point to the short-term consolidation until something brings additional volume. I still saw the weekly chart on XRP as hinting at further gains this week, so XRP may simply look for support before it picks up.
XRP has fallen through Ripple's largest ever Swell conference in San Francisco and with the company announcing that it had signed up three U.S.-based companies to the xRapid system. The three companies- MercuryFX, Cuallix and Catalyst Corporate Credit Union are not household names and the news has likely taken some enthusiasm out of the market, with many hoping for a host of big-name banking institutions to be at the front of the line.
In interesting news for the general market, it was reported by recode that Coinbase is in negotiations that may see the cryptocurrency exchange valued at $8 billion. The company has been in talks with Tiger Global Management, which is a big name in the hedge fund world about a possible investment of $500 million. An investment from Tiger Global would be another good sign for the long-term future of the market and despite being a small part of its $28 billion assets under management (AUM), it would suggest that the company has been doing its own due diligence on the cryptocurrency market.
BTC
The general market on Wednesday is weak with only a handful of altcoins outside the top 50 showing some modest gains. This is not helped by Bitcoin's own weakness as it is still stuck in a small range and is pointing towards a third day of weakness as it moves under the $6,500 level again. The market has lacked any positive driver all year and this has become worse in recent weeks as the hype around regulation has subsided for now. However, as I noted at the weekend, these periods of calm are usually the precursor to volatility and this is now a waiting game in BTC.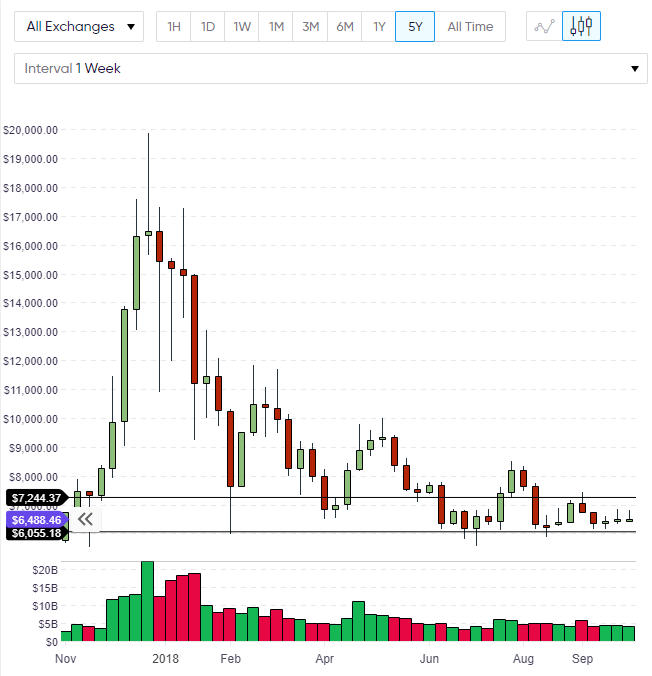 Again, the levels we need to watch are the $6,000 support level on the downside and the $7,250 on the upside. It's still early in the week and all could change in the crypto market by the weekend. The market cap of the entire market is still holding above the $200 billion level at $215 billion and this highlights that the market is coiled up and is awaiting a catalyst for the next trend.
Disclaimer: information contained herein is provided without considering your personal circumstances, therefore should not be construed as financial advice, investment recommendation or an offer of, or solicitation for, any transactions in cryptocurrencies.