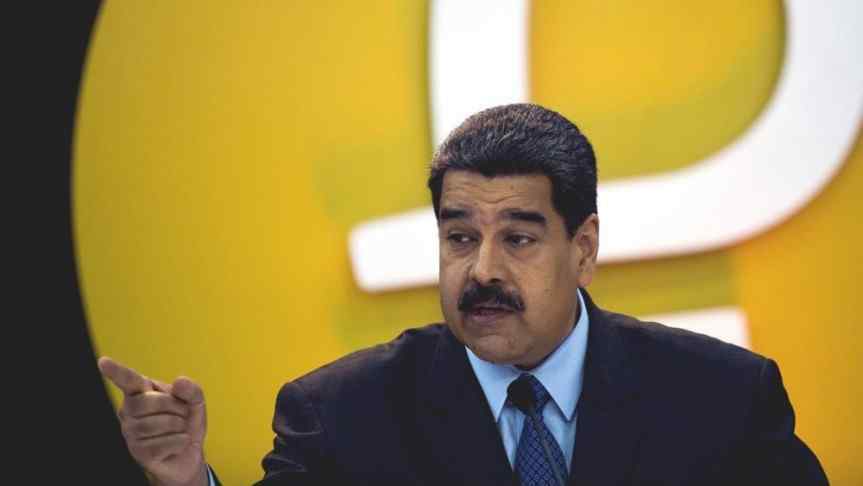 Venezuela Taking Several Steps Toward Massive Cryptocurrency Adoption
May 1, 2018, 9:47AM
Venezuelan President Nicolas Maduro has turned to cryptocurrency in an attempt to combat the failure of his country's currency.
Venezuelan President Nicolas Maduro has turned to cryptocurrencies in an attempt to combat the failure of his country´s currency the Bolivar Fuerte, as well as to circumvent international trade sanctions. At the same time, the leader is cracking down on cryptocurrency-related crime in Venezuela.
Rampant inflation, ATM and POS network collapse, and cash scarcity are some of the obstacles Venezuelans face every day when it comes to acquiring already hard-to-find necessities that could be solved by cryptocurrency adoption. Over the last month, several important announcements regarding cryptocurrencies were made by Venezuela´s government that show the faith the Maduro administration is placing on cryptocurrencies as a means to solving the country's many financial problems.
On April 9, President Nicolas Maduro declared the controversial crypto Petro as legal tender for all institutional transactions, while giving all government agencies 120 days to comply with the order. Maduro had already announced in February that the government would authorize cryptocurrency payments for consular and Airline-related commercial services. At that time, President Maduro also authorized cryptocurrency payments for all tourist services offered in the country and ordered all Venezuelan fuel sold in international gas stations to be paid for using Petro.
"Operacion Manos de Papel"
The Venezuelan government is also taking steps toward regulation and law enforcement regarding cryptocurrency crime. This week, the country´s Attorney and Prosecutor General Tarek William-Saab revealed details of the largest financial crimes enforcement procedure of its kind in Venezuela´s history called "Operation Paper Hands". The sting ended up dismantling 3 remittance service companies that international media have wrongly referred to as "crypto exchanges".
The operation also led to the arrest of 112 people; all accused of "misappropriation, [and] dissemination of false information about the [implicit USD/BSF] exchange rate."
In relation to how these black market rates impact the Venezuelan economy, William-Saab notoriously asked during his speech:
"I want someone to explain to me how in September of 2017 a dollar cost 15,000 bolivars; in December it was 100,000 bolivars; in January of this year 200,000 bolivars and at the end of March 500,000 bolivars".
According to William-Saab, a total of "1,382 bank accounts have been frozen in which a sum exceeding 711,967 million bolivars (~$10.6 million) has been blocked." He also added that he requested the blocking of 247 additional bank accounts, the submission of 40 new arrest warrants, and 104 raids. The black market rate in Venezuela is at
16 New Cryptocurrency Exchanges Get Certified
After declaring El Petro had raised over $3 Billion during its pre-sale, President Maduro authorized the certification of 16 new cryptocurrency exchanges, aiming to facilitate the exchange of Petro for other types of assets in international markets. Regarding this decision, Maduro said:
"The certification of these 16 exchanges is a demonstration of confidence in the system of the Petro, as a cryptocurrency, and will allow liquidity and solid transactional volume."
Criptoexchange, Criptocapital, Asesoría Financiera CA, Italcambio, Amberes Coin, Cave Blockchain, Valoratta Casa de Bolsa, CritiaExchange, CriptoLago, CriptoVentraige CA, CriptoActivo Menets CA, CriptoActivo Bancar CA, CriptoMundo Casa de Intercambio CA, Inversiones Financieras 1444 CA, CriptoActivo Criptoes, and Indian company Coinsecure, make up the list of companies certified to operate as cryptocurrency exchanges in Venezuelan territory.
Venezuela Offers Oil Discounts if Paid in Crypto
As if all this wasn't enough, Maduro is also seeking to restart the slowing trade between India and Venezuela by offering oil to the Indian government at a deep 30% discount only if it agrees to pay using cryptocurrencies.
It seems like Maduro and his administration are truly committed to introducing cryptocurrencies to the Venezuelan and to the international market.
Disclaimer: information contained herein is provided without considering your personal circumstances, therefore should not be construed as financial advice, investment recommendation or an offer of, or solicitation for, any transactions in cryptocurrencies.