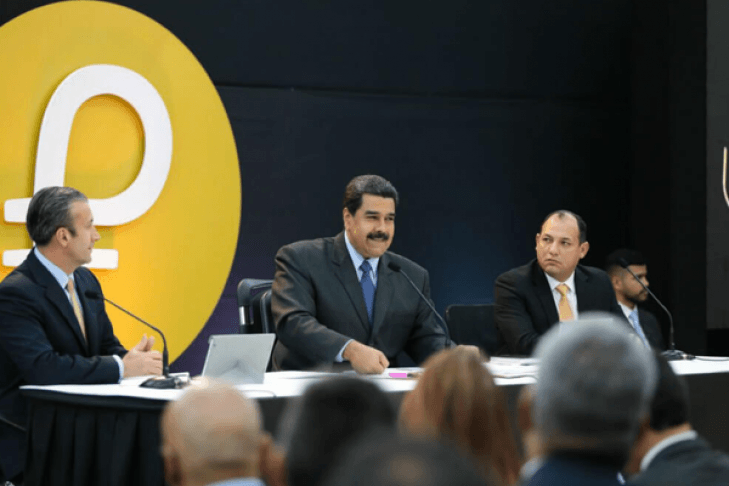 Can the New Resource-Backed Petro ICO Provide a Way Out for Venezuela?
Feb 21, 2018, 3:37PM
Venezuelan President Nicolás Maduro officially announced the start of a presale for Petro, a new Cryptocurrency backed by oil and gold reserves.
Besides being the subject of severe US-imposed sanctions on trade and debt generation, Venezuela is truly a rare case in the modern world: while possessing the biggest proven Oil reserves on the planet, (and one of the biggest gold reserves) it is facing a deep economic crisis that has seen the quality of life of its citizens drop sharply and inflation rise astronomically in recent years.
President Nicolás Maduro has famously and repeatedly attributed many of the shortcomings of his administration regarding the economy, to an "Economic War" that is being waged on the country by the United States with the objective of crippling Venezuela´s socialist government through the manipulation of the US Dollar and illegally imposed sanctions by the Republican led US administration.
The Petro, the first government- issued Cryptocurrency of the world is an Ethereum ERC20 Token backed by 5.342 Billion barrels of Oil. The Petro is designed to both circumvent the US-imposed sanctions on the Venezuelan oil trade business that have proven fatal for the Venezuelan government and to secure some much needed liquidity for the Maduro administration.
There will be a total of 100 Million Petro Tokens, of which 38.4% will be made available through a pre-sale starting Tuesday February 20. A total of 44% of the tokens will be released through an ICO to be held a month later, while the last 17.6% of the Tokens is set to be retained by the Venezuelan Superintendence on Cryptocurrency and Cryptocurrency-related activities.
If the token sale manages to reach its hard cap, the Venezuelan government would raise a total of $5 Billion: this is the most ambitious ICO in the history of Cryptocurrency.
According to its recently published whitepaper: "Petro will give investors the opportunity to enter the crypto asset market with an instrument of intrinsic value that is safer, more stable and susceptible to a fundamental analysis because it is linked to a widely known industry, and therefore, suitable to be used in large transactions and even as a store of value."
However, many actors inside and out of Venezuela have cast doubt on the transparency of efficacy of the initiative. With threats of invalidation after Maduro leaves office by the opposition- led National Assembly, and announcements by the US government of cracking down on businesses and naturals who partake in the Petro presale or ICO. It is still to be seen if "El Petro" will actually live up to the hype and serve its purpose.
Disclaimer: information contained herein is provided without considering your personal circumstances, therefore should not be construed as financial advice, investment recommendation or an offer of, or solicitation for, any transactions in cryptocurrencies.